These pickled zucchini, preserved with Champagne vinegar, celery seeds, tumeric, onions, are easy to make, not too sweet, and can be used just like cucumber pickles.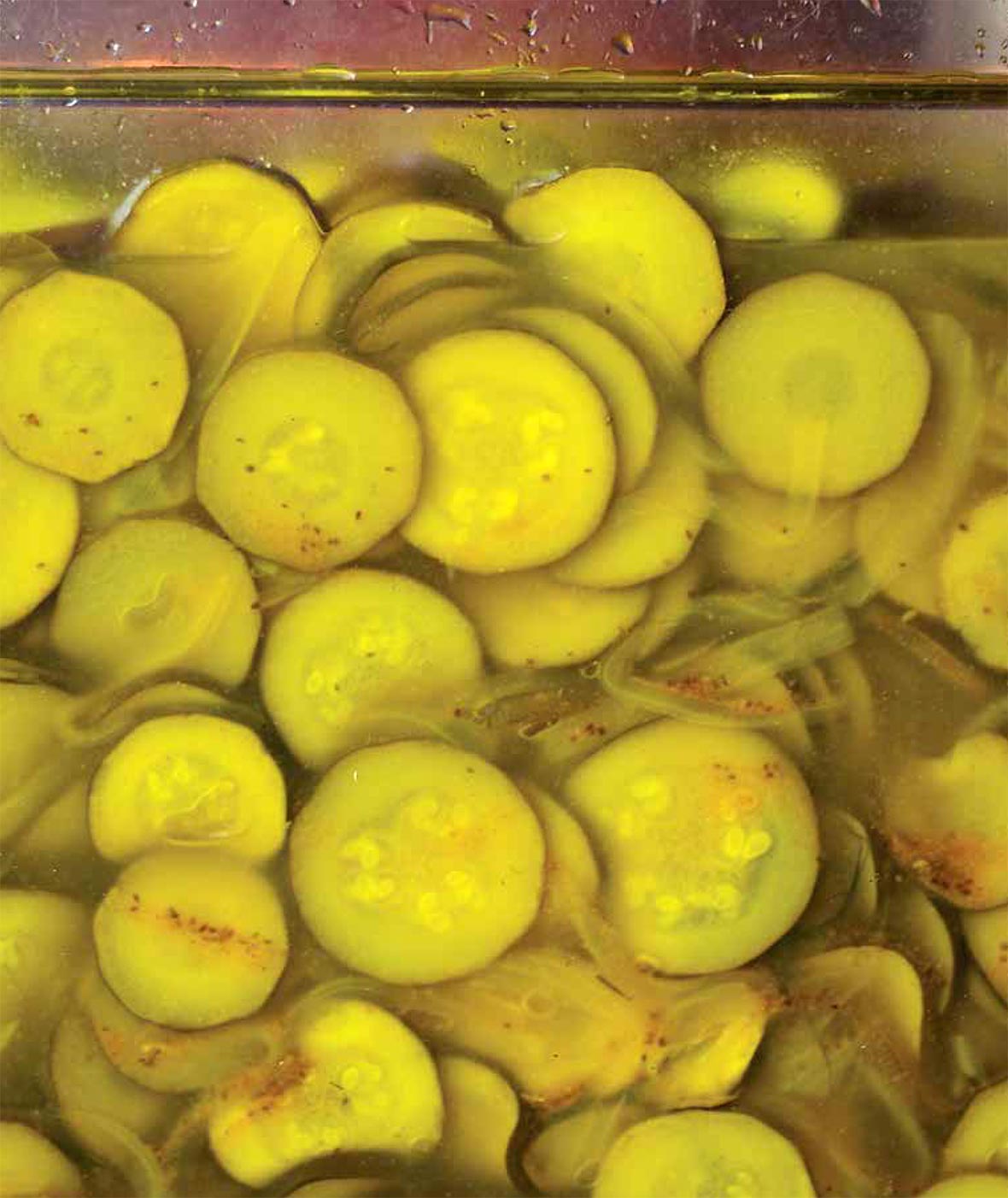 These pickled zucchini are a litle tricky to put into words. They're not too sweet, not too tangy, and not like anything pickled you've ever experienced. If we had to draw comparisons, we'd probably liken them to bread and butter pickles. But don't take our word for it.
As for how to use these zucchini pickles, far be it from us to tell you what to do, though we suggest you start anywhere you'd use a regular cucumber pickle. And of course there's this almost obscenely indulgent Bacon Manchego Burger, which was crafted with zucchini pickles in mind.
Oh, and this recipe makes tons of zucchini pickles. Well, not literally tons. But close. Which is perfect if you've got a bumper crop of zucchini. Otherwise, consider yourself warned. Although you can easily scale the recipe down. Originally published April 1, 2014.–Renee Schettler Rossi
Pickled Zucchini
Quick Glance
45 M
1 H, 45 M

Makes about 5 pounds
Special Equipment: Mandoline; Mason jars and lids
Print Recipe
Ingredients
6 cups Champagne vinegar

1 1/2 cups granulated sugar

1/2 cup salt

3 teaspoons celery seeds

3 teaspoons turmeric powder

1 teaspoon dry mustard powder

2 yellow onions, julienned

5 pounds zucchini, unpeeled, thinly sliced with a mandoline about 1/4 or 1/8 inch thick
Directions
1. In a large nonreactive (that means not aluminum) pot, bring the vinegar, sugar, salt, celery seeds, turmeric, mustard powder, and onions to a boil. Remove from the heat.

2. Toss the zucchini in the pot, making certain every last slice is immersed in the liquid. (If any of the zucchini slices are misbehaving and sticking out of the liquid, use a small plate to weight them down so they remain submerged.) Let the zucchini rest at room temperature for 1 hour.

3. Place the pot with the zucchini and liquid over medium-high heat, uncovered, and bring to a boil. Boil the zucchini, still uncovered, for exactly 3 minutes—no more and no less. Remove from the heat. Immediately pour the zucchini and brine into a shallow nonreactive (again, not aluminum) pan to cool completely.

4. Ladle the cooled zucchini and brine into your favorite glass jars and refrigerate. (There's no need to properly can and seal the pickles, since these are what's known as refrigerator pickles. As the name implies, they're kept in the refrigerator, which means there's no need to properly can them.) The pickled zucchini will be ready to eat in 1 day and will keep in the refrigerator for up to 3 months.
Pickled Zucchini Recipe © 2013 John Gorham and Liz Crain. Photo © 2013 David Reamer. All rights reserved. All recipes and photos used with permission of the publisher.
If you make this recipe, snap a photo and hashtag it #LeitesCulinaria. We'd love to see your creations on Instagram, Facebook, and Twitter.