This strawberry rhubarb jam is lovely to taste and incredibly easy to make compared to most homemade preserves, relying on a simple technique to make a small batch in just half an hour. And you can simply stash the jam in the fridge rather than properly process it.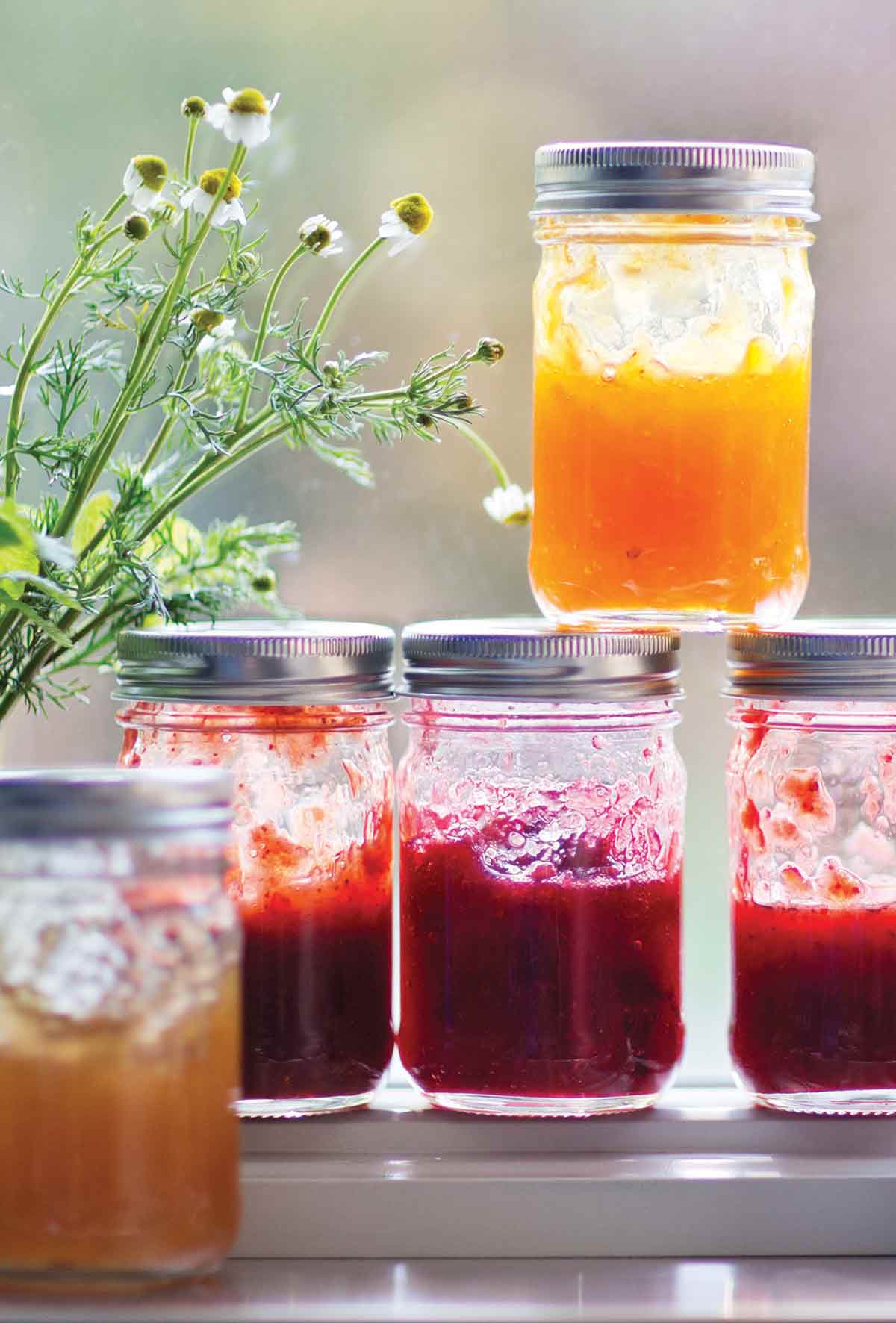 Those familiar with Sarabeth's strawberry rhubarb jam know well the reassuring sight of those iconic and familiar jars on shelves at specialty grocers. And while there's always an array of flavors, if you're anything like us, strawberry rhubarb has always been your favorite. And now you can take comfort knowing that you can make Sarabeth's very own recipe at home. You'll be even more tickled to know that it takes a mere half hour to put up a small batch that boasts not just a superbly satiating taste and texture but lord, oh lord, a fragrance that's intoxicating beyond words.
And it's a small enough batch that there's no need to process it for canning; instead you can simply stash it in the fridge with the knowing that it'll easily disappear before it can possibly go bad.–Renee Schettler
Strawberry Rhubarb Jam
One of spring's most beloved combinations becomes even more delicious with the addition of lemon and a vanilla bean. I use whole lemon slices, rind and all. The rind provides both extra pectin to help the preserves set and lovely bits to chew on. The speckles of vanilla seeds turn this into a stunner and add an aroma that makes you feel like you're eating dessert.
Equipment
2 sterilized half-pint canning jars
Ingredients
8

ounces

rhubarb

tough strings removed with a vegetable peeler, stalks cut into 1/4 inch (6 mm) slices (1 1/4 cups)

8

ounces

strawberries

hulled, quartered lengthwise, and cut crosswise into slices 1/2 inch (1 cm) thick (1 1/3 cups)

1/2

Meyer lemon or 1/4 regular lemon

cut into slices 1/8 inch (3 mm) thick and seeded

1/4

cup

cold water

3/4

cup

granulated sugar

plus more, as needed

1/2

vanilla bean
Directions
In a large nonreactive saucepan over medium heat, bring the rhubarb, strawberries, lemon, and water to a simmer, stirring occasionally. Reduce the heat to medium-low and continue to simmer, stirring occasionally, for 5 minutes.

Stir in 3/4 cup sugar. And then, since strawberries and rhubarb can vary in their sweetness, carefully take a taste and, if desired, add more of the remaining sugar, a little at a time.

Using the tip of a sharp knife, split the half vanilla bean lengthwise, scrape the seeds into the mixture, and then toss in the pod.

Continue simmering the jam mixture, stirring occasionally, until the preserves are slightly thickened, 10 to 15 minutes. (See our *How do I know when my jam is done? note below.) Skim and discard any foam that may appear on the surface. Discard the vanilla pod.

Divide the jam between 2 sterilized half-pint canning jars. Screw on the lids, let cool to room temperature, and then refrigerate overnight (before diving into it!) to allow the flavors to meld. You can keep your stash of strawberry rhubarb jam in the fridge for up to 2 weeks.
Notes
*How do I know when my jam is done?
New to making jam? It can seem pretty daunting at first. That pot of scalding fruit lava burbling away might be enough to make you lose your bravado. But, hear us out, it's actually easy to know when to pull it from the heat.  Our recipe tester Linda McElroy, an experienced home preserver, explains, you have a few ways to know when it's time to safely pull that fruit off the stovetop, or, in home preservers' parlance, to "check the set." Here are the options:
1. The spoon test—drag a wooden spoon through the jam. If the spoon parts the preserves, leaving a clean streak on the bottom of the pan, it's done.
2. The freezer test—before you begin to make the jam, place a small plate in your freezer. When you think the jam is ready, drop a very small amount of jam from a  spoon onto the chilled plate. If the jam doesn't spread (or spreads very little) and you can draw your finger or the spoon through it and leave a clean streak on the plate, the jam is ready.
Show Nutrition
Serving:
2
tablespoons
Calories:
44
kcal
(2%)
Carbohydrates:
11
g
(4%)
Protein:
1
g
(2%)
Fat:
1
g
(2%)
Saturated Fat:
1
g
(6%)
Polyunsaturated Fat:
1
g
Monounsaturated Fat:
1
g
Sodium:
1
mg
Potassium:
63
mg
(2%)
Fiber:
1
g
(4%)
Sugar:
10
g
(11%)
Vitamin A:
16
IU
Vitamin C:
9
mg
(11%)
Calcium:
15
mg
(2%)
Iron:
1
mg
(6%)
If you make this recipe, snap a photo and hashtag it #LeitesCulinaria. We'd love to see your creations on Instagram, Facebook, and Twitter.
Recipe Testers' Reviews
This is an extremely easy way to make a quick batch of strawberry rhubarb jam. I usually feel like I need to devote half a day when I make jam, but this recipe makes 2 small jars. My total time was literally 20 minutes.
I loved the addition of lemon slices, which mostly fell apart, as well as the vanilla bean. This really takes strawberry rhubarb jam to a whole new level. It's a dessert-quality jam!
I admit that I was alarmed when I saw it called for up to 1 1/2 cups sugar. I started with 3/4 cup and then decided that it could use another 2 tablespoons. You could probably go up to 1 cup of sugar if you wanted. The jam was slightly tart, but that's how I like it.
The jam thickened perfectly and wasn't at all soupy, as is sometimes the case when I reduce the amount of sugar called for in a jam recipe. I used a 12-inch skillet in place of a saucepan so the liquid would evaporate rapidly. After I added the sugar, the jam only took 5 more minutes to thicken. When you drag a wooden spoon through the jam and it parts ways and leaves a clean streak on the bottom of the pan, you know it's done. But I also did the freezer test to confirm. Place a small plate in your freezer when you begin to make the jam. When you think the jam is ready, drop a very small amount on the chilled plate, if it mounds up and doesn't spread (very much) and you can draw your finger through it and leave a clean streak, the jam is ready.
You could probably process the jars if you wanted to, but it won't be hard to go through this small amount of jam in a couple of weeks. You could always freeze one of the jars.
This recipe takes strawberry rhubarb jam to the next level! I've made strawberry rhubarb jam for years using the standard recipe that comes in the liquid pectin recipe insert and I have always been pleased with the results. This recipe takes things up a few notches. The addition of lemon rind and vanilla gives the preserves more texture and depth of flavor.
The jam took 20 minutes cooking to reach the proper consistency and then I stirred the jam for an additional 5 minutes once I took it off the stove to keep the fruit suspended before pouring it into the jars. I tested the set using two ways—checking the temperature was 220°F and putting a spoonful on a cold plate and seeing if it gels. The recipe yielded a full pint of delicious, fresh, vibrant jam.
Total time was 1/2 hour to preserve the taste of spring!
Originally published July 11, 2016
Recipe © 2015 Sarabeth Levine. Photo © 2015
Quentin Bacon
. All rights reserved. All materials used with permission.