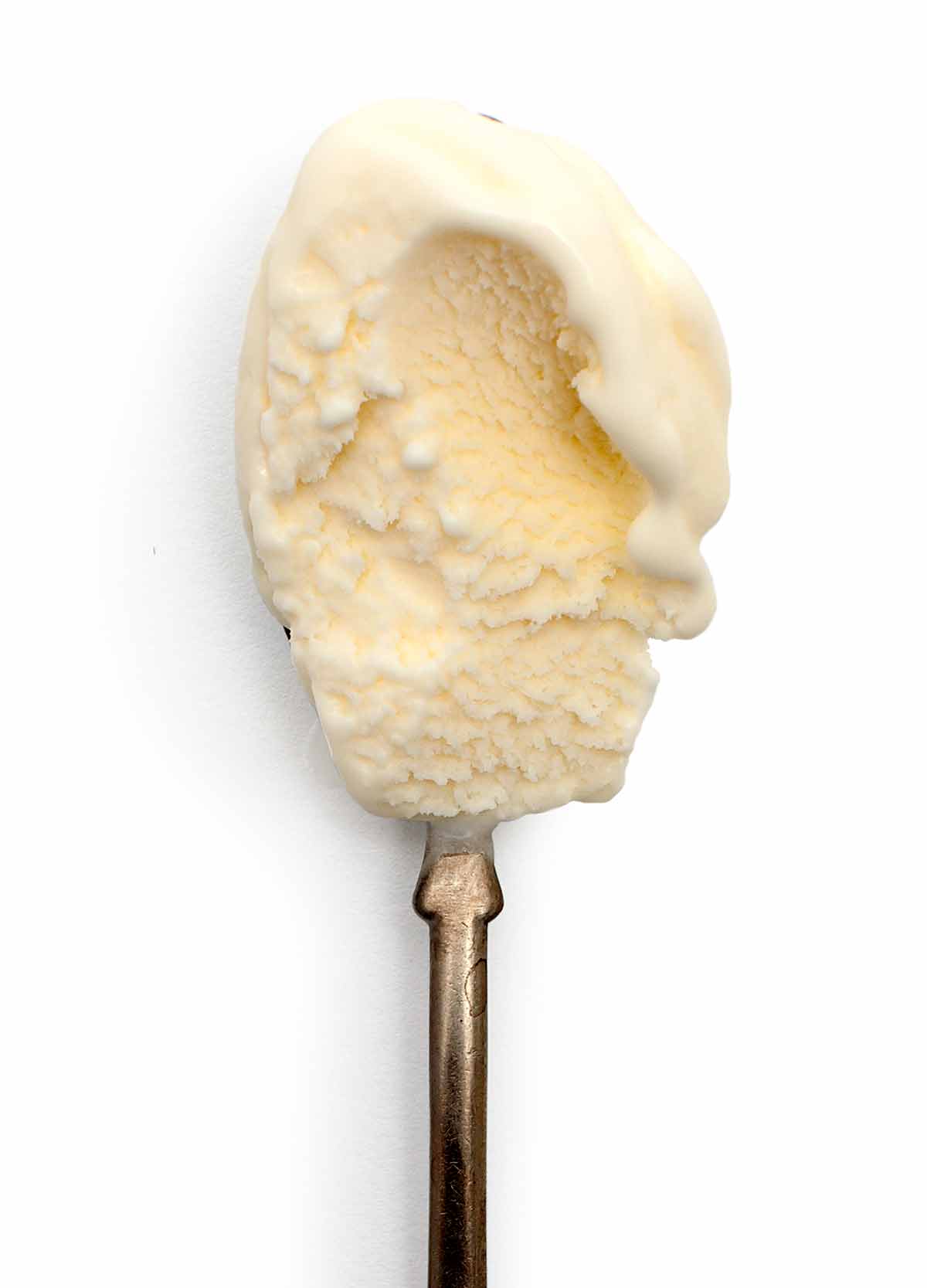 This sweet cream ice cream recipe contains no vanilla. And no eggs. Just milk, cream, cream cheese, and sugar. And it tastes just like the rendition at Cold Stone Creamery that started the whole sweet cream sensation. If you've not experienced it, think of it as sorta like cheesecake in both its richly indulgent taste and its obscenely smooth texture. Although it's actually sorta indefinable. Sorta something you need to experience it for yourself.–David Leite
Sweet Cream Ice Cream FAQs
What's the difference between Light Corn Syrup and High-Fructose Corn Syrup?
Well, they're both made from corn – but they're not the same and aren't interchangeable. Corn syrup (both light and dark) can be easily found in the baking section of nearly any grocery store. It's generally kept near sugar, maple syrups, and molasses. Some versions of light corn syrup have a bit of vanilla added (Karo brand , for one). Dark corn syrup is enhanced with things to make it taste more like molasses. High fructose corn syrup isn't something you'll find in the store for home use because it's made specifically for commercially processed and produced food items. You'll see HFCS on food labels.
What can I add to sweet cream ice cream?
Check out the notes below the recipe. Sweet cream ice cream is delicious eaten alone, but it's also a "blank canvas", so feel free to add your favorite fruits, nuts, toppings, jams, candies, or whatever else your heart desires. If you love the Cold Stone experience and want to try that out at home, visit our shop and check out this super sweet Parlor Ice Cream Mixing set.
Sweet Cream Ice Cream
This sweet cream ice cream recipe contains no vanilla. And no eggs. Just milk, heavy cream, sugar, and cream cheese. And it tastes just like Cold Stone Creamery's version that started the whole sweet cream sensation.
Ingredients
2 2/3

cups

whole milk

1

tablespoon plus 2 teaspoons

cornstarch

4

tablespoons

cream cheese

,

softened

1/8

teaspoon

fine sea salt

1 1/2

cups

heavy cream

3/4

cup

granulated sugar

1/4

cup

light corn syrup

,

[Editor's Note: Just to clarify, this is different than high-fructose corn syrup and is not nearly as terrible for you. Promise.]
Instructions
In a small bowl, mix about 2 tablespoons milk with the cornstarch to make a smooth slurry.

In a slightly larger bowl, whisk the cream cheese and salt until smooth.

Fill a large bowl halfway with ice water.

In a 4-quart saucepan, combine the remaining milk, heavy cream, sugar, and corn syrup and bring to a boil over medium-high heat. Keep it at a boil for 4 minutes.

Remove from the heat and gradually whisk in the cornstarch slurry. Bring the mixture back to a boil over medium-high heat and cook, stirring with a heatproof spatula, until slightly thickened, about 1 minute. Remove from the heat.

Gradually whisk the hot milk mixture into the cream cheese mixture until smooth. Pour the mixture into a 1-gallon resealable plastic freezer bag, squeezing out as much air as possible before sealing it. Submerge the bag filled with the ice cream base in the ice water and let stand, adding more ice as necessary, until cold, about 30 minutes or tuck it in the fridge and let it rest for up to several hours.

Process the ice cream base according to your ice cream machine manufacturer's directions. (The ice cream mixture will be very thick even when you begin to churn it. Don't fret. This is okay.)

Transfer the churned ice cream into a container with a lid. Press a sheet of parchment directly against the surface of the ice cream and seal it. Stash the ice cream in the coldest part of your freezer until firm, at least 4 hours.
Notes
Sweet Cream Ice Cream Variation
Sweet Cream Ice Cream With Fruit Swirl Variation
To layer jam or caramel sauce into ice cream, start by drizzling a spoonful of jam or caramel in the bottom of the storage container and spread a layer of ice cream over it. Add a few more spoonfuls of gooey stuff over the nooks of the ice cream. The sauce should not cover the underlying layer of ice cream. Then add another ice cream layer. Continue the sauce and ice cream layering until all the ice cream is used. Note that you do not want to "swirl" the sauce into the ice cream because it will get lost; instead, try to keep it in small pockets throughout the ice cream for a more dramatic presentation and flavor. We also like to add a few final spoonfuls of sauce on the top for decoration, just before covering everything with parchment.
What Else You Can Do With Sweet Cream Ice Cream
This sweet cream ice cream recipe is my classic, creamy, smooth ice cream base for several recipes—it can be used to make any flavor you wish. It's the ideal blank canvas. It's wonderful by itself or in a sundae or with any sauce or jam layered throughout. You can customize it with the addition of essential oils and extracts, fruits, herbs, spices, nuts, crumbled cakes, cookies, as well as jams and sauces. One of our all-time biggest hits, and one of my personal favorites, is where the sweet cream ice cream is swirled with blackberry jam.
Nutrition
Serving:
0.5
cup
Calories:
332
kcal
Carbohydrates:
33
g
Protein:
4
g
Fat:
21
g
Saturated Fat:
13
g
Polyunsaturated Fat:
1
g
Monounsaturated Fat:
5
g
Cholesterol:
68
mg
Sodium:
109
mg
Potassium:
174
mg
Fiber:
1
g
Sugar:
32
g
Vitamin A:
885
IU
Vitamin C:
1
mg
Calcium:
138
mg
Iron:
1
mg
Nutrition information is automatically calculated, so should only be used as an approximation.
Recipe © 2014 Jeni Britton Bauer. Photo © 2014 Kelsey McClellan. All rights reserved.
---