This sweet cream ice cream recipe is my classic, creamy, smooth ice cream base for several recipes—it can be used to make any flavor you wish. It's the ideal blank canvas, but it's not without flavor. It's wonderful by itself or in a sundae or with any sauce or jam layered throughout. You can customize it with the addition of essential oils and extracts, fruits, herbs, spices, nuts, crumbled cakes, cookies, as well as jams and sauces. (When using essential oils, go lightly and taste often—ususally just 2 to 5 drops will do.) The simplest flavors are often the finest. One of our all-time biggest hits, and one of my personal favorites, is the variation presented here where the sweet cream ice cream is swirled with blackberry jam. I also love it on its own. You will find that it's smooth and creamy with a beautifully scoopable body.–Jeni Britton Bauer
LC Sweet Cream Ice Cream Note
This sweet cream ice cream recipe contains no vanilla. And no chocolate. Just milk, cream, cream cheese, and sugar. It's sorta like cheesecake although it's actually sorta indefinable. Guess you're just going to have to experience it for yourself and letting us know what you'd name it in a comment below.
Sweet Cream Ice Cream
Quick Glance
15 M
10 H

Makes about 1 quart
Special Equipment: Ice cream maker
Print Recipe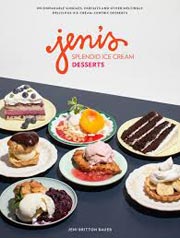 Ingredients
2 2/3 cups (600 grams) whole milk

1 tablespoon plus 2 teaspoons (14 grams) cornstarch

4 tablespoons (56 grams) cream cheese, softened

1/8 teaspoon fine sea salt

1 1/2 cups (336 grams) heavy cream

3/4 cup (180 grams) granulated sugar

1/4 cup (76 grams) light corn syrup, [Editor's Note: Just to clarify, this is different than high-fructose corn syrup and is not nearly as terrible for you. Promise.]
Directions
1. Mix about 2 tablespoons milk with the cornstarch in a small bowl to make a smooth slurry.

2. Whisk the cream cheese and salt in a medium bowl until smooth.

3. Fill a large bowl with ice water.

4. Combine the remaining milk, the cream, sugar, and corn syrup in a 4-quart saucepan, bring to a boil over medium-high heat, and boil for 4 minutes. Remove from the heat and gradually whisk in the cornstarch slurry. Bring the mixture back to a boil over medium-high heat and cook, stirring with a heatproof spatula, until slightly thickened, about 1 minute. Remove from the heat. Gradually whisk the hot milk mixture into the cream cheese until smooth. Pour the mixture into a 1-gallon resealable plastic freezer bag and submerge the sealed bag in the ice bath. Let stand, adding more ice as necessary, until cold, about 30 minutes.

5. Pour the ice cream base into the ice cream machine canister and process according to manufacturer's directions. (The ice cream mixture will be very thick even when you begin to churn it. This is okay.)

6. Pack the ice cream into a storage container. Press a sheet of parchment directly against the surface of the ice cream and seal the container with an airtight lid. Stash the ice cream in the coldest part of your freezer until firm, at least 4 hours.
Tuxedo Variation
Sweet Cream Ice Cream With Fruit Swirl Variation
To layer jam or caramel sauce into ice cream, start by drizzling a spoonful of jam or caramel in the bottom of the storage container and spread a layer of ice cream over it. Add a few more spoonfuls of gooey stuff over the nooks of the ice cream. The sauce should not cover the underlying layer of ice cream. Then add another ice cream layer.  Continue the sauce and ice cream layering until all the ice cream is used. Note that you do not want to "swirl" the sauce into the ice cream because it will get lost; instead, try to keep it in small pockets throughout the ice cream for a more dramatic presentation and flavor. We also like to add a few final spoonfuls of sauce on the top for decoration, just before covering everything with parchment.
Sweet Cream Ice Cream Recipe © 2014 Jeni Britton Bauer. Photo © 2014 Kelsey McClellan. All rights reserved. All recipes and photos used with permission of the publisher.
If you make this recipe, snap a photo and hashtag it #LeitesCulinaria. We'd love to see your creations on Instagram, Facebook, and Twitter.