These leftovers turnovers handily disguise those leftovers from a feast lurking in your refrigerator. They're essentially hand pies made with flaky pie crust or puff pastry filled with…whatever.
Easy. Inexpensive. And innovative as heck. Prepare to be more enthralled with Thanksgiving leftovers than ever before.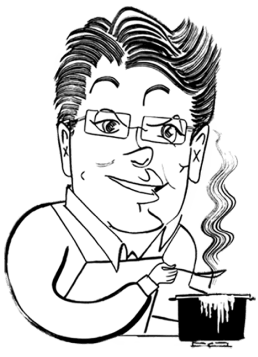 Why Our Testers Loved This
Our testers are praising these hand pies for being an "innovative" and "creative" way to serve leftovers, and that they could be adapted to any leftovers you have on hand.
What You'll Need to Make This
Pastry–You can use store-bought or homemade pie crust, or puff pastry. Puff pastry turkey turnovers will be flakier than those made with pie crust.
Leftovers–This recipe is ideal for using up your Thanksgiving leftovers, but don't stop there. If you've got leftovers from a roast chicken or braised brisket and vegetables, they'll work just as well.
How to Make This Recipe
Preheat the oven to 350°F. Line a baking sheet with parchment. Roll out the pastry dough and cut it into 4 rectangles.

Fill the pastry. Scoop a generous portion of leftovers into the center of each piece of pastry. Fold and seal with your fingers, then brush lightly with egg.

Bake the turnovers. Cook until the pastry is golden brown and the leftovers are heated through.
FAQs
Can I freeze these?
Yes, the filled uncooked leftover turkey hand pies can be frozen for up to 1 month. Freeze them on a rimmed baking sheet and transfer them to a resealable bag. Bake from frozen, adding a few extra minutes to the cooking time.
What else could I put in these turnovers?
You can fill them with any kind of leftovers lurking in your fridge. In addition to the ubiquitous Thanksgiving leftovers, try filling them with roast chicken and vegetables, red wine beef stew, or taco meat and your favorite fixings.
How should I serve these?
They're great on their own, or served with mustard, but we wouldn't say no to a dollop of cranberry relish or some leftover gravy for dunking.
Helpful Tips
Use cold leftovers to fill the pastry. Warm food will cause the pastry to soften and become soggy.
Break up any large pieces of turkey or stuffing so that your turkey turnovers aren't lumpy and that you get an even mixture with each bite.
Line your baking sheet with parchment paper in case one of your hand pies spring a leak during baking.
Write a Review
If you make this recipe, or any dish on LC, consider leaving a review, a star rating, and your best photo in the comments below. I love hearing from you.–David
Leftovers Turnovers
These Thanksgiving leftovers turnovers are filled with cold turkey, mashed potatoes, stuffing or dressing, cranberry sauce, whatever leftovers are lurking in your fridge. An easy supper solution that'll earn you accolades.
Ingredients
All-purpose flour

,

for dusting

About 1

pound

store-bought or homemade pie crust or frozen puff pastry, thawed

1

large

egg

,

beaten

About 1

pound

cold cooked leftovers, such as shredded turkey, mashed potatoes, stuffing, cranberry sauce, or whatever you please

,

(3 to 4 cups)

Salt

Mustard

,

for serving (optional)
Instructions
Preheat the oven to 350°F (175°C). Line a rimmed baking sheet with parchment paper.

Dust a clean work surface with flour and roll the pastry into a large rectangle about 1/16 to 1/8 inch thick. Cut the rectangle into 4 smaller rectangles (or circles, if you prefer turnovers of a more traditional "pasty" shape). You want them all to be roughly the same size. Brush the edges with a bit of beaten egg.

☞ TESTER TIP: In a large bowl, mix the leftovers together, breaking up any pieces that may be a bit too chunky.

Ensure that the leftovers have been in the fridge long enough to be completely cold. The turnovers will assemble so much more easily.

Spoon the leftovers generously onto the center of each portion of pastry. Now fold the dough over in half over the filling. Use your fingers to crimp the edges and seal the dough. Repeat with the remaining dough and leftovers.

Lightly brush the turnovers with some of the remaining egg, lightly sprinkle with salt, and place on the parchment paper.

Bake the turnovers for 25 to 35 minutes, until golden brown. Serve hot or cold with mustard on the side, if desired.
Notes
Serving–If you've got some leftover cranberry sauce or relish, or gravy, they're also great for dipping or topping these turnovers.
Freezing–Unbaked turnovers can be frozen for up to 1 month. Freeze on a baking sheet, then transfer them to a resealable bag. Bake from frozen, adding a few extra minutes to the cooking time.
Substitutions–Get creative with whatever leftovers are lurking in your fridge. Any leftover meats, vegetables, and potatoes will all work well here.
Nutrition
Serving:
1
turnover
Calories:
857
kcal
Carbohydrates:
51
g
Protein:
42
g
Fat:
53
g
Saturated Fat:
14
g
Polyunsaturated Fat:
8
g
Monounsaturated Fat:
28
g
Trans Fat:
1
g
Cholesterol:
170
mg
Sodium:
417
mg
Potassium:
357
mg
Fiber:
2
g
Sugar:
1
g
Vitamin A:
113
IU
Calcium:
34
mg
Iron:
4
mg
Nutrition information is automatically calculated, so should only be used as an approximation.
Recipe © 2013 Sophie Wright. Photo © 2013 Jemma Watts. All rights reserved.
---
Recipe Testers' Reviews
What an innovative way to serve leftovers using some pastry and those pesky little bits of this and that hiding in the fridge. These were delicious warm and smelled great while baking.
I made 2 types of turnovers—we had some taco meat and fixings in the fridge as well as some beef and Guinness stew. I used pastry from my freezer and made 8 turnovers. These would probably be slightly smaller than the recipe called for but we found them to be an adequate size for lunch. They could be made larger for dinner by cutting the pastry sheet in half instead of quarters.
I found that since the filling was cold, the turnovers were easy to fill. Baking time was only 20 minutes, but I attribute that to them being a smaller size. I would recommend using parchment paper on the baking sheet in case one of the seams springs a leak.
This is a fabulous way to use up those bits in the fridge that aren't enough for whole other dinner or leftovers you just want to serve another way. My family is already thinking of other things we can make dinner turnovers with.
This is a creative technique for repurposing leftovers from a Thanksgiving feast or even from a homey Sunday supper of pot roast with potatoes and carrots. The combinations and possibilities are wide-ranging.
The puff pastry I bought (Dufour) came in a 14-ounce package, so I scaled down the amount of filling accordingly. After rolling the pastry out into a rectangle (a little under 1/8 inch thickness), I assembled the turnovers, being careful not to overstuff them (something I tend to fall victim to) and I had 1 cup filling (1/4 pound) left unused. They went into the oven and were browned and ready to come out and be devoured after 35 minutes.
I might try this again with a little less guilt using a regular pie crust, though the turnovers wouldn't turn out as beautifully flaky. And they were beautiful and they were oh so flaky.
Between the two of us, we ate 2 1/2 of them along with big bowls of creamy squash, carrot, and ginger soup. It was a fitting meal to end Thanksgiving weekend. And, butter aside, we got lots of veggies! The leftovers I used included roasted yellow beets, carrots, potatoes, cauliflower, and fennel.