We all know that feeling of staring down a fridge full of Thanksgiving leftovers. After you've had your fill of hot turkey sandwiches, what else is there? Oh boy, have we got some scrumptious ideas for you—mashed potato cakes, taco salad, and fried rice, to name a few. You're going to love leftovers again.
This turkey cranberry sandwich with stuffing is a classic post-Thanksgiving must. Slices of sturdy bread, mayo, cranberry sauce, turkey, stuffing, and gravy. The best part of Thanksgiving…besides the people at the table.
Recipe
These Thanksgiving leftovers turnovers are filled with cold turkey, mashed potatoes, stuffing or dressing, cranberry sauce, whatever leftovers are lurking in your fridge. An easy supper solution that'll earn you accolades.
Recipe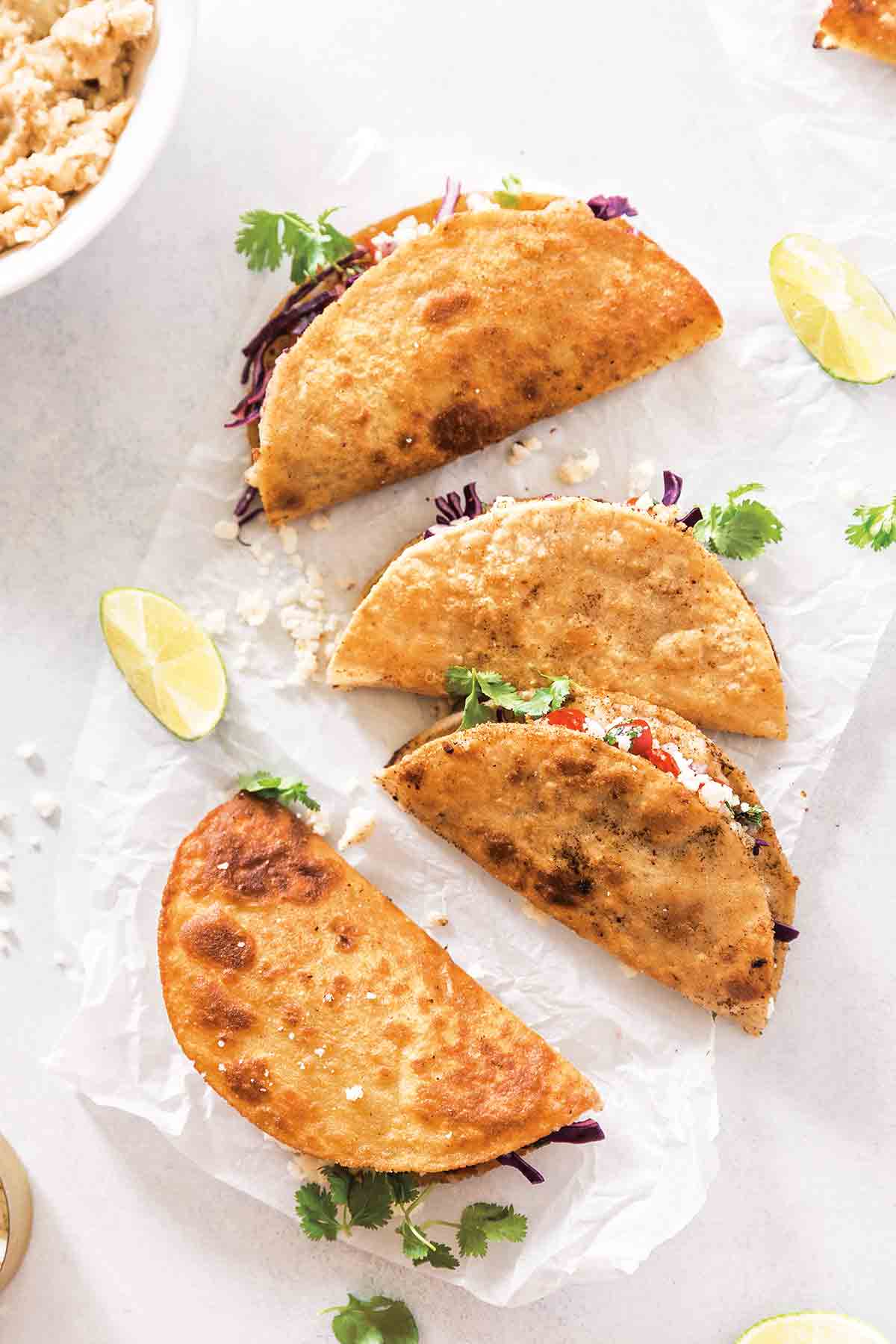 These crispy mashed potato tacos, filled with crunchy cabbage, creamy mashed potatoes, fresh pico de gallo, and cilantro, are unconventional yet absolutely delicious.
Recipe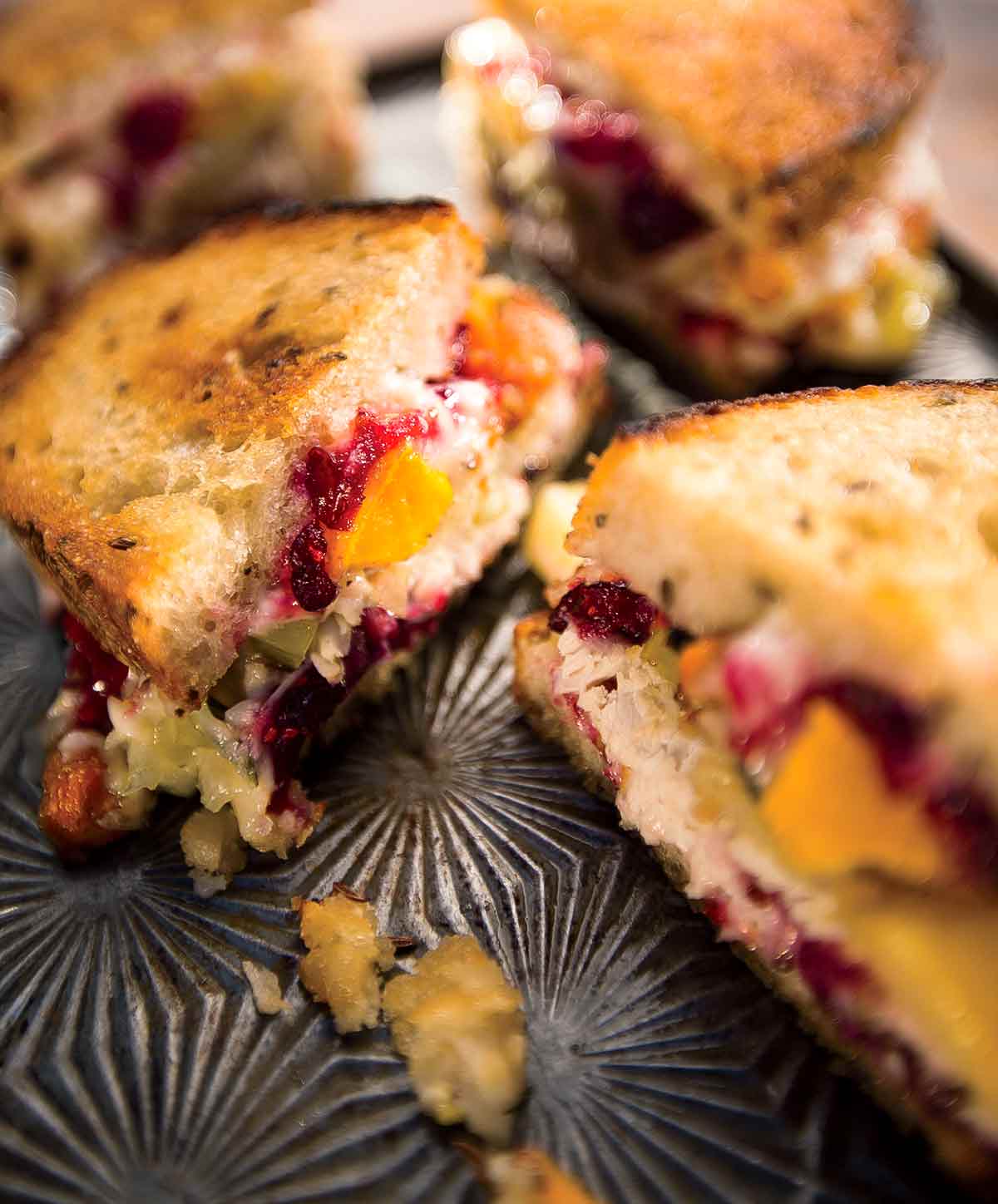 I make these whenever my daughter Kimberlee and her family come for lunch. I usually grill them and sometimes add sliced avocado to make them even moister. If you have leftover gravy, warm some up and use it as a dip along with the cranberry mayo! When I don't have turkey on hand, I use whatever is in the fridge—leftover pork roast, prime rib, roast chicken, or even canned tuna.
Recipe
This Thanksgiving Leftovers Quesadilla is the answer to your leftover problem. We all need some turkey leftover ideas to use up the extra food from the big feast, and this Turkey, Cranberry, Sage Quesadilla is the solution.
Recipe
These Thanksgiving leftovers muffins make magnificent use of all of your holiday extras by layering stuffing, gravy, turkey, and mashed potatoes in a muffin tin for a savory and surprising day-after nosh.
Recipe
Thanksgiving Leftover Casserole combines all the flavors of the big meal in a simple, easy to make, never dried out dish. This is the best way to use up those leftovers!
Recipe
Leftover mashed potato cakes are the answer to Post-Thanksgiving food glut in the fridge. Leftover mashed potatoes are formed into pucks, floured, dipped in egg, and coated with panko breadcrumbs. They're then pan-fried to crisp, golden perfection.
Recipe
Thanksgiving leftover sliders are the perfect way to use your thanksgiving leftovers! Use your leftover turkey, stuffing and cranberry sauce in these cute and delicious sliders!
Recipe
This fried rice with leftovers is a nifty clean-out-the-fridge stir-fry that turns leftovers into a quick and easy weeknight dinner made from just leftover rice and meat, seafood, or vegetables along with soy sauce or fish sauce. Beware the optional but addictive jalapeño garlic vinegar.
Recipe
Still have more leftovers to use up?
If you're still looking for ways to use up those Thanksgiving leftovers and can't bear the thought of another turkey sandwich, give one of these a whirl.
Swap turkey for the chicken in these easy chicken enchiladas.
Mash up and combine any leftover sweet potatoes and carrots for this sweet potato and cranberry strudel.
Pile your leftovers on top of tater tots for a Thanksgiving-inspired plate of totchos.
Swap turkey for chicken in your favorite butter chicken recipe.
Put that turkey carcass to good use in this easy soup.
Add some scallions, parsley, and goat cheese to your mashed potatoes, and fry up these goat cheese potato cakes.
Toss your leftover turkey into this carrot soup.
Spoon cranberry sauce over cheesecake or swirl it into yogurt and top with granola.
Use finely chopped turkey in place of the ground turkey in this turkey taco salad.
Use up leftover gravy in your favorite poutine recipe.
Pile all your leftovers into a pie plate, top with a pie crust, and bake until golden. Voilà! Thanksgiving pot pie.
Stuff peppers with turkey, stuffing, and vegetables. Top with cheese and bake until tender.
Leftover dessert? You don't need our help in figuring out what to do with that.
Originally published November 25, 2021
© 2021 Leite's Culinaria. All rights reserved. All materials used with permission.