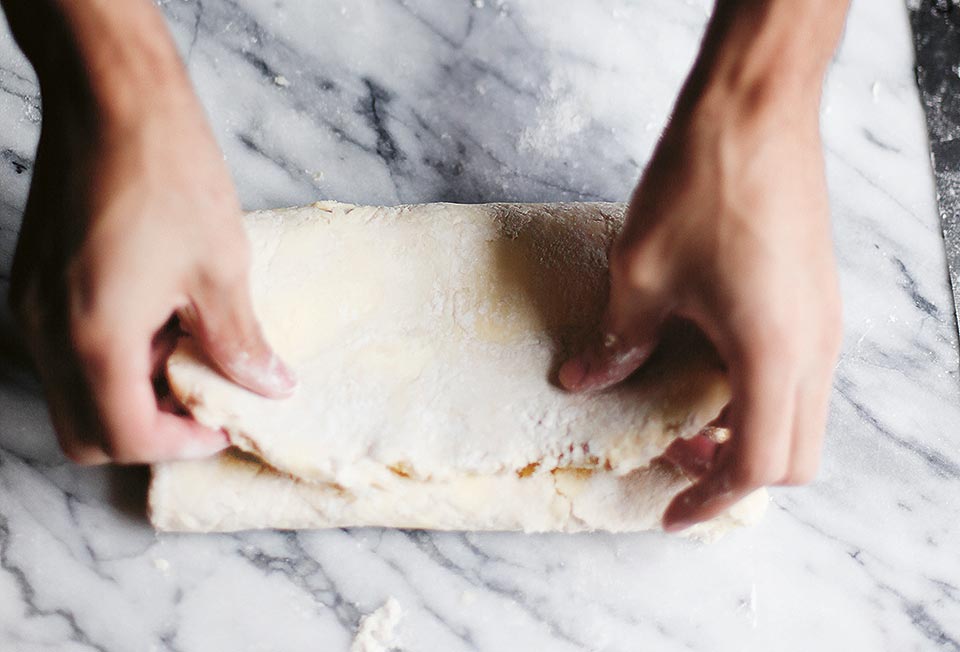 Many chefs say that it's too difficult to make your own puff pastry at home and that you should only purchase it ready-made. What if I told you it's actually simple and well worth the work, especially when you use this quick puff pastry recipe, which you can combine and roll out in less than 15 minutes hands-on time? The recipe results in beautifully puffy and flaky pastry. No more will you have to spend insane amounts of money on prepared puff pastry.
This is one recipe where having a kitchen scale comes in handy. It gives you absolute precision and you don't have to dirty as many dishes.–Kamran Siddiqi
LC Best Use Ever For Puff Pastry Note
The best use ever for this quick puff pastry recipe—which turns out delicate, shatteringly crisp, insanely buttery layers of paper-thin pastry that bake to a lofty golden brown with surprising ease—has to be palmiers. Puff pastry also plays a similarly magical role in all manner of other recipes, including tarts both savory and sweet as well as hors d'oeuvres of all sorts. It can even stand in for standard pastry as the top lid on a pot pie or as the cozy blankie in pigs in a blanket. And it can do all this at the drop of a toque when you stash it in the freezer. Still not convinced? If you forego this recipe and instead rely on the mass-produced store-bought brand in grocery stores everywhere, chance are you'll be devastated by the ingredient list, which contains preservatives galore and vegetable shortening as opposed to sweet, sweet butter. And if you turn to the blissfully all-butter rendition made by Dufour and found in specialty stores, you may not have enough dough left in your bank account for the rest of your recipe. So to us, as the French would say, it's a no-brainer. (Just kidding. They'd say something classier.)
Quick Puff Pastry
Quick Glance

(1)

25 M
1 H, 45 M

Makes about 1 pound
Print Recipe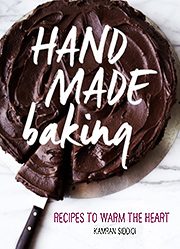 Ingredients
Email Grocery List
Directions
In a large bowl, whisk together the flour and salt. Toss the butter in the bowl and immediately stash the bowl in the freezer for 10 to 15 minutes.
Once the ingredients are chilled, quickly separate the chunks of butter from one another with your fingertips. Use a table knife or pastry blender briefly to cut the butter into the flour, just enough to coat the butter with flour.
Turn the contents of the bowl onto a clean work surface—preferably a marble board or metal counter. (A chilled rimmed baking sheet placed upside down on a damp dish towel works well, too. The cold surface will keep the butter from plummeting in temperature.) Form a well in the middle of the pile of flour and butter and dribble in 2 to 3 tablespoons ice water. Quickly mix the water into the flour mixture with your fingertips (spread your fingers a bit apart, as if you were using your hand as a whisk). You can test the mixture by gently squeezing a small handful. The dough should hold together without crumbling. If it doesn't, keep dribbling in water, 2 to 3 tablespoons at a time, until the dough starts to form. Remember to work quickly and to use your fingertips only.
Briskly knead the dough onto itself for 15 seconds until it holds together.
Using a bench or dough scraper or your hands, form the dough into a roughly 4-by-4-inch (10-by-10-centimeter) square. Wrap the dough in plastic wrap and refrigerate it until firm, about 30 minutes. Then roll the dough out into a 15-by-8-inch (38-by-20-centimeter) rectangle. Fold the short ends over the middle, as if you were folding a letter, to create 3 layers. This is the first fold.
Rotate the entire rectangle of dough 90 degrees and flip it over so the seam side (or what was the top fold) is facing down. Roll the dough away from you (not side to side) into a 15-by-4-inch (38-by-10-centimeter) rectangle. Fold the short ends over the middle to create 3 layers again. This is the second fold.
Wrap the dough in plastic wrap and refrigerate it for 30 minutes. (If it isn't hot and humid in your kitchen and you're working quickly, you can skip this refrigeration step and immediately continue with the recipe.)
Repeat the process of folding and rotating the dough to create the third and fourth folds. Wrap the dough in plastic wrap and refrigerate it for at least 30 minutes and up to 3 days before using it. (You can freeze the dough for up to 2 months. Just wrap it well in plastic wrap and place it in a freezer-safe resealable plastic bag before tossing it in the freezer. Thaw it out in the refrigerator before using.)
Print Recipe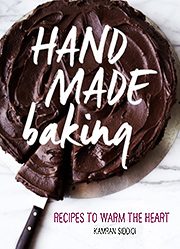 Recipe Testers Reviews

I loved this quick puff pastry recipe! It's almost as easy to make as regular pie dough, but with spectacular results. I used it to make a tarte tatin, and the dough baked up lovely and puffy, flaky and tender. I also made the recipe for palmiers on this site, which was equally delicious. This made 23 ounces dough for me. I used 1/3 cup water to get the dough to stick together. After I made the dough, I refrigerated it for almost an hour before it firmed up, but then I didn't need to refrigerate it again during the folding process since my kitchen was pretty cool. I floured the work surface and was glad I did since the dough still stuck to the counter a little bit. The rolling process was simple and easy, and on the third and fourth turns, I really didn't need much additional flour. I used a dough scraper to pick the dough up from the counter, which also helped.

This is a very easy puff pastry. You can have your pastry done and in the oven in a little over 30 minutes. I made this twice. The first time I made it exactly as described. The results were perfect, but the process was very messy. The second time, I put everything in a food processor and pulsed it 12 times. The result was perfect, and the mess was confined to a bowl and the processor. One final suggestion, or rather a story I want to share, pertains to when I wasn't thinking and made a braided Danish with this quick puff pastry recipe on a rimless sheet. As the pastry heated up, the butter drained down from the pastry, leaving it airy and crisp. But of course, there was quite a bit of butter all over the bottom of the oven.

I thoroughly enjoyed making this quick puff pastry recipe. It was almost therapeutic for me and the results were fantastic. I used the puff pastry dough to make some ham and Gruyère palimer appetizers and the pastry was light, crisp, and flaky, so much better than store-bought puff pastry. My dough came together with a total of 7 tablespoons water using the instructions of adding 2-3 tablespoons water at a time. Refrigeration for the first 4-by-4-inch square did not yield a firm dough after a 1/2 hour so I continued to leave it in the refrigerator, ran some errands, and came back to it after about 1 1/2 hours in the refrigerator and it was definitely firm at that point. I would recommend the longer refrigeration time as it helped keep the dough really cold while I completed all of the folding steps at once without stopping to refrigerate the dough midway through. I lightly dusted my counter and the top of the dough with flour to keep the dough from sticking. Because my dough was extra cold, I worked quickly with my folds and was able to make all 4 book folds for without need for extra refrigeration halfway through. I was refrigerating for next day use so I actually rolled the dough into the final size needed, placed parchment paper on the top and bottom, and then gently folded the dough into thirds over itself and wrapped the package in plastic wrap (similar to how store-bought puff pastry is wrapped). I was afraid of extra butter oozing from this recipe but it did not. This will be my go-to recipe for puff pastry. ( I worked on marble and used a pastry metal bench scraper which came in very handy and was necessary for this recipe. In fact, I purchased the bench scraper in anticipation of making this recipe. My bench scraper is metal and has cm. and inch markings up to 5 inches which was also a helpful guide to measure the dough, I purchased it at Ross for only $3.99.)
Quick Puff Pastry Recipe © 2014 Kamran Siddiqi. Photo © 2014 Kamran Siddiqi. All rights reserved. All materials used with permission.
If you make this recipe, snap a photo and hashtag it #LeitesCulinaria. We'd love to see your creations on Instagram, Facebook, and Twitter.