Here's how to cook a Texas brisket. Or, to put it another way, here's how to make smoked brisket at home that's obscenely tender and exquisitely smoky and ridiculously easy and quite possibly the best bbq brisket you've ever experienced. It just may make you famous—or shall we say, even more famous.–Renee Schettler
WHAT IS A TEXAS-STYLE BRISKET?
The piece of meat known as brisket is actually two cuts of beef separated by a thick strip of fat. The piece called the trimmed flat is what's used for braising or cooking in a slow-cooker. It has less fat and would dry out into something inedible in a smoker. The other is the point (or deckle)—it's rarely sold on its own but is used for making corned beef. The deckle end is also the piece you remove to make burnt ends. So, what that leaves is Texas brisket which is, in general, the entire cut of beef. It's a big piece, weighing 8- to 12- pounds (and up). It's smoked low and slow, and usually only treated with a rub beforehand.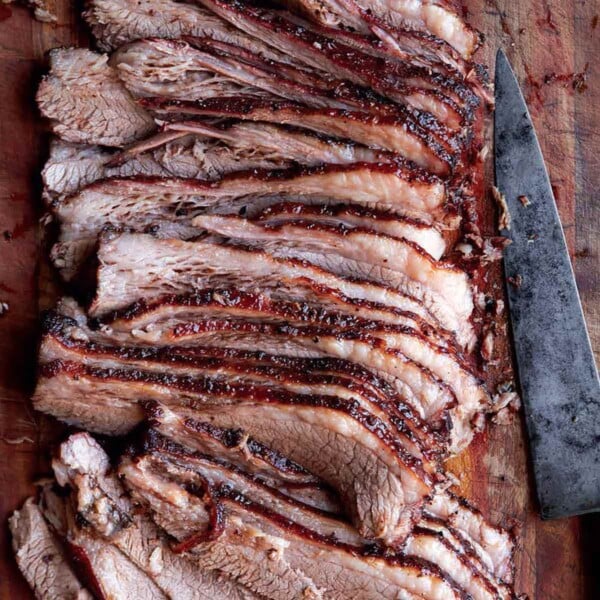 Texas Brisket
Texas brisket is a very, very special thing. It's essentially just perfectly smoked bbq brisket with nary a trace of rub. It doesn't need any accoutrement. It's just beefy exquisiteness.
Equipment
About 6 cups (540 grams) wood chips, preferably oak or mesquite or a combination, soaked in water at least 30 minutes, plus 2 cups (180 grams) dry wood chips
Instructions
Remove the brisket from the refrigerator at least 1 hour before cooking. Season generously all over with salt and pepper, packing the coating on well. Sprinkle with garlic, if using, then gently rub over seasoning.

Prepare a smoker or a charcoal or gas grill for smoking over low heat. The grill temperature should be 225°F to 250˚F (107°C to 120˚C). If using charcoal, bank lit coals on either side of grill bed, leaving a strip in the center without heat. Place a drip pan in the center strip and fill with water. Add 1 to 2 cups soaked wood chips to the fire just before grilling. (Keep remaining chips in water until ready to use.) If using gas, fill smoker box with about 1/2 cup of chips, then preheat grill. The wood chips should begin to smolder and release a steady stream of smoke. To get more smoke without increasing grill heat, add a few dry chips to the soaked ones. Turn off one or more of the burners to create an indirect-heat zone. Brush and oil grill grate.

Place the brisket on the grill, fatty side up, as far away from the fire as possible. Cover and cook 4 to 6 hours, or until an instant-read thermometer inserted into the thickest part of the meat registers 150°F to 170˚F (66°C to 77˚C). Check the wood chips every 30 to 45 minutes, adding more chips by the 1/2 cup to keep smoke levels constant. If using charcoal, add lit coals every few hours to maintain heat level.

Remove the brisket from the heat and wrap it in aluminum foil. Return to the smoker or grill or place in a 250˚F (120˚C) oven an additional 4 to 6 hours. The brisket is ready when fork tender and an instant-read thermometer registers 195°F to 205˚F (91°C to 96˚C), 8 to 12 hours total.

Move the brisket to a cutting board and remove the foil. Let rest at least 30 minutes. Thinly slice across the grain, arrange slices on a platter, and serve at once. Serve with BBQ sauce, whether warm or at room temperature.Quick Tips: Maintaining temperature and smoke levels can be a tricky bit of fire mastery. When smoking in a charcoal grill, have a chimney starter filled with glowing coals at the ready, so you can replenish your fire every 30 minutes or so.
Nutrition
Serving:
1
portion
Calories:
613
kcal
Carbohydrates:
7
g
Protein:
79
g
Fat:
28
g
Saturated Fat:
10
g
Cholesterol:
234
mg
Sodium:
1421
mg
Potassium:
1386
mg
Fiber:
3
g
Sugar:
1
g
Vitamin A:
54
IU
Vitamin C:
1
mg
Calcium:
63
mg
Iron:
8
mg
Nutrition information is automatically calculated, so should only be used as an approximation.
Recipe © 2016 Lisa Atwood. Photo © 2016 Weldon Owen. All rights reserved.
---
Recipe Testers' Reviews
Simple perfection. So few ingredients came together to make the perfect brisket. It was so tender and juicy straight out of the foil that you could have cut it with a butter knife and you don't even need the sauce. This is one of those recipes you won't even want to try to improve. We ended up smoking a smaller brisket—only 5 pounds. If you do this, reduce the portion of rub appropriately as it will end up too salty or peppery and is perfect as written.
We have a grill with an offset smoke box so the smoke and heat are truly indirect. We used hardwood charcoal and soaked mesquite chips. To get more heat about halfway through the cooking process we used a charcoal chimney starter to ignite a new batch of charcoal to add to the existing. Simply adding charcoal to the existing firebox didn't seem as successful as it didn't always ignite quickly. This helped maintain the temperature between 225°F to 270°F degrees. It took 5 1/2 hours for our internal temperature to get over 150°F. We took it off about 155°F degrees and transferred it to the oven.
By this time our time management caused a problem…it was late at night. We still put the brisket in the oven but set the oven to go off in 4 hours. At 4:00 a.m. my husband removed the brisket from the oven and set it on the counter. About 6:00 a.m. he unwrapped the foil. The recipe had called for unwrapping the brisket to rest for 30 minutes but ours rested in foil for 2 hours. This small error did nothing to hurt the outstanding flavor and tenderness of the brisket. Reheated later it was still amazing but the succulent tender flavor when originally cut was superior to the reheated version.
That night we served this to a group including a true BBQ master and Texan who agreed this Texas brisket recipe was a 10/10. Looking forward to doing this one again. For our group, we made homemade BBQ sauce and served the brisket along with macaroni and cheese, fresh corn and several summer vegetable dishes, and salads.
At first, I considered doing a half recipe but decided to go "whole hog" as it were when my butcher offered me a lovely 10-pound brisket at a special deal for testing. So I gladly spent a day tending to the grill with fabulous results. The rub is very simple and after applying it I did allow it to rest 8 hours in the fridge overnight. I'm not sure whether this made a big difference or not but it did have a decent bark on the meat by the end.
My grill may have been a little closer to 270°F degrees but that was needed to keep the wood chips smoking. I only had the 2 outside burners on med-low and all other burners were turned off. After 5 hours of cooking, I turned the burners to low and cooked it for a further 4 hours wrapped in foil. We allowed it to rest for 1 hour. The end result was meat with a dark bark on the outside and tender juicy meat inside.
We served it the first time with a grilled sweet potato salad and a green salad. Three of us took some of the leftovers for lunch the next day. Our second serving was in tortillas with mashed avocado, chopped onions and tomatoes, shredded lettuce, and Jack Daniels BBQ sauce. I also sent double servings each to the butcher (as a thank you) and a couple of elderly family members who couldn't come up to take part in the taste test. The last servings were the tougher bits and bark ends. I chopped those up and will be adding them to a crock of baked beans later this week. A day well spent.