Need to amp up your steak game? This inventive riff on grilled skirt steak is certain to score major points at your dinner table. Here, quickly marinated steak is grilled and piled atop a hoisin mayo-smeared platter and the whole she-bang is topped with a sweet and tangy grilled pineapple pico.–Angie Zoobkoff
Grilled Skirt Steak FAQs
What is hoisin sauce?
Hoisin is a condiment used in Asian dishes. Its base is a fermented soybean paste to which other flavors and spices have been added. It adds sweetness, tanginess, and a bit of heat. Since it does not contain any animal products, hoisin sauce is a fantastic option for many vegan and vegetarian recipes.
What's the best substitute for skirt steak?
If you, like us, have a hard time finding skirt steak when you're looking for it, breathe easy. Flank steak can be used – slightly less flavorful, but more tender. Be sure to slice it thinly and against the grain.

If you like your steaks medium-rare to medium, a hangar steak will work as well. Hangar steak has a lovely beefy flavor and similar tenderness to a skirt steak.
Can I make the pineapple pico with canned pineapple?
You can, but remember that canned pineapple tends to be more sweet and less firm than fresh. You'll get better overall texture with fresh, but pineapple isn't always in season or available – so in a pinch, you can absolutely substitute canned.
Grilled Skirt Steak with Pineapple Pico
This hoisin grilled skirt steak recipe is rather fabulous. The steak is quickly marinated in the hoisin sauce, grilled perfectly, and served–get this–on a smear of hoisin-spiked mayonnaise. On the side, a pineapple pico.
Ingredients
For the pineapple pico
One

(1/2-inch thick)

circle peeled fresh pineapple

1

cup

diced tomatoes

1/2

cup

fresh blueberries

2

tablespoons

minced shallot

2

garlic cloves

,

minced

1/4

cup

roughly chopped fresh cilantro

2

teaspoons

sambal oelek

2

tablespoons

extra-virgin olive oil

1

tablespoon

fresh lemon juice
Instructions
Make the pineapple pico
Preheat a grill or grill pan over medium heat.

Grill the pineapple, turning once, until lightly charred, about 2 minutes per side. Dice the pineapple and set aside.

In a medium bowl, combine the pineapple with the tomatoes, blueberries, shallot, garlic, cilantro, sambal oelek, olive oil, and lemon juice. Let the pico stand at room temperature for 30 minutes before serving.
Prepare the skirt steak
In a small bowl, mix the mayonnaise with 1 1/2 tablespoons of the hoisin sauce. Rub the skirt steak with the remaining hoisin sauce and marinate for 5 to 10 minutes.

Increase the grill or grill pan to medium-high heat.

Grill the steak until cooked to your liking, 3 to 4 minutes on each side for medium rare. Allow to rest on a cutting board for 10 minutes before slicing against the grain.

Smear a platter with the hoisin mayo and top with the steak. Mound the pico on top and serve immediately.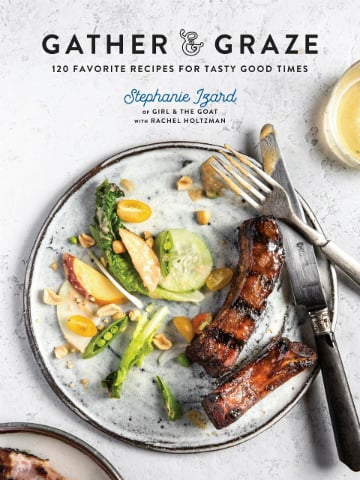 Nutrition
Serving:
1
portion
Calories:
754
kcal
Carbohydrates:
47
g
Protein:
37
g
Fat:
47
g
Saturated Fat:
10
g
Polyunsaturated Fat:
19
g
Monounsaturated Fat:
15
g
Trans Fat:
1
g
Cholesterol:
114
mg
Sodium:
1827
mg
Potassium:
682
mg
Fiber:
4
g
Sugar:
29
g
Vitamin A:
149
IU
Vitamin C:
8
mg
Calcium:
60
mg
Iron:
4
mg
Nutrition information is automatically calculated, so should only be used as an approximation.
Recipe © 2018 Stephanie Izard | Rachel Holtzman. Photo © 2018 Galdones Photography. All rights reserved.
---
Recipe Testers' Reviews
My tasters really loved the flavor of the marinated grilled steaks. Such a simple preparation. I think I will use the technique of briefly marinating the steak in hoisin sauce for other cuts of meat, e.g. flank steak, tenderloin, etc. The pineapple pico was the perfect accompaniment and a nice change from traditional picos by including the grilled pineapple and blueberries.
The hoisin mayonnaise sauce was more than I needed for my 3 pounds of skirt steak. Next time, I will halve the recipe. I served it on the side, as well as the pico, since one of my tasters was a non-cilantro lover. It was also a neater way to serve the dish and allowed tasters to take as much or as little pico and sauce as they preferred.
It is very important to thinly slice this meat against the grain or else it will be very tough. We cut the steaks into 6-inch sections before we grilled it. This made it easy to cut appropriately-sized slices (like in the photo.)
Select a Tester
I enjoyed preparing and tasting this dish very much; it is not time intensive and the combination of all the flavors gave the dish a great taste. I will certainly add this to my repertoire.
The pineapple pico is delicious and a nice combination of ingredients. It had just the right touch of heat. I think that the amount of pico could be increased by half or doubled. I also think a little salt would be a nice counterpoint to the sweetness and the heat.
It may be worth a note in the recipe to vary grilling time based on how thick or thin the cut is. I toyed with the idea of salting the steak when marinading but refrained. I salted it after it was grilled but in the future I would salt it at the time of marination.
There were easily 8 servings; I served the steak with grilled asparagus which was a great pairing; I also think that a side of potato salad would have worked well.