This homemade cornbread sausage dressing is southern style Thanksgiving in a dish. Homemade cornbread is tossed with pork sausage, onions, celery, chicken stock, and herbs and baked until crisp on the surface, soul-satisfyingly tender underneath. Thanksgiving comfort food.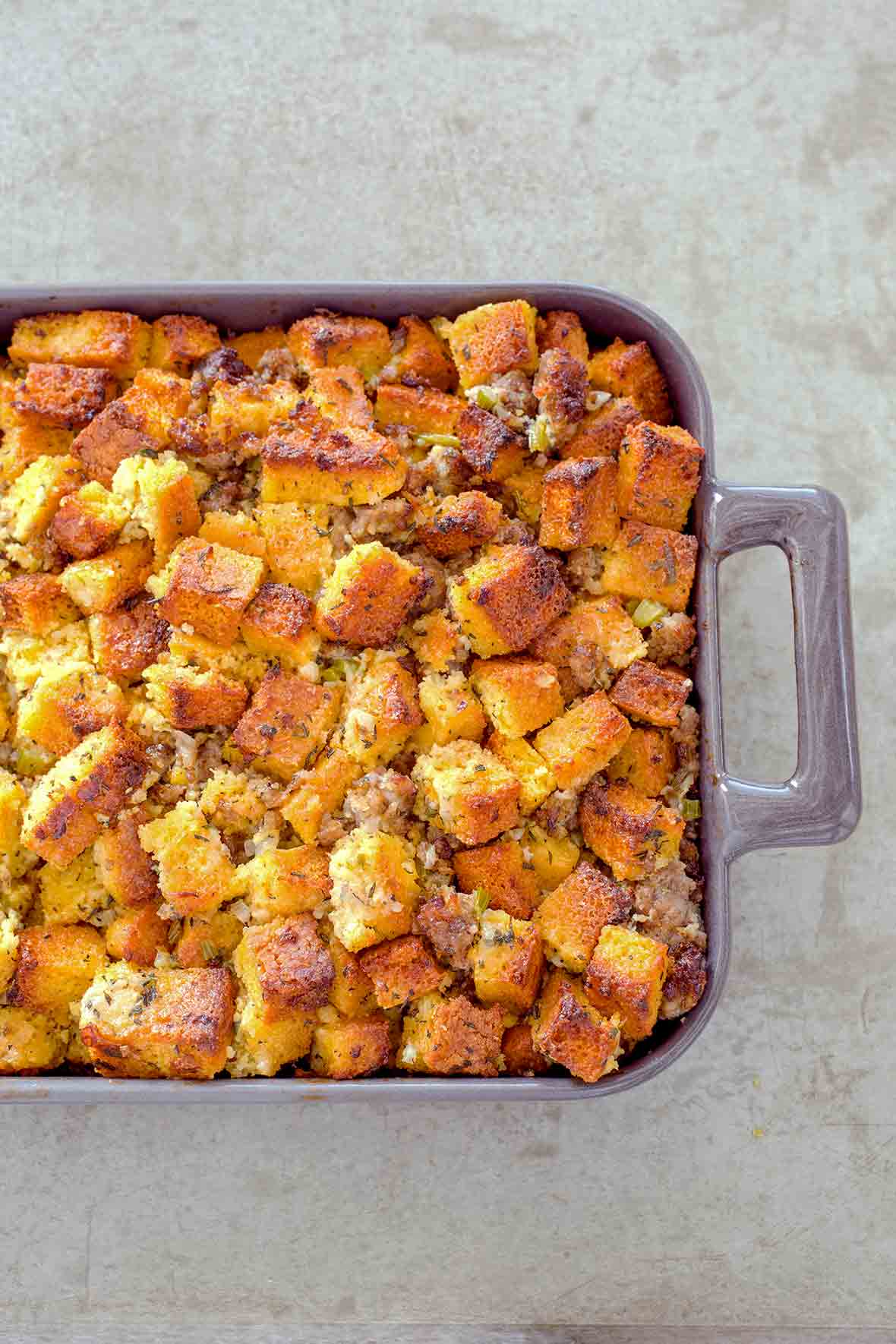 If, like us, you anticipate the dressing on the Thanksgiving table 364 days a year, then we have a recipe for you. This Southern rendition, embellished with cornbread and sausage that's crisp on the surface and tender beneath, will certainly steal the show. In fact, it's so darn delicious, we're tempted to skip the turkey to leave more space for dressing. As one of our home cooks said, "Why not start a new holiday tradition? Serve it as a main." Which makes us think we need to have this dressing more frequently than once a year. We suspect you'll feel the same.–Angie Zoobkoff
Homemade Cornbread Sausage Dressing
Quick Glance
45 M
1 D

Serves 12 to 16
Ingredients
Email Grocery List
For the cornbread

Butter, for the baking dish

2 cups all-purpose flour, plus more for the baking dish

2 2/3 cups milk, preferably whole

1/2 cup mild olive or vegetable oil

4 large eggs

2 cups fine cornmeal

4 teaspoons baking powder

1 teaspoon sea salt

For the cornbread sausage dressing

1 1/2 pounds bulk pork sausage

2 small onions (about 12 oz), chopped fine

3 stalks celery, chopped fine

6 tablespoons unsalted butter (3 oz), plus more for the baking dish

4 garlic cloves, minced

1 teaspoon ground sage

1 teaspoon dried thyme

3 1/2 cups store-bought or homemade chicken stock

1 cup half-and-half

4 large eggs

1/2 teaspoon sea salt

1/8 teaspoon cayenne pepper (optional)
Directions
Make the cornbread

1. Preheat the oven to 375°F (190°C) and adjust the oven rack to the lower middle position. Butter and flour a 13-by-9-inch (33-by-23-cm) baking dish and tap out any excess flour.

2. In a medium bowl, whisk together the milk, oil, and eggs.

3. In large bowl, combine the cornmeal, flour, baking powder, and salt. Slowly whisk in the milk mixture until smooth. Scrape the batter into the prepared dish and bake on the lower-middle rack until golden and a toothpick inserted in the center comes out clean, 20 to 30 minutes.

4. Cool the cornbread in the pan on a wire rack for 2 to 3 hours. (The cornbread can be kept at room temperature for up to 2 days.)

5. Preheat the oven to 250°F (120°C).

Make the cornbread sausage dressing
6. Cut the cornbread into 1-inch (2.5-cm) squares. Divide the cornbread between 2 rimmed baking sheets. If drying the cornbread overnight, leave the cornbread on the baking sheets, uncovered, at room temperature for at least 12 hours. If drying the cornbread in the oven, slide the baking sheets into the oven and bake, stirring occasionally, until dry, 50 to 60 minutes. Let the cornbread cool completely, about 30 minutes.

7. In a 12-inch (30-cm) skillet over medium-high heat, cook the sausage, using a wooden spoon to break it up as it cooks, until no trace of pink remains, 7 to 15 minutes. Using a slotted spoon, transfer the sausage to a paper towel-lined plate.

8. Pour off all but 2 tablespoons fat from the skillet. Reduce the heat to medium and add the onion, celery, and 2 tablespoons butter to the fat in the skillet and cook until the vegetables soften, 5 to 6 minutes.

9. Stir in the garlic, sage, and thyme and cook until fragrant, about 30 seconds. Stir in the broth, remove from the heat, and let cool for 5 minutes.

10. In a large bowl, whisk together the half-and-half, eggs, salt, and cayenne, if using. Slowly whisk in the warm broth mixture until incorporated. Gently fold in the cornbread and sausage. Let the mixture sit, stirring occasionally, until the cornbread is completely saturated, about 20 minutes.

11. Preheat the oven to 375°F (190°C) and adjust the oven rack to the upper-middle position. Butter a 13-by-9‑inch (33-by-23-cm) baking dish.

12. Spoon the cornbread mixture into the prepared dish. Melt the remaining 4 tablespoons butter and drizzle it evenly over the cornbread.

13. Bake the dressing on the upper rack until the surface is golden brown and slightly crisp, 30 to 40 minutes. Let cool for 15 minutes before serving. Originally published November 1, 2018.
Recipe Testers Reviews
This homemade cornbread sausage dressing made was a fantastic variation on traditional stuffing or dressing. The finished dish was crisp on the outside and soft on the inside, and the combination of sausage with cornbread was outstanding.
This homemade cornbread sausage dressing is serious. I almost feel bad serving it as a side. After all, it's got sausage in it, so why not start a new holiday tradition? Serve it as a main with a big green salad on the side.
The sage makes it feel like a holiday dish, but since we're not cornbread stuffing or dressing people, I'd love to have this for a special meal. Maybe even brunch! I may have drizzled leftovers with syrup and topped it with a fried egg for a breakfast treat.
The downside of this dressing is that it's a lot of work. Baking and drying the cornbread in advance is definitely something to consider. Breaking the recipe into smaller, more manageable steps is definitely a must – especially if you're serving this for a holiday meal. I don't see why you can't bake and dry the cornbread 2 days in advance and brown the sausage the day before. (I didn't get any drippings from the sausage I used. And my dressing was a little salty for my taste, but the sausage I used was highly seasoned so you may not need additional salt.) Doing the last bit of cooking and assembly the day off wouldn't be a big deal at all.
Many of the cornbread cubes crumbled completely when I tried to stir it all together, but the final product wasn't a soggy mess. Some cubes did stay together adding nice texture. It stayed warm for a really long time and it tasted fantastic at room temperature. It's a win!
In my family, the dressing is as much the star of Thanksgiving as the turkey is. I've been eating the same dressing for 60 years and cooking it myself for at least 50. With that in mind, it's a little hard for me to judge another dressing. However, this one seems a more-than-adequate co-star for the turkey. The flavor is good, the recipe is not too difficult, and the ingredients are common and easy to find.
Hands-on time was about 25 to 30 minutes, easily fitting into a busy day's cooking.
Homemade Cornbread Sausage Dressing Recipe © 2014 America's Test Kitchen. Photo © 2014 Carl Tremblay. All rights reserved. All materials used with permission.
If you make this recipe, snap a photo and hashtag it #LeitesCulinaria. We'd love to see your creations on Instagram, Facebook, and Twitter.