You'll likely be tempted to add more cheese, butter, and oil to this recipe. Resist the impulse. There should be just enough butter and oil to coat the pasta like a salad dressing. The cheese should be considered a seasoning on top. With too much oil and butter, the pasta will sit in an oil slick. Too much cheese and it'll make it loathsomely clumpy. When done right, this is an elegant dish with a compact flavor.–Amanda Hesser
WHAT IS LC HUMP DAY PASTA?
We're glad you asked. LC Hump Day Pasta (#LCHumpDayPasta) is a little something we cooked up to help you on the night of the week that you feel least like cooking. Wednesday was traditionally Prince Spaghetti Day (for those of you old enough to remember). We've revamped and updated that to Hump Day and included every type of pasta there is.
Quick Cacio e Pepe FAQs
How do I keep my cacio e pepe from clumping?
Here are a few tips to avoid clumpy cheese in your cacio e pepe. First, use good quality cheese that you've shredded yourself–none of that pre-shredded stuff. It's coated with cornstarch that will just increase clumps. Have it shredded as finely as possible and ready before you even start anything else. Letting the cheese come to room temperature helps it melt faster and doesn't cool the pasta. Finally, don't dump all the cheese in at once. Keep tossing the pasta and adding cheese–quickly but not all at once.
What kinds of pasta can I use for cacio e pepe?
Anything long and twirlable will work well in this recipe. Spaghettini, bucatini, tonnarelli, or taglierini are the right shape and length for swirling around and picking up all that velvety sauce.
Can I make this recipe with gluten-free pasta?
If you're afraid that gluten-free pasta water won't work as well in this recipe, don't be. Use a noodle that's still pretty starchy, like rice. We'd also recommend that you use less water than usual so that the starch is more concentrated. Otherwise, it should be just fine.
Quick Cacio e Pepe
For this cacio e pepe recipe, pasta is tossed with butter, olive oil, Parmesan and Pecorino Romano cheeses, all dusted with lots of black pepper.
Ingredients
Salt (sea, Kosher, or table)

1/4

cup

finely grated Parmigiano-Reggiano cheese

1/4

cup

finely grated Pecorino Romano cheese

1/2

pound

linguini fini, spaghettini, or your favorite long pasta

2

tablespoons

unsalted butter

,

chilled

2

tablespoons

extra-virgin olive oil

1

tablespoon

very coarse

,

freshly ground black pepper
Instructions
Bring a large pot of water to a boil. Toss in several tablespoons of salt.

Meanwhile, mix both of the cheeses together in a small bowl. When the water boils, add the pasta and cook it for 6 minutes, stirring occasionally. Near the end of cooking, scoop out about 1/2 cup of cooking water and set it aside.

Drain the pasta in a and dump it back on the pot. Drop in the butter, oil, and 1/2 tablespoon pepper and stir with tongs or a large fork, lifting and folding the pasta together. Add about 1/4 cup of the pasta water to the pot and place it over medium-high heat. Cook for a minute, stirring to emulsify the sauce. Test a noodle to see if it's done. It should still be a bit firm in the center, though not as stiff as licorice.

Remove from the heat and sprinkle half the cheese over the pasta. Blend once more, then divide the pasta among four warm bowls. Pass the rest of the cheese and pepper at the table.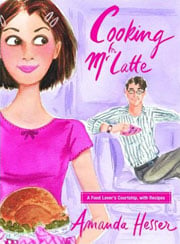 Nutrition
Serving:
1
serving
Calories:
742
kcal
Carbohydrates:
86
g
Protein:
23
g
Fat:
34
g
Saturated Fat:
14
g
Polyunsaturated Fat:
3
g
Monounsaturated Fat:
15
g
Trans Fat:
1
g
Cholesterol:
52
mg
Sodium:
3847
mg
Potassium:
279
mg
Fiber:
4
g
Sugar:
3
g
Vitamin A:
499
IU
Calcium:
310
mg
Iron:
2
mg
Nutrition information is automatically calculated, so should only be used as an approximation.
Recipe © 2003 Amanda Hesser. Photo © 2019 Robynmac. All rights reserved.
---
Recipe Testers' Reviews
Don't be fooled by the minimal ingredient list, this quick cacio e pepe is sheer perfection! Not only is it delicious but it could not be any easier or faster to whip up. I loved the creaminess of the pasta–I even preferred this recipe to carbonara; it offered all the flavor and richness without the bother of using eggs or cream.
I served this with bruschetta made with tomatoes from my garden and a glass (or two) of Montepulciano D'Abruzzo. I am thrilled to have tried this; it will be a regular in my rotation.
This cheese-and-black-pepper pasta is now the little black dress of my repertoire. It's not something I'm going to make every day, but when I do make it, it's going to be for something special. Or for when I'm home alone and want something simple and delicious. Or maybe for when the girls and I need something quick before we head out. I guess what I'm trying to say is I love this and will find every excuse in the book to make it, maybe even while I'm wearing a little black dress.