This autumn stew of carrots, turnips, parsnips, onion, and plenty of spices is a vegetarian's dream but satisfies even the biggest carnivore. Gruyère-topped croutons are not to be missed.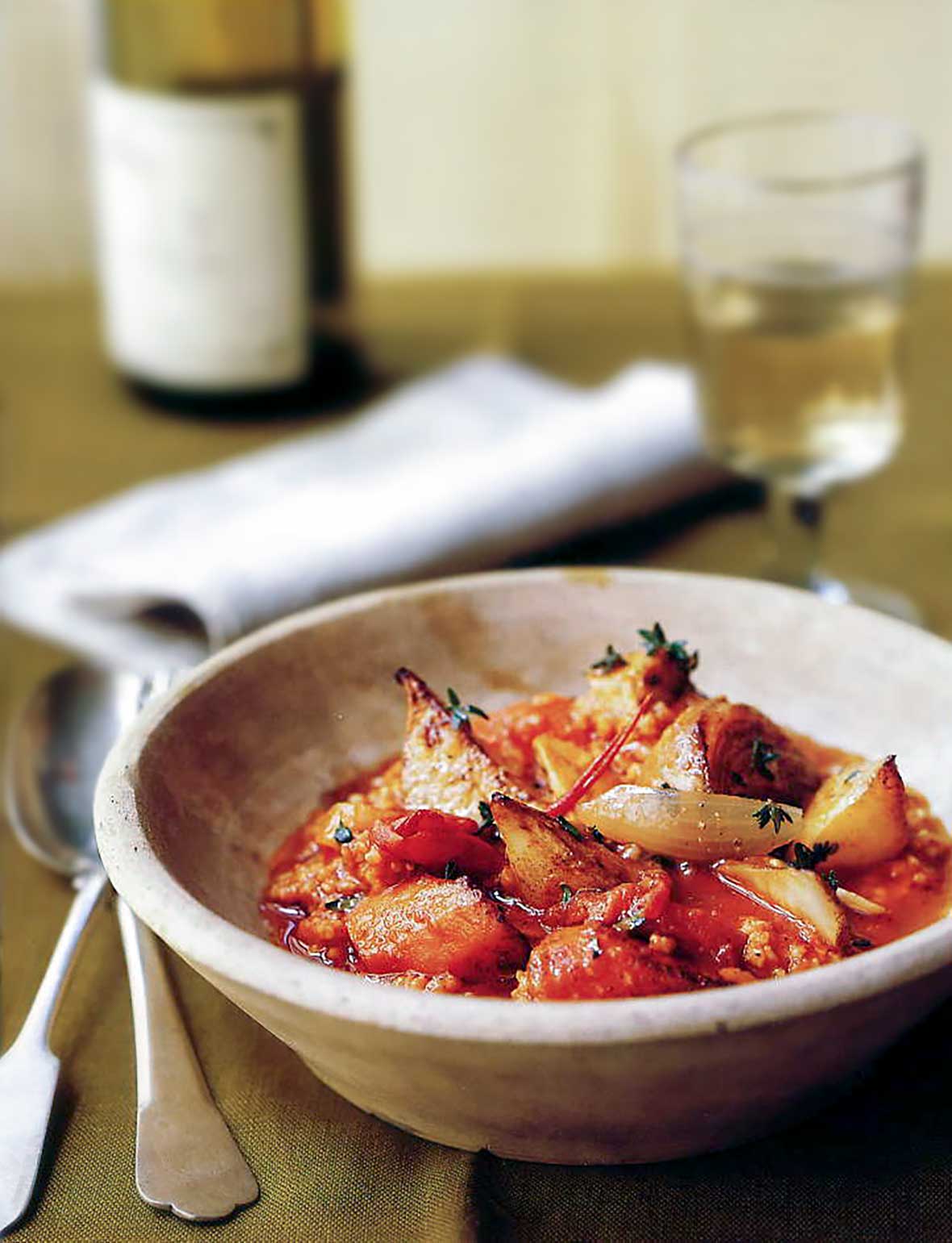 I devised this tangy, chunky stew with vegetarians in mind, but it's not only for them; in fact it should satisfy even the most voracious carnivore. I know this because I'm just a notch away from caveman-ship myself and it hits me just right. What it lacks in protein it makes up for with tantalizing spices such as cumin and coriander.
You might not be familiar with millet because it isn't well known in the United States. It is, however, almost as common as rice in Africa and Asia. And, guess what?—millet is available in your local supermarket. I promise. Head for the rice and grains section, find the more unusual grains like couscous, and look left, right, up, and down. Somewhere in there you'll find millet. Buy a big bag because you're going to love what it adds to recipes: a pleasing bite that's just shy of a crunch, and a bit of starch that subtly thickens the liquid in which it's cooked. If you like, you can use barley in its place but, because it takes longer to cook than millet, add it with the other ingredients in step four.
This is an adaptation-friendly affair; vary the vegetables or add others to emphasize your personal favorites. Those that would work especially well are celery root, parsley root, and if you have a fondness for anise, fennel. Originally published April 19, 2003.–Tom Valenti
Autumn Root Vegetable Stew
Quick Glance
1 H
3 H

Serves 6
Ingredients
Email Grocery List
For the stew

5 plum tomatoes, cut lengthwise into 6 pieces each

Coarse salt

Freshly ground black pepper

1/2 cup olive oil

1 large carrot, peeled and cut on the bias into 2-inch (5-cm) pieces

4 small turnips, peeled and quartered

2 medium parsnips, peeled and cut on the bias into thirds

1 small Spanish onion, peeled and cut into 8 wedges

4 garlic cloves, peeled and sliced

1/4 cup store-bought or homemade tomato paste

1 tablespoon chopped fresh thyme

1/2 cup dry white wine

2 tablespoons distilled white vinegar

2 teaspoons sherry vinegar

1 bay leaf, preferably fresh

4 teaspoons ground cumin

2 teaspoons ground coriander

1/2 teaspoon crushed red pepper

1 1/2 quarts homemade vegetable stock or store-bought, reduced-sodium vegetable broth

1 cup millet

For the croutons

1 loaf country or peasant bread (about 1 lb), halved lengthwise down the middle and cut into 1-inch slices

About 6 tablespoons unsalted butter (3 oz), at room temperature

1 cup grated Gruyère or Parmesan
Directions
Make the stew

1. Thirty minutes before you want to cook, put the tomatoes in a bowl and season with salt and pepper. Set aside.

2. Heat the olive oil in a wide, deep, heavy-bottomed pot over medium-high heat until hot but not smoking. Add the carrot, turnips, parsnips, onion, and garlic and season with salt and pepper. Cook, stirring to prevent scorching, until nicely caramelized, about 15 minutes.

3. Add the tomato paste and stir for 2 minutes to coat the vegetables. Add the tomatoes and thyme and cook for 3 or 4 minutes longer.

4. Add the wine, white vinegar, and sherry vinegar, bring to a boil, and cook until nearly all of the liquid has evaporated. Add the bay leaf, cumin, coriander, and crushed red pepper. Stir in the vegetable broth and 5 teaspoons salt. Bring the liquid to a boil over high heat, then lower the heat and simmer, uncovered, for 15 minutes.

5. Add the millet, bring to a boil over high heat, then lower the heat and simmer for 30 minutes, or until the vegetables are soft and the millet is tender but still a bit al dente. If not serving immediately, let cool, cover, and refrigerate for a few days or freeze for up to 1 month. Reheat before proceeding.

6. To serve, ladle some stew into each of 6 warm bowls.

Make the croutons

7. Preheat the broiler.

8. Lay the slices of bread on a baking sheet and spread with butter. Broil in the oven until browned, about 2 minutes, then turn, butter the other sides and brown for 2 minutes. Top each slice with some cheese and season with salt and pepper. Place under the broiler until fragrant, about 1 minute.

9. If not serving immediately, let cool, cover and keep the croutons at room temperature for up to 2 hours. Reheat briefly on a baking sheet in a 220°F (105°C) oven just before serving.
Autumn Root Vegetable Stew Recipe © 2003 Tom Valenti. Photo © 2003 Beatriz da Costa. All rights reserved. All materials used with permission.
If you make this recipe, snap a photo and hashtag it #LeitesCulinaria. We'd love to see your creations on Instagram, Facebook, and Twitter.