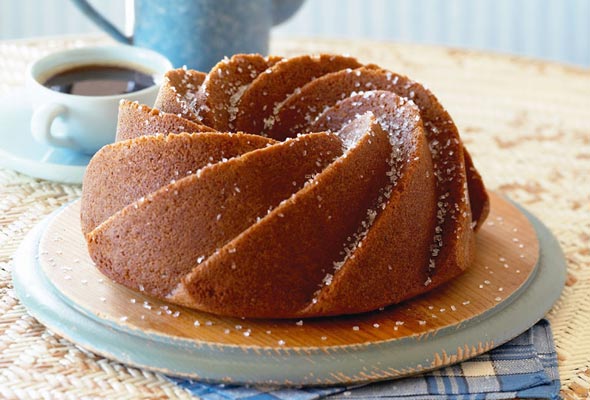 This isn't a traditional coffee cake—it's a cake in which cold coffee is an ingredient. It seems a lot of older recipes used coffee in cakes, and I'm kind of surprised that Starbucks hasn't capitalized on this, what with America's newly developed love of all things java.
To me, this cake is reminiscent of gingerbread, but the office foodies say it has a more complex taste, thanks to the coffee, cloves, nutmeg, and cinnamon, in addition to the ginger, molasses, and brown sugar. The cake flour gives it a light and very delicate crumb. I bake it in a Bundt pan and sprinkle coarse sugar over it because it reminds me of Christmas ginger cookies. But you can also dust it with confectioners' sugar.–Melissa Gray
LC Any Way You Slice It Note
According to the author—and she ought to know—this cake "has a delicate crumb" and "doesn't slice thinly." May not seem like life-alteringly profound information, but it's critically useful insight for those of us who suffer from phobias pertaining to public displays of cake slicing. And we greatly appreciate it.
Special Equipment: 12-cup Bundt pan or 10-inch tube pan
Coffee Spice Cake
Quick Glance
25 M
1 H, 10 M

Serves 16 to 24
Print Recipe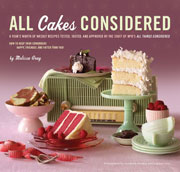 Ingredients
3/4 cup cold strong coffee

Baking spray

3/4 cup shortening

1 1/2 cups dark brown sugar

1/4 cup molasses

3 large eggs

2 1/2 cups cake flour

3 teaspoons baking powder

1/4 teaspoon baking soda

1/4 teaspoon salt

1/4 teaspoon ground ginger

1 1/2 teaspoons ground cinnamon

1/4 teaspoon ground cloves

1/4 teaspoon ground nutmeg
Directions
1. Obtain coffee. This is the dark roasted stuff, not watered-down diner coffee. Brew it yourself, or use this as an excuse to run down to your local coffee shop and treat yourself a grande mocha Frappuccino or a chi latte because you simply haven't had enough go-go juice today and would like to spend the next few hours bouncing off the walls of your kitchen.

2. Center a rack and preheat the oven to 350°F (175°C). Spray a 12-cup Bundt pan with baking spray or line the bottom of a 10-inch tube pan with parchment paper and spray the sides and bottom with baking spray.

3. Cream the shortening with the mixer on medium speed, and add the brown sugar gradually. Increase the mixer speed to medium-high and beat until fluffy, roughly 3 minutes.

4. Shift the mixer to low speed. Add the molasses, then the eggs, one at a time, beating well after each addition.

5. In separate bowl, dry whisk the flour, baking powder, soda, salt, and spices together.

6. Add a third of the flour mixture to the creamed mixture, beat, then add 1/4 cup of the coffee and beat on medium until well blended. Repeat 2 more times.

7. Pour the batter into the pan and bake for 45 minutes, or until the cake tests done.

8. Cool for 10 to 15 minutes in the pan, unmold onto a cake rack, and cool completely.

9. Sprinkle with coarse sugar or dust with confectioners' sugar.
Mocha Coffee Spice Cake Variation
Even though the original recipe got the official "mmm, mmm, good cake!" designation from the staff, I decided it was just a little too close to gingerbread and not close enough to coffee, or at least grande mocha Frappuccino. I did want a dash of barista added to this baby, I have to admit. So, I decided to re-cake. The addition of chocolate and a richer, moister crumb was generally welcomed by all.
For the cake
Follow the main recipe to bake and cool the cake, making the adjustments below.
Ditch the 3/4 cup shortening and use 3/4 cup unsalted butter instead. Also ditch the ginger completely. If you wish and have the option, use a Bundt pan that has a lot of vertical ridges in it. (Vertical ridges = more places for the chocolate drizzle to run into and stick.)
For the chocolate drizzle
Two 1-ounce squares unsweetened chocolate
1 1/2 cups (about 1 small can) sweetened condensed milk
2 tablespoons cold strongly brewed coffee

In the top of a double boiler (or an improvised one made from a bowl set over but not touching simmering water), melt the unsweetened chocolate until smooth.
Coffee Spice Cake Recipe © 2009 Melissa Gray. Photo © 2009 Annabelle Breakey. All rights reserved.
If you make this recipe, snap a photo and hashtag it #LeitesCulinaria. We'd love to see your creations on Instagram, Facebook, and Twitter.