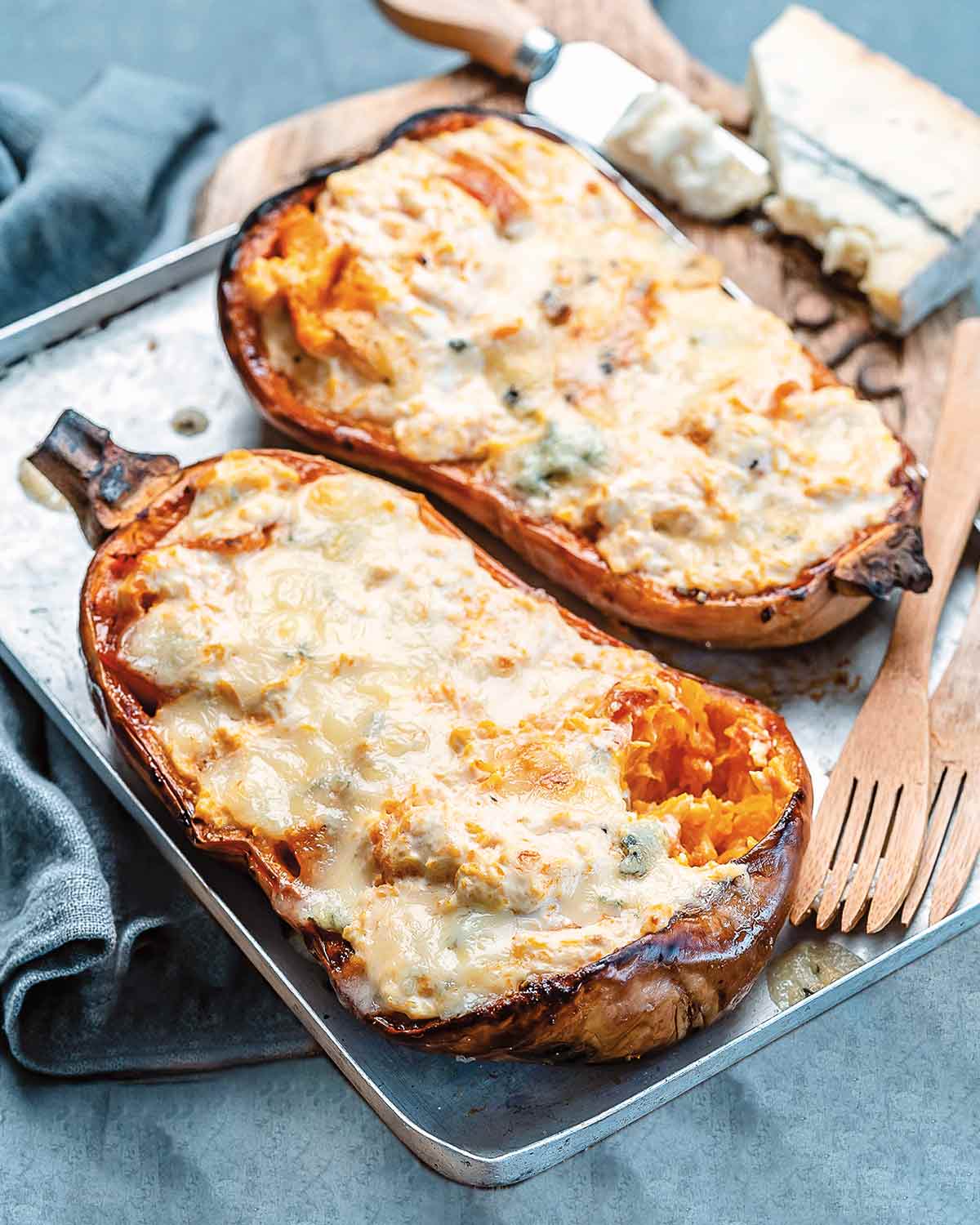 Blue cheese fans will go gaga over this caramelized, sweet squash with a creamy filling, loaded with lots of salty and bold Gorgonzola cheese. Simple enough for a weeknight with only five ingredients. This vegetarian entree or side dish takes a simple fall vegetable to new heights. Serve with a mature dry white or red wine, such as Chenin Blanc or Merlot.–Mihaela Metaxa-Albu
What type of blue cheese works best in this recipe?
Gorgonzola is a great entry-level blue cheese because it's milder than more prominently funky varieties.
Roast Winter Squash With Blue Cheese
This roast winter squash with blue cheese combines tangy Gorgonzola cheese and tender roasted butternut squash for an easy, elegant vegetarian main dish.
Ingredients
2

medium (5 lbs)

butternut squash

,

halved lengthwise and seeded

Sea salt and freshly ground black pepper

,

to taste

1

tablespoon

avocado or olive oil

1 1/3

cups (10 1/2 oz)

plain Greek yogurt

8

ounces

Gorgonzola

,

crumbled (or substitute other blue cheese)
Instructions
Preheat the oven to 400°F (200°C). Line a rimmed baking sheet with aluminum foil.

☞ TESTER TIP: Do NOT even consider substituting parchment paper for the aluminum foil. The paper will be precariously—actually, dangerously—close to the flame of the broiler.

Place the halved butternut squash, cut side up, on the prepared baking sheet and season with salt and pepper. Drizzle with the oil and use your fingers to spread it over the squash.

Roast until fork-tender, 50 to 60 minutes.

Once the squash is tender, remove it from the oven and let it cool slightly until it's still warm but easy to handle, 10 to 15 minutes.

In a large bowl, use a spoon to scoop out the flesh of a squash, leaving the skin intact to create a boat. Leave at least a 1/4-inch (6-mm) border around the squash skin so it will retain its shape. Repeat with the remaining halves.

☞ TESTER TIP: If you prefer, the filling can be baked in a baking dish instead of using the scooped-out butternut boats.

Add the Greek yogurt, salt, pepper, and 6 ounces (170 g) of the Gorgonzola to the squash flesh and mix until well combined. Spoon the mixture back into the squash boats. Top with the remaining 2 ounces (57 g) of the Gorgonzola.

☞ TESTER TIP: You may want to hold off on adding all the yogurt at once. Maybe start by adding about 1 cup and then, if you'd like the mixture a little creamier, stir in the rest.

Place the squash back in the oven and roast until the cheese melts and the squash is golden-brown on top, about 10 minutes. Set the oven to broil and cook until the tops are golden, 2 to 3 minutes.
Nutrition
Serving:
1
portion
Calories:
441
kcal
Carbohydrates:
48
g
Protein:
23
g
Fat:
20
g
Saturated Fat:
11
g
Polyunsaturated Fat:
1
g
Monounsaturated Fat:
7
g
Trans Fat:
0.01
g
Cholesterol:
46
mg
Sodium:
691
mg
Potassium:
1559
mg
Fiber:
8
g
Sugar:
11
g
Vitamin A:
40298
IU
Vitamin C:
79
mg
Calcium:
553
mg
Iron:
3
mg
Nutrition information is automatically calculated, so should only be used as an approximation.
Recipe © 2020 Mihaela Metaxa-Albu. Photo © 2020 YumCreative.com. All rights reserved.
---
Recipe Testers' Reviews
This is sublimely delicious. It would be a great Meatless Monday or holiday option. Very little hands-on time, and can be prepared ahead. It's loaded with complex flavors–sweet, sharp and the melted Gorgonzola is incredibly creamy and cheesy.
Also of note, I reheated (nuked it) a slice for breakfast, and it reheated beautifully, so I think these could be made ahead. Or prepare them up to the point of the second baking/broiling, at which point you could reheat them.
This is my first time testing a recipe so I picked something simple and something I knew my family would like. It was creamy and flavorful. I bought 2 butternut squash and when I cut them open one was a beautiful bright orange color and the other was closer to a yellow color inside. Unfortunately, this was the larger of the two so when mixed with the yogurt and cheese it did not create an appetizing color.
I would also note that it's best not to let the baked squash cool too much as the heat is needed to melt the gorgonzola. The recipe just says 8 ounces so I bought mine in a wedge. When adding the 6 ounces to the squash and yogurt it should be crumbled or cut in small pieces to facilitate melting and make it easier to blend. The remaining two ounces of cheese that were for topping wasn't enough to cover all 4 sections adequately so the final presentation was not covered in melted cheese.
The recipe says to line the pan with parchment for baking but doesn't say to remove the parchment before broiling. To avoid a fire I put my pan on a lower rack in the oven which increased the broiling time and didn't really brown the tops.
I like having a little chicken or fish as the centerpiece of dinner but decided to try this as an entrée rather than a side dish and I'm so glad I did. The result was delicious and filling, so much so, that I didn't miss having a protein at all.
I had a very large butternut squash on hand that weighed in at almost 4 pounds. Scraping out the seeds only reduced its weight by about 2 ounces, so I knew I had enough for several servings, and it was so good that we repeated it again for dinner a second night.
I used fat-free Chobani Greek Yogurt and Gorgonzola Dolce which turned out to be the perfect counterpoint to the sweet squash. Mixing the cheese and yogurt in with the flesh rather than just putting it on top meant getting a little of that sweet, salty mix with practically every bite. It took about an hour for the squash to become fork tender and I gave it about 7 minutes to cool slightly before scooping out the flesh.
It turned out to be a little more challenging than expected to leave a ¼ inch border, but for the most part I was able to do so. Once mixed with the cheese and yogurt and placed back into the squash boats, another 10 minutes in the oven and 3 under the broiler was perfect to produce a lovely golden-brown layer on top.
On reflection I would suggest that while using the squash boats as a vessel for serving is visually appealing, it's absolutely not necessary. Putting the mixture in a casserole dish and then topping it with the remaining cheese would be just as delicious and even easier, especially if the squash boats don't stay intact or you simply prefer serving it that way.
I almost didn't make this because I had no Gorgonzola on hand, but I am so glad I did, trying it with a nice Danish blue cheese, and making it the entire meal for two (half recipe works a champ).
In the time it takes to heat your oven, you can slice the squash and remove the seeds, seasoning and oiling it lightly. At this stage I will suggest that even if you routinely use parchment lined pans for this kind of roasting, foil will serve you better when it comes time to finish off under the broiler.
It only takes a few minutes to prepare the cheese and yogurt for the next steps. I found a combination of a spoon and melon baller makes scooping out the squash very easy. I wanted to do this as soon as possible (it smelled good and definitely made me hungry), so after 5 minutes, I used a gloved hand to steady and hold the still-hot squash.
After 11 minutes, the top was beginning to show some signs of brown. I gave it less than two minutes under a broiler set on high, the shelf on the second track in my oven puts it about 5 inches from the broiler. Here is where I had a quick reminder of the burning temperature of paper – my parchment blacked on the corners curling up and threatened to set off my smoke detector or worse. So use foil or remove any paper before the last step and DO NOT leave the kitchen, you just want long enough under the broiler to give an even golden brown crust.
Slide in a wide bowl, hand out weapons, and commence yummy sounds.
I used one medium size squash which fed 2 people as a main entree for dinner. If you choose extra large ones you might want to divide them further. I could also see wee little ones being a great dinner party side. This was such an easy recipe, with only a few ingredients yet marvelously satisfying.
This is so ridiculously easy I feel a little guilty making such an easy dinner, but I will repeat whenever I can. If you do not have Gorgonzola, a good Danish Blue works perfectly. I already knew that butternut squash and Gorgonzola marry well (thank you to Nigella Lawson who also taught me that you do not need to peel it). Serving someone a little bubbling golden boat of cheese and squash is a great party trick even when it is just you and your quarantine partner sharing the umpteenth dinner in a row. This changes it up nicely.
Now, we will be back at the neighbor's fence offering to take more of his home grown butternut squash harvest off his hands now (a bumper crop his wife pleaded for him to give away).
Select a Tester
Super simple to make and delicious. Perfect for a mid week meal, and very easy to scale up for down. The Gorgonzola goes brilliantly with the sweetness of the butternut squash. You definitely need to allow 1/2 a butternut squash per person – it looks like it's huge, but it's surprisingly light.
I used a 0% fat thick Greek yogurt (Fage), which worked perfectly. Personally, I would have liked more of a punch from the blue cheese, so would possibly use more/stronger cheese, but it was still delicious, and perfect if others aren't such blue cheese fans. I might add some sage if I were to cook this again, and I definitely recommend a crisp green salad with a sharp vinaigrette on the side.
I would allow a good 10 to 15 mins to cool the squash enough to handle easily when removing the flesh, and the recipe could be done up to this point, and then finished off in the oven when you're ready to serve. It definitely needs longer under the grill (broil) to brown up properly, more like 5 mins, and I found that I needed to raise the temperature to about 480°F.
Why I've never considered "twice-baking" a winter squash before, I have no idea, but it's wonderful. It's a straightforward concept that delivers big flavor and we thought it was delicious.
Personally, I would use less yogurt than called for because it became slightly soupy, so I'd add only what you need to smooth it out and make it creamy before refilling the squash. The gorgonzola was ever-present yet still mild, so I think it could be a good gateway for blue cheese haters. It was a great new way to experience butternut squash, shaking up the usual "cube-and-roast" routine.
Because the center is pretty molten, any attempt to cut a squash in half will yield a lava flow of squashy-cheese goodness out onto the platter. While serving family-style and scooping the filling out onto people's plates is great for a weeknight, you wouldn't want to do that at a dinner party and I can only imagine the sheer look of terror when an ENTIRE half a butternut squash is put on each person's plate…they are quite large! I'd recommend either using something smaller like the honey nut squash for individual servings (and yay, shorter roasting times!) or instead plan to transfer the amount you'd want to serve someone into ramekins or gratin dishes and bake and then broil that. More self-contained and less messy for a more formal event.
My love of melty (blue) cheese has never been so fervent!
Though the cheese nicely balances the sweetness of the squash, I would also be inclined to believe this could work well with an acorn squash, with each half providing an attractive individual serving, though this could also be accomplished by using smaller butternut squash.
If blue cheese calls out to you, I also feel this could be terrific with a stinkier, funkier, more potent blue cheese, presuming your dining companions are of the same mind, which mine would absolutely be! In fact, I picked up some serious blue cheese, a goat blue, at my farmers market today, and am eagerly going to replicate this in the funkier style noted. Lastly, if melty blue cheese is appealing, here's another route for your dining pleasure: Blue Cheese Tartine, (For the record here, I have been making the tartine in multiple non-bacon versions with much success and enjoyment by vegetarian and non-vegetarians alike.)