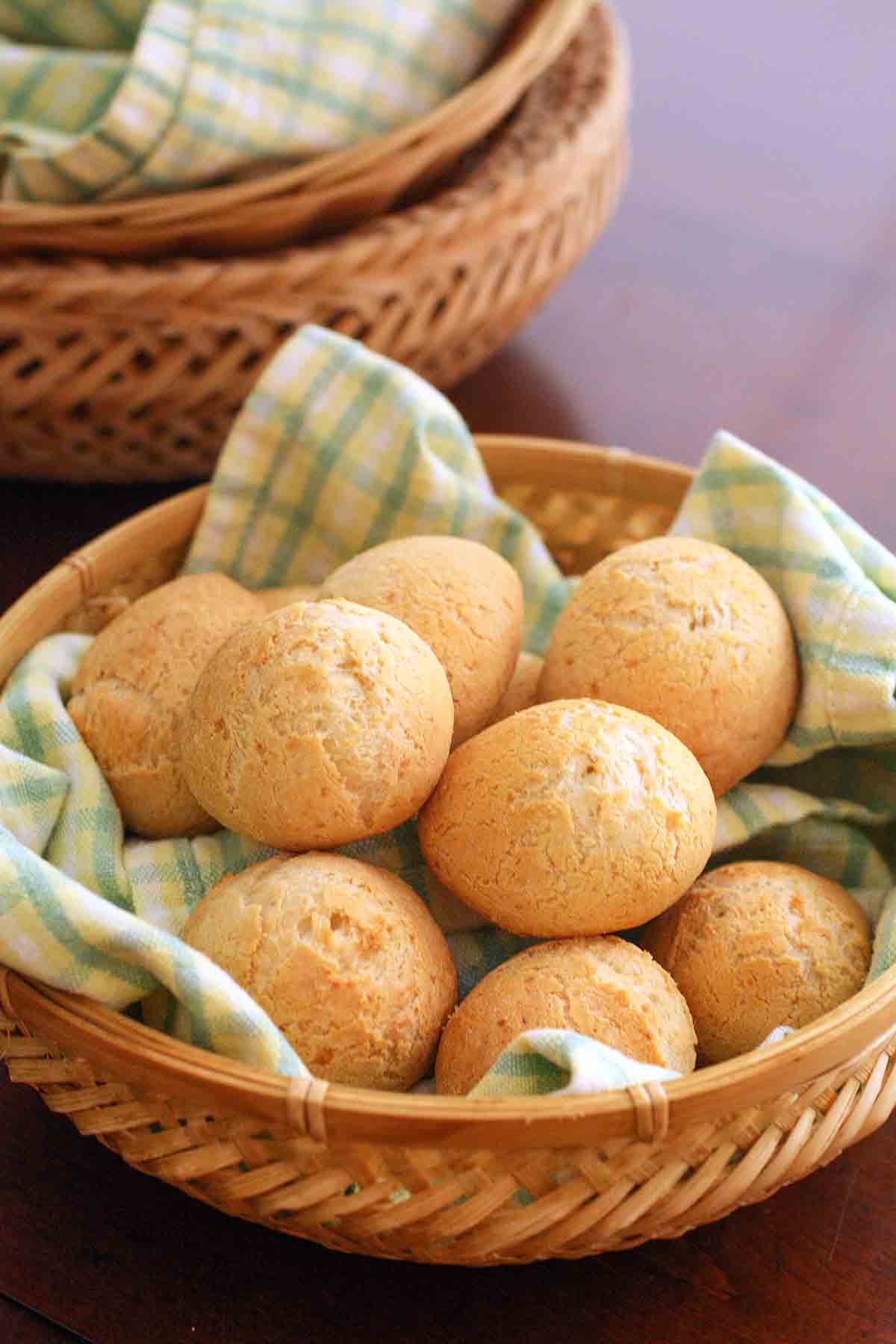 A soft, chewy bread roll infused with cheese flavor, pão de queijo is Brazil's favorite savory snack, and an excellent recipe to add to your repertoire. Try your best to use both types of manioc starches (see Note below) called for in the recipe. The combination of the two is what gives the cheese bread its incredibly chewy, gooey-in-a-good-way texture. The recipe will not work if you use only sour manioc starch.
You can prepare the recipe ahead of time and freeze the little rolls of dough, unbaked, for up to 3 months. Just pop them in the oven directly from the freezer, and in 12 to 15 minutes you'll have deliciously cheesy treats.–Leticia Moreinos Schwartz
LC Manioc What? Note
"When it comes to shopping for manioc starch," says author Leticia Moreinos Schwartz, "it's extremely confusing." She isn't kidding. Here, she explains what you need to know when sourcing this traditional—and essential—Brazilian ingredient.
Sour manioc starch (poviho azedo) and manioc starch (also known as sweet manioc starch or poviho doce) are both extracted from yucca. The difference is that sour manioc starch undergoes a natural fermentation process. As a result, manioc starch (the sweet one) has a much finer consistency and more delicate texture than sour manioc starch. You can't substitute one for the other, as they bring different flavors and textures to baked goods. The real confusion begins when different American brands call these products different names.
A few useful terms and translations from Leticia:
Sour manioc starch = povilho azedo
No American brand makes sour manioc starch, which is the most important ingredient in this recipe for pão de queijo, but it can be ordered online.
Manioc starch = sweet manioc starch = povilho doce
Goya calls it tapioca starch but Bob's Red Mill calls it tapioca flour. If you use only povilho doce, whether it is from Goya, Bob Red Mill, or even the Brazilian brand, the recipe for pão de queijo won't work.
Manioc flour = farinha de mandioca
This is a completely different type of flour, although it, too, is extracted from the yucca. Think of it as bread crumbs. This is used to make farofa. Although they sound similar, don't mistake manioc flour for manioc starch.
Brazilian Cheese Rolls
Quick Glance
45 M
3 H

Makes about 30 rolls
Ingredients
Email Grocery List
2 cups finely grated fresh Parmesan (or pecorino Romano)

2 large eggs

2 large egg yolks

1 1/4 cups sour manioc starch (povilho azedo; see source in headnote)
3/4 cup manioc starch or sweet manioc starch (povilho doce; see source in headnote)

2 teaspoons kosher salt

1/2 cup whole milk

1/2 cup water

1/4 cup plus 3 tablespoons extra-virgin olive oil

Pinch of ground nutmeg

Pinch of cayenne pepper

Pinch of black pepper
Directions
1. Place the Parmesan in the bowl of a food processor. Add the eggs and yolks and blend until you have a smooth paste, about 1 minute.

2. Place the two types of manioc starch and salt in the bowl of a stand mixer fitted with the paddle attachment.

3. Place the milk, water, and oil in a small saucepan, and bring to a boil. Immediately pour the milk mixture into the starch mixture, all at once, and turn the machine on at low speed. Mix until the dough is smooth and the starch is completely incorporated, about 2 minutes.

4. Pause the machine and add the cheese-egg paste, scraping it directly into the manioc starch mixture. Add the nutmeg, cayenne, and black pepper, and mix the dough at low speed until it turns a pale yellow, about 10 minutes. You are trying to develop the structure of the dough by kneading it slowly. The dough should feel a bit sticky and moist.

5. Transfer the dough to a bowl, cover it with plastic wrap, and refrigerate for at least 2 hours, or overnight.

6. Preheat the oven to 350°F (175°C). Line a baking sheet with parchment paper.

7. Lightly coat your hands with olive oil (or flour them with manioc starch), pinch off walnut-size pieces of dough, and roll them between your palms. Alternately, you can use an ice-cream scooper to make 1-inch balls. Place them on the parchment, leaving 1 1/2 to 2 inches between the rolls.

8. Bake the cheese rolls in the oven until they puff up and are lightly golden brown, 12 to 14 minutes. To ensure even cooking, rotate the pan once during baking time.

9. Remove the baking sheet from the oven and place the rolls in a basket lined with a napkin. Serve immediately, while they are still at their warmest and chewiest.
Brazilian Cheese Rolls Recipe © 2010 Leticia Moreinos Schwartz. Photo © 2010 Leticia Moreinos Schwartz. All rights reserved. All materials used with permission.
If you make this recipe, snap a photo and hashtag it #LeitesCulinaria. We'd love to see your creations on Instagram, Facebook, and Twitter.