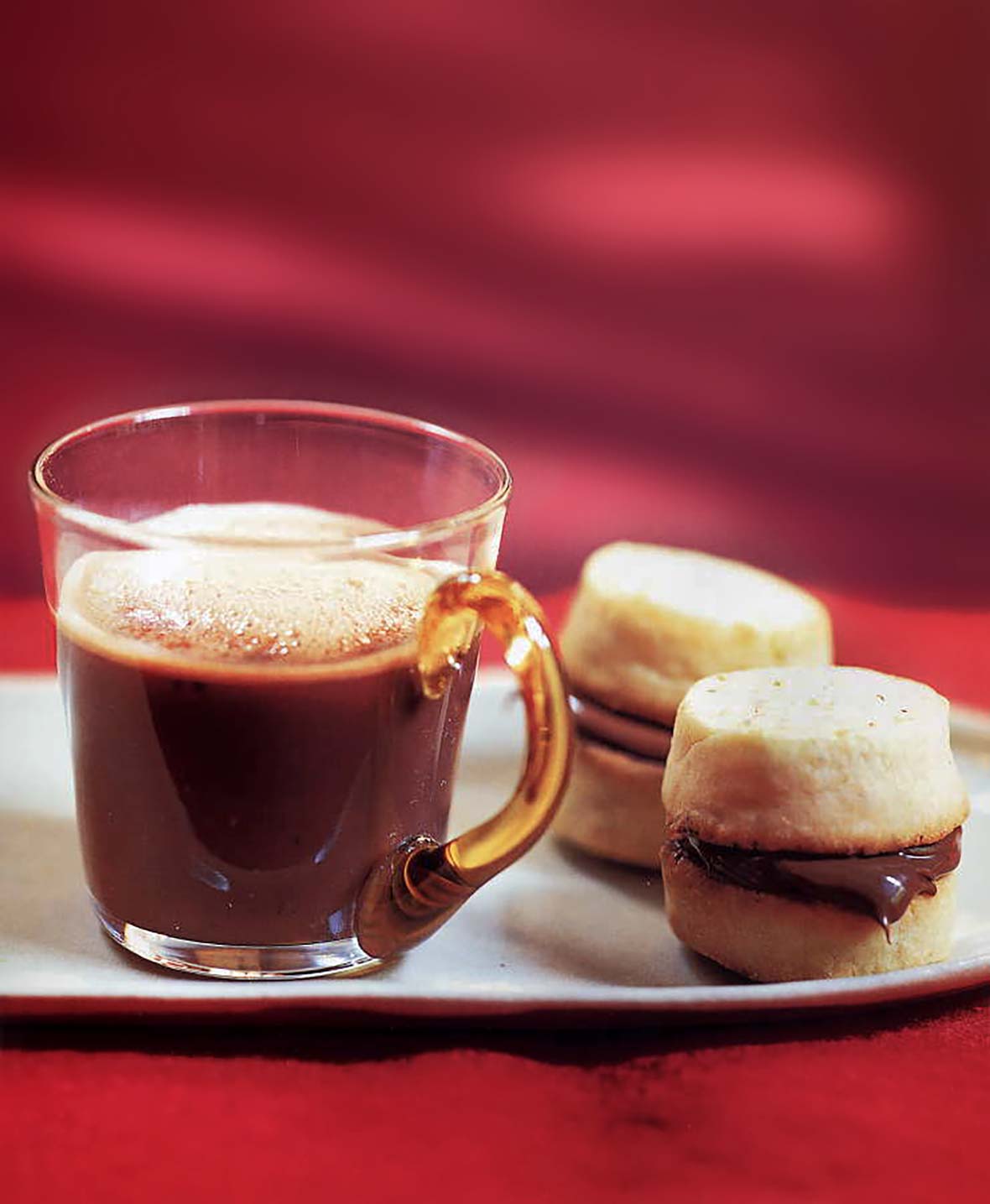 Baking and decorating cookies signals the arrival of the winter season. Once the cookie cutters, sprinkles, and royal icing are on the counter, the season is officially launched. Here's a simple, luscious cookie to add to your cookie repertoire.–Emily Luchetti
LC Emily Luchetti Note
If you've yet to try other recipes from pastry chef Emily Luchetti, you need to rectify that little oops, or error of omission, as soon as you can. Seriously. We suggest you start by baking this basic white cake. (The name's a misnomer, in case you're wondering. It is a cake. And it is white. But basic? Only if you mean "basic" in terms of simple and quintessential. But not basic. That just doesn't seem to do justice to it.)
Hazelnut Sandwich Cookies Recipe
Quick Glance
40 M
3 H

Makes about 32 cookies
Ingredients
1/2

cup

hazelnuts

, toasted and skins removed

1 1/2

cups

all-purpose flour

10

tablespoons (5 ounces)

unsalted butter

, at room temperature

2

ounces

cream cheese

2/3

cup

granulated sugar

, plus more for the work surface

1

large

egg

Pinch

salt

1

teaspoon

baking powder

3/4

cup

Nutella or your favorite jam

, or more as needed
Directions
1. In a food processor, finely grind the hazelnuts with 1/2 cup flour.

2. Using an electric mixer on medium speed, beat together the butter, cream cheese, and sugar until light in color and smooth, 1 minute with a stand mixer or 2 minutes with a handheld mixer. Add the egg and mix until combined.

3. On low speed, add the ground hazelnuts, the remaining flour, the salt, and the baking powder and mix until smooth. Wrap the dough in plastic wrap and refrigerate for at least 1 hour.

4. Divide the dough into 4 portions. On a lightly sugared work surface, roll the dough into 4 logs, each about 8 inches long. Wrap each in plastic wrap and refrigerate for at least 1 hour or up to several days. (You can also freeze the cookie dough for up to 3 months.)

5. Preheat the oven to 350°F (175°C). Line 2 baking sheets with parchment paper.

6. Slice the dough into 1/2-inch-thick rounds. Place the rounds on the prepared baking sheets about 2 inches apart and bake until golden brown around the edges, about 8 minutes. Transfer the cookies to wire racks and let them cool to room temperature. (You can store the unsandwiched cookies in an airtight container for up to several days before filling them.)

7. The day you plan to serve the cookies, spread about 1 teaspoon Nutella or jam on the bottoms of half the cookies and sandwich them with the remaining plain cookies.
Hungry for more?
Chow down on these:
Hazelnut Sandwich Cookies Recipe © 2003 Emily Luchetti. Photo © 2003 Minh & Wass. All rights reserved.
Hey, there. Just a reminder that all our content is copyright protected. Like a photo? Please don't use it without our written permission. Like a recipe? Kindly contact the publisher listed above for permission before you post it (that's what we did) and rewrite it in your own words. That's the law, kids. And don't forget to link back to this page, where you found it. Thanks!