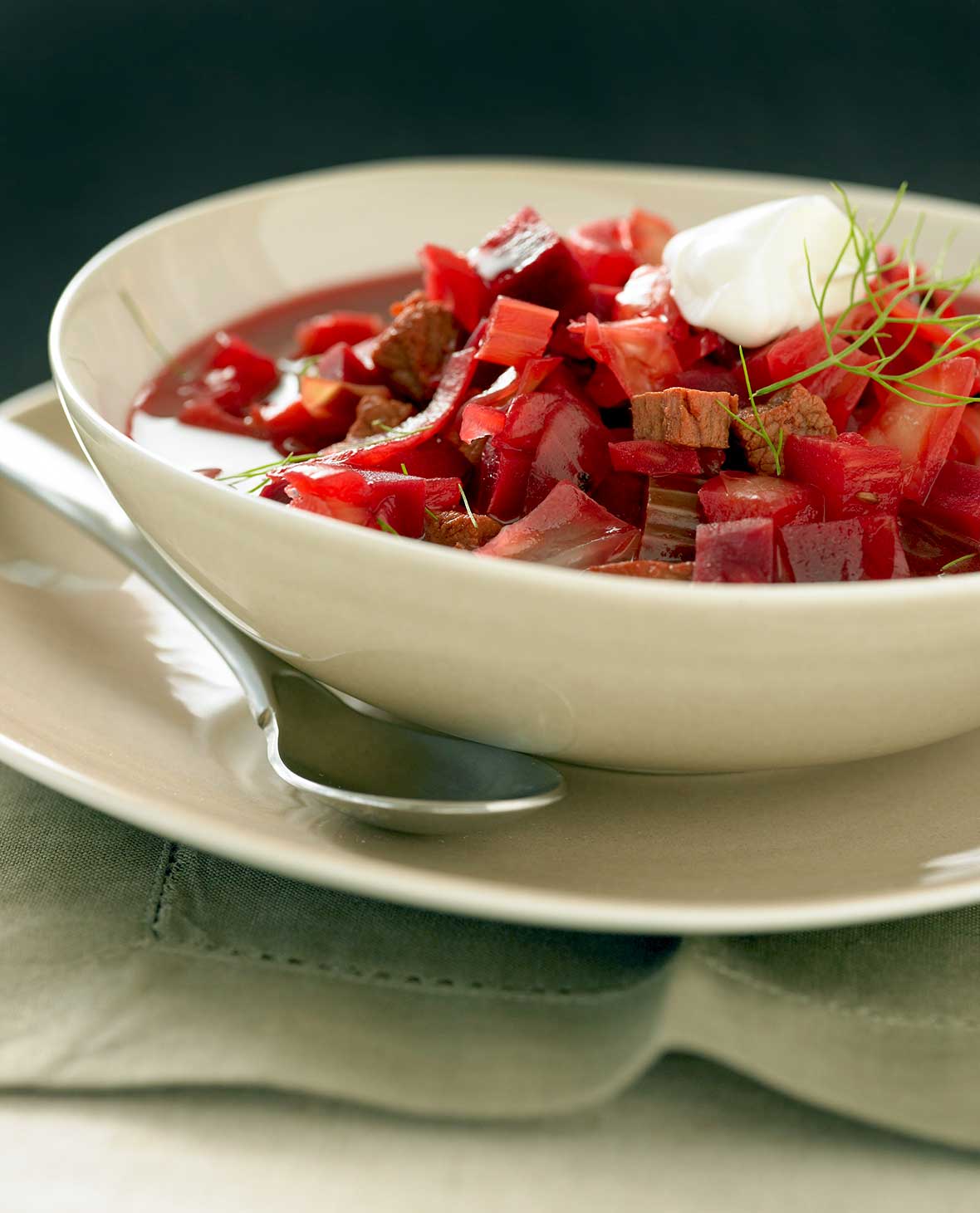 Autumn days make me hungry for comfort foods. Is it the simmering pot of soup on the stove sending up steaming goodness or the radiating heat from the oven as a casserole bakes? As I look out my window at the gray skies and gloomy, cold rain—I'm in Portland, Oregon, after all—it's the kitchen that beckons, certainly not the outdoor grill. My cravings are for some old family favorites. My maternal grandparents were from Lithuania, and I grew up loving beets in any form—perhaps not an obvious childhood favorite. After the holidays, my grandmother Rose would make a soup pot full of Hot Beef Borscht using up the leftover brisket or roast beef from the big family dinner. She had a root cellar because my grandfather was an avid gardener and stored the beets and cabbage he grew. I remember the tastes vividly and hunger for them. It's January at my home, the Christmas roast is gone, and I don't keep a root cellar, but I'm longing for those flavors.
A quick trip to the market yields a 12-ounce chunk of rare roast beef from the deli case. (I ask for 1/2-inch-thick slices so I can easily cut it into cubes.) The produce aisle has all the cold-weather vegetables I want—fennel, beets, cabbage, and onions. With grocery sacks in each hand, I come out of the rain and into the kitchen to peel, chop, and simmer.
My favorite soup pot is a heavy, copper-clad one with sturdy, stainless handles on each side. I bought this pot in Chicago 25 years ago—an expensive treasure I've used regularly ever since. Commercial-grade with an aluminum core and lined with stainless, it functions as well today as when I bought it, though I can't say the copper is as pristine and shiny as it once was. A little elbow grease, coarse salt, and lemon juice would remedy that.
Over medium heat, I melt the butter and swirl to coat the pan. A bowlful of chopped onion, celery, and fennel is added, tossed, and sauteed. I want the vegetables to soften without browning before adding the fragrant spices—ground pepper, coriander, and cumin, plus caraway seeds.
I learned a long time ago while working in a restaurant kitchen to wear disposable latex gloves while working with beets. A clever chef kept her hands fresh looking while mine turned a shade of punk pink. Peeled and diced beets along with chunked cabbage and chicken stock are added to the pot. Partially covered, the borscht simmers for 35 minutes or so. I add the cubed, cooked beef, heat the soup through and ladle it into warm shallow soup bowls. Just like my grandmother, I add a dollop of sour cream. My flourish is a scattering of fennel fronds.
It takes me back to delicious food memories and allows me to offer the tradition to my children.
Wintry days make me hungry for comfort foods, and nothing satisfies me more than this hearty eastern European–style soup. Make it when you have a hunk of roast beef or beef brisket to reimagine and stretch into another meal. Sometimes, when I am in the mood for hot beef borscht and the refrigerator isn't offering up any cooked beef, I buy thick-sliced rare roast beef from my local deli.–Diane Morgan
Hot Beef Borscht
Quick Glance
25 M
1 H, 15 M

Serves 6 to 8
Print Recipe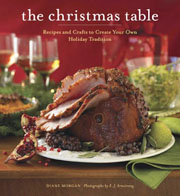 Ingredients
Email Grocery List
3 tablespoons unsalted butter

1 large yellow onion, cut into 1/2-inch dice

2 ribs celery, cut into 1/2-inch dice

1 fennel bulb, stalks and bulb cut into 1/2-inch dice, feathery fronds chopped and reserved for garnish

1 teaspoon ground coriander

1 teaspoon ground cumin

1 teaspoon caraway seeds

1 teaspoon ground pepper

3 beets, peeled and cut into 1/2-inch dice (see Note)

1/2 small green cabbage, cut into 1/2-inch dice

7 cups homemade chicken stock or low-sodium canned chicken broth

3/4 pound cooked brisket or roast beef, cut into 1/2-inch dice

Kosher or sea salt

1/2 cup sour cream
Directions
1. In a heavy soup pot over medium heat, melt the butter and swirl to coat the pan. Add the onion, celery, and fennel and saute, stirring constantly, for 1 minute. Cover and cook until the vegetables are softened but not browned, about 5 minutes.

2. Add the coriander, cumin, caraway seeds, and pepper. Saute, stirring constantly, until the spices are fragrant, about 1 minute. Add the beets, cabbage, and stock or broth and bring to a simmer. Partially cover the pot and simmer until the beets are tender, about 35 minutes.

3. Add the cubed beef to the pot and heat through. Add salt to taste. Ladle into warmed soup bowls. Serve with a dollop of sour cream and make it pretty by strewing the chopped fennel fronds over the surface.
Note
Look for disposable surgical gloves, to use when working with the beets, at a pharmacy or in a supermarket where bandages and first-aid supplies are sold.
Recipe Testers Reviews
Hot Beef Borscht Recipe © 2008 Diane Morgan. Photo © 2008 EJ Armstrong. All rights reserved. All materials used with permission.
If you make this recipe, snap a photo and hashtag it #LeitesCulinaria. We'd love to see your creations on Instagram, Facebook, and Twitter.