A hot brown sandwich is an easy and iconic excuse to smother leftover turkey with bacon and a bubbling hot cheese sauce. Maybe Thanksgiving should come more than once a year.
Hot brown sandwich. If you're from Kentucky, then you can just skip ahead to the recipe because this delicacy of a hot open-face sandwich needs no introduction. If you're not from Kentucky, allow us to introduce you to perhaps the loveliest thing ever to be constructed from leftover turkey, toasted bread, crisp bacon, and a blanket of bubbly cheese sauce. So lovely it may make you wonder whether maybe Thanksgiving ought to come more than once a year. Originally published November 25, 2015.
–Renee Schettler Rossi
How The Hot Brown Sandwich Came To Be
In the words of author Susan Russo, author of the book in which we found this lovely recipe for the hot brown sandwich, "It all started in 1923 with a chef named Fred K. Schmidt, who worked at Louisville's Brown Hotel. The hotel's dinner dances drew more than 1,200 people, who, after hours of revelry, craved a midnight snack. Bored with serving prosaic ham and eggs, Schmidt created this tasty open-faced sandwich. It was an instant sensation and quickly led to many variations such as ham and chicken hot browns, Cheddar cheese hot browns, even vegetarian hot browns made with avocado or tofu that bear little resemblance to the real thing. Many hot brown sandwiches also include sliced tomatoes, pimientos, and grated Parmesan.
"You can find the hot brown sandwich at eateries throughout Kentucky and bordering states, but the best place to eat one is still the Brown Hotel. Crust removal is traditional but optional—as is the dollop of whipped cream in the Mornay sauce. Though some establishments substitute cheese for the Mornay, stick with the sauce for an authentic experience."
Hot Brown Sandwich
Quick Glance
15 M
25 M

Serves 4 to 8
Print Recipe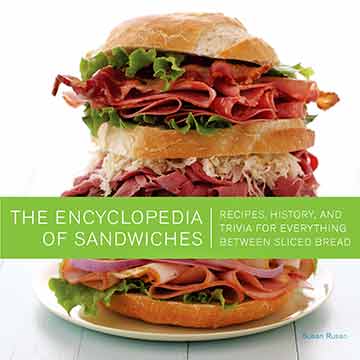 Ingredients
1 stick unsalted butter (4 oz)

About 6 tablespoons all-purpose flour

3 to 3 1/2 cups milk, preferably whole or 2%

6 tablespoons grated Parmesan cheese, plus more for topping

1 large egg, beaten

About 2 tablespoons whipped cream (optional)

Sea salt (optional)

Freshly ground black pepper

8 slices toast

Leftover roast turkey

16 strips bacon, fried until crisp
Directions
1. Melt the butter in a saucepan over medium-low heat. Whisking constantly, slowly add the flour, continuing to whisk until all the butter is absorbed and the mixture creates a very thick paste. Still whisking constantly, add the milk very, very slowly and whisk constantly until you end up with a paste that's sorta thick and spectacularly smooth. (When we make this, we slowly add 3 cups milk for starters and then if the sauce seems too thick, we add up to 1/2 cup more milk, a little at a time.) Do not stop whisking at any point and do not allow the sauce to boil.

2. When the sauce is smooth, whisk in the Parmesan cheese. Remove the pan from the heat and whisk in the egg until completely incorporated. Using a spoon or a spatula, gently fold in the whipped cream, if desired. Season with salt and pepper to taste. (You may not need any salt since the Parmesan sorta takes care of the saltiness.)

3. Preheat the broiler. Place the toast on a rimmed baking sheet lined with foil or parchment. Top each slice with a liberal amount of turkey and smother it with a generous amount of sauce. (Note that any exposed portion of toast will crisp and brown in the oven, so bear this in mind when you slather the sauce over the toast and turkey with sauce. If you have some sauce left over, no big deal, just refrigerate it and make another hot brown tomorrow.) Sprinkle with additional Parmesan cheese.

4. Slide the baking sheet under the broiler until the sauce is speckled brown and bubbly. Watch it carefully as the sandwiches will go from almost perfect to past perfect in seconds. Criss-cross 2 strips bacon on top of each open-face hot brown sandwich. Serve the sandwiches immediately. (As if you could wait!)
Hot Brown Sandwich Recipe © 2011 Susan Russo. Photo © 2011 Matt Armendariz. All rights reserved. All recipes and photos used with permission of the publisher.
If you make this recipe, snap a photo and hashtag it #LeitesCulinaria. We'd love to see your creations on Instagram, Facebook, and Twitter.