Pumpkin meringue pie ice cream is the ultimate mashup of pumpkin ice cream−spiced with cinnamon, nutmeg, ginger, and mace−creamy-dreamy meringue, and crunchy bits of Oreo-cookie crust. It's so amazing, no one will ever shame you if they find you, head in the freezer, eating right from the container.
I think I've told you that The One is a pumpkin fanatic. Once autumn rolls around all he wants is pumpkin pies, pumpkin cookies, and pumpkin bread. Oddly enough, he never jumped on the Starbucks pumpkin-spice bandwagon. (I wonder what that means…)
So being the good unlawfully wedded husband, I dutifully come up with a new pumpkin dish each year. And after 28 years of quasi-connubial bliss, it's become awfully hard. I rack my brain beginning in August because I'll be damned if once again he turns to Costco for its pumpkin pies, which he adores—as much for value as for flavor. Me? I'm appalled by them. I can't stand their pasty, blond underbelly of a bottom crust. But I digress.
This year, though, I've outdone myself. And in the famous words of Mrs. Slocombe of Are You Being Served, "I am unanimous in that!" I made this killer, kickass, gorgeoso pumpkin meringue pie ice cream.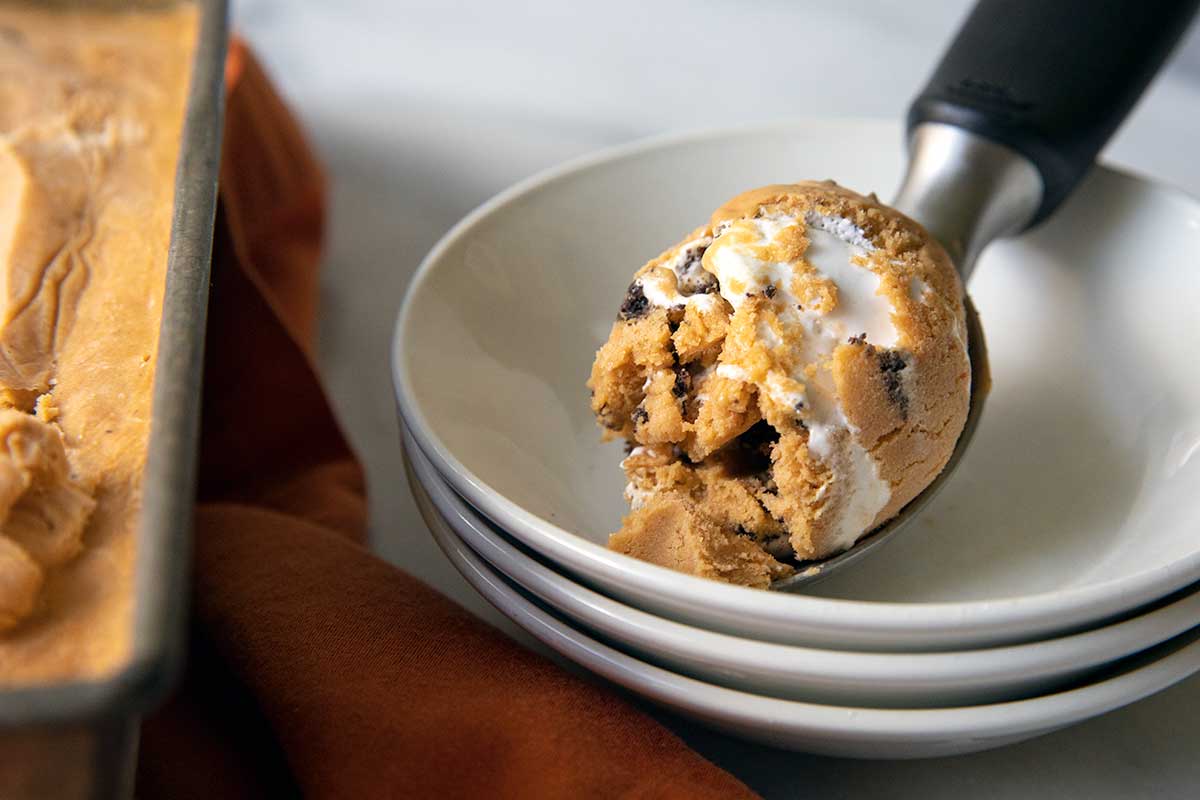 I infused the ice cream base with all the warm spices that are de rigeur in pumpkin pie: cinnamon, nutmeg, ginger, mace, and nutmeg. For the meringue, I use Marshmallow Fluff; but if you're wanting to go old school, you can certainly try your hand at making homemade marshmallow spread.
As for the crust, I opted to go with shards of an Oreo-cookie crust. I like the way the dark color of the chocolate contrasts with the white marshmallow and the ochre of the ice cream. Now, you can definitely use your favorite baked pie crust recipe in this. Just break it into pieces and you're good to go.
Of course, the ice cream is rich and interesting enough to eat on its own. But being the Two Hungry Homos that we are, we've paired it with chocolate cake, warm mocha brownies, apple pie…well you get the idea. In our house, no dessert combo goes unturned or unrewarded.
Pumpkin Meringue Pie Ice Cream FAQs
Why do you put liquor in homemade ice cream?
Alcohol doesn't freeze, which you know if you're anything like us, and keep a bottle of vodka chilled in your freezer. You can add up to 3 tablespoons of liquor to 1 quart (1 liter) of your frozen dessert mixture prior to churning. This will help to keep the ice cream from freezing solid, making sure it's scoopable and creamy. In this recipe, I've opted for spiced rum for the extra flavor.
How do I know when my pumpkin meringue pie ice cream is fully churned?
First, read the manufacturer's instructions that came with your ice cream maker, as each unit is different. But a rule of thumb is to allow the ice cream to churn until it increases in volume and is the texture of soft serve. I always know my ice cream is ready when the maker starts to groan as the mixture gets thicker and harder to churn.
Can I use another type of crust shards in this?
Absolutely. Shards of graham crackers are also lovely in this. See the variation below for instructions.
How long does ice cream last in the freezer?
In theory, two to four months (in reality, we're lucky if there's any left after four days…) is a pretty realistic time frame. More than a few weeks though, you might want to consider covering the top with plastic wrap before putting the lid on. This will help to keep the ice cream from getting icy or picking up any flavors from other items in the freezer.
Pumpkin Meringue Pie Ice Cream
Pumpkin meringue pie ice cream is the ultimate mashup of pumpkin ice cream−spiced with cinnamon, nutmeg, ginger, and mace−creamy-dreamy meringue, and crunchy bits of Oreo-cookie crust. Think frozen pumpkin-spice latte.
Ingredients
For the pumpkin meringue pie ice cream base
5

large

egg yolks

1/2

teaspoon

ground cinnamon

1/2

teaspoon

freshly grated nutmeg

1/2

teaspoon

ground ginger

1/4

teaspoon

ground mace

Large pinch of salt

2

cups

heavy cream

1

cup

firmly packed dark brown sugar

1

cup

canned unsweetened pumpkin purée (not pumpkin pie filling)

2

teaspoons

vanilla extract

1 1/2

tablespoons

spiced rum or bourbon (optional but suggested for a more scoopable ice cream)

Cooking spray
For the chocolate-crust shards
8

Oreos

2

tablespoons (1 oz)

melted butter
To assemble
1/2

cup

jarred marshmallow spread

more if you're game
Directions
Make the pumpkin meringue pie ice cream base
In a medium bowl, whisk together the yolks, cinnamon, nutmeg, ginger, mace, and salt until smooth.

In a medium pan, add the cream and brown sugar. Whisk to combine.

Heat the cream-sugar mixture over medium heat, stirring frequently, until the sugar dissolves, 3 to 5 minutes. Don't allow the liquid to boil!

While whisking the yolks, slowly drizzle the hot cream-sugar mixture into the bowl. Return the cream-yolk mixture back to the saucepan.

Place the saucepan over medium heat and cook, whisking constantly, until the custard is thick enough to coat the back of a spoon. Swipe a line across the spoon with your finger—if it holds, it's done, 5 to 8 minutes. Alternatively, if you have a thermometer, cook the custard until it reaches 185°F (85°C).

Strain the hot custard through a sieve into a clean bowl. Gently stir in the pumpkin purée, vanilla, and spiced rum, if using.

Lightly coat a piece of plastic wrap with cooking spray and press it against the surface of the custard. Refrigerate for at least 3 hours and up to 24 hours.
Make the chocolate-crust shards
Line a rimmed baking sheet with foil and lightly coat with cooking spray. Crank up the oven to 350°F (180°C).

In a food processor, finely grind the Oreos. Dump the crumbs into a small bowl, add the melted butter, and mix until combined.

Dump the crumbs onto the foil-lined baking sheet and pat them into a 1/8-inch (3-mm) thick slab. Bake until the surface looks dry, 10 to 15 minutes. Transfer the sheet to a rack and cool completely. Break up into bite-size pieces.
Churn the ice cream
Pour the fully chilled custard into a 1-quart-capacity ice cream maker and churn according to the manufacturer's direction until the custard is thick and is the texture of soft serve.

☞TESTER TIP: Due to the addition of booze, the ice cream will take longer to reach soft-serve stage, but fear not!
Assemble the ice cream
Spoon the marshmallow spread into a small microwave-safe bowl and nuke in 5-second bursts until the spread softens, about 15 seconds total. Vigorously stir the spread with a spoon to release the air making the spread smooth and lightly pourable.

Spread 1/3 of the ice cream into the bottom of a plastic freezer container. Spoon half of the marshmallow over the ice cream and use a knife to quickly marble it through the ice cream. Stick half of the crust shards into the ice cream. Repeat with another layer of ice cream, marshmallow, and shards. Top with the remaining third of ice cream and spread it smooth.

Cover tightly, and freeze until firm, at least 3 hours or up to 3 days. Let soften for 10 minutes at room temperature before serving.
Notes
Graham Craker-Crust Shards Variation
To make graham cracker shards, pulverize 6 full graham crackers (90 g) in a food processor. Dump the crumbs into a small bowl, add 2 tablespoons of granulated sugar, 4 tablespoons of melted butter, and mix until combined. Continue with step 10.
Show Nutrition
Serving:
1
serving
Calories:
476
kcal
(24%)
Carbohydrates:
48
g
(16%)
Protein:
4
g
(8%)
Fat:
30
g
(46%)
Saturated Fat:
17
g
(106%)
Polyunsaturated Fat:
2
g
Monounsaturated Fat:
9
g
Trans Fat:
1
g
Cholesterol:
205
mg
(68%)
Sodium:
119
mg
(5%)
Potassium:
187
mg
(5%)
Fiber:
1
g
(4%)
Sugar:
39
g
(43%)
Vitamin A:
5888
IU
(118%)
Vitamin C:
2
mg
(2%)
Calcium:
89
mg
(9%)
Iron:
2
mg
(11%)
Recipe Testers' Reviews
I love that this pumpkin meringue pie ice cream delivers on the promise of the title. Each spoon really evokes the flavors and textures of a good pumpkin pie with meringue. Other than the spot-on flavor and balanced spice it has a very good creamy smooth texture that is scoopable right out of my freezer.
The pumpkin flavor comes through as well since the recipe does not just use a spoonful or two but a good portion of a can of pumpkin purée.
Pumpkin meringue pie made into ice cream perfection. Lovely fall spices, crunchy cookie bits, and swirls of sweet meringue. The ice cream churned into a wonderfully creamy texture and the cookies and marshmallow fluff added a fantastic contrast to make each spoonful a delight. Why have pie, when you can have ice cream?
Originally published November 11, 2021
Recipe © David Leite. Photos © 2021
David Leite
. All rights reserved. All materials used with permission.
If you make this recipe, snap a photo and hashtag it #LeitesCulinaria. We'd love to see your creations on Instagram, Facebook, and Twitter.