Seven-minute frosting is named for the length of time it must be beaten in the final stage. Made with beaten egg whites, it's similar to meringue, but is more stable and sturdy enough for piping yet still has a delicate flavor and lighter-than-air texture. The frosting will harden quickly, so have the cake you are going to frost already prepared before making the frosting and spread it on while the beaten egg whites and sugar are still pliable. Once frosted, the cake may sit out for up to several hours before being served, but no longer than that.–Martha Stewart
LC Naming Conventions Note
Yes, technically speaking, this is Seven-Minute Frosting, although we prefer the more whimsical nickname of Marshmallow Frosting. It's easy to understand how this came to be, given the luscious, billowy, lick-the-batter inducing photograph above from the indubitable Smitten Kitchen. And, of course, there's always the recipe's trademark sweet, sweet, sweetness. No matter what its name, though, you can rely on this frosting to lend a sophisticated edge to many a made-from-scratch baked good. It can even double as a pastry filling for–and we say this in all seriousness–homemade Twinkies.
Seven-Minute Frosting
Quick Glance
5 M
10 M

Makes about 4 cups
Print Recipe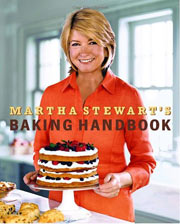 Ingredients
3/4 cup granulated sugar

1 tablespoon light corn syrup

3 tablespoons water

3 large egg whites

1/8 teaspoon salt

1/2 teaspoon vanilla extract
Directions
1. In the metal bowl of a standing mixer set over (but not touching) a saucepan of simmering water, combine the sugar, corn syrup, water, egg whites, and salt. Cook over medium heat, stirring frequently, until the sugar has completely dissolved, 3 to 4 minutes.

2. Attach the bowl to the mixer fitted with the whisk attachment. Beat the mixture on high speed until glossy, thick, and billowing peaks form, about, well, you know, 7 minutes. (Although truth be told, sometimes it doesn't take quite that long. When in doubt, just look at the picture above; that's what you want.) Beat in the vanilla. Use to frost a cake or cupcakes immediately. Best when consumed within several hours.
Seven-Minute Frosting Recipe © 2005 Martha Stewart. Photo © 2008 Smitten Kitchen. All rights reserved. All recipes and photos used with permission of the publisher.
If you make this recipe, snap a photo and hashtag it #LeitesCulinaria. We'd love to see your creations on Instagram, Facebook, and Twitter.