Remember when "low-carb" was a dirty word? (Well, dirty term.) Low-carb meant low expectation. We waved a sad goodbye to bold flavors, crunchiness, and pleasure. At least I did.
Of the bazillion diets I've been on during my 61 years, many were low-carb. And most lasted precisely one bite. I exaggerate. I made it several months once, but I knew from the first bite it was doomed. I had to nix too many things that brought me joy. Oddly enough, I could do without sweets. (*Gasp,* I know.) But it was bread and its distant cousins (I'm talking to you, crispy coatings, battered foods, and crunchy crackers), that I had a hard time giving up.
That's why I'm happy to include this recipe on Leite's Culinaria. These low-carb fish tacos give you all the crunch and flavor without that nagging guilt. The key is almond flour. As recipe tester AJ Fawver says, "[It] works like a dream for these fish tacos! It's totally changed the way I'm going to think about it."
So, am I going to be my svelte 170-pound self again? Um, hardly. Will I take pleasure in little wins like crunchy tacos? You bet.–David Leite
Low-Carb Fish Tacos with Cucumber Salsa FAQs
How do I store almond flour?
Heat and light are the enemies of almond flour, in fact, the enemies of all nut flours. So keep your almond flour in a dark, cool place. I prefer to store mine in the freezer in a tightly sealed container. If you freeze yours, make sure to let it come to room temp before using.
What other fish can I use for these tacos?
Really any fish you like would work here. But I think a light white fish such as haddock, monkfish, black cod, tilapia, or hake will work nicely.
Can I make the cucumber salsa ahead of time?
You sure can. And I advise it. That way when dinner time rolls around, you're a mere 15 minutes away from eating.
Low-Carb Fish Tacos with Cucumber Salsa
Juicy cod bites are breaded in a mixture of almond flour and seasonings, then pan-fried to crispy perfection! After that, simply assemble your tacos and enjoy.
Ingredients
For the cucumber salsa
1 1/4

cups (5 oz)

peeled and diced English cucumber (about 1/2 cucumber)

3/4

cup (5 oz)

diced tomato

,

chopped (about 1/2 large tomato)

1

medium

jalapeño pepper

,

seeded and chopped

2

tablespoons

chopped red onion

1/4

teaspoon

minced garlic

1 1/2

teaspoons

fresh lime juice

,

plus more if needed

1/2

teaspoon

finely chopped fresh parsley

1/2

teaspoon

finely chopped fresh cilantro

1/8

teaspoon

salt

,

plus more if needed
For the fish tacos
1/2

cup

almond flour

1

teaspoon

baking powder

1

teaspoon

garlic salt

1

teaspoon

chili powder

1/2

teaspoon

ground cayenne pepper (optional)

1

large

egg

1/2

pound

fresh cod

,

cut into 3/4-inch (1.8-cm) pieces

Extra-virgin olive oil

,

for frying

4

lettuce leaves or salad mix

,

for serving

Lime wedges (optional)
Instructions
Make the cucumber salsa
In a large bowl, combine the cucumber, tomato, pepper, onion, garlic, lime juice, parsley, cilantro, and salt. Taste and add more lime juice and salt, if needed.
Make the fish tacos
In a small bowl, whisk together the almond flour, baking powder, garlic salt, chili powder, and cayenne pepper, if using.

In a separate small bowl, whisk the egg.

Dip the cod into the dry mixture followed by the egg, letting any excess egg drip back into the bowl. Dip the cod back into the dry mixture, coating all sides, and place on a plate. Repeat with remaining fish until all the cod has been coated.

In a large skillet over medium-high heat, warm 1/4- to 1/2- inch (6 to 12 mm) oil. Carefully place the cod into the oil and fry until cooked through and flaky, and the coating is golden brown, 2 to 4 minutes per side. Transfer to a paper towel-lined plate to drain.

Serve with lettuce leaves or a salad mix, cucumber salsa, and a squeeze of lime juice, if desired.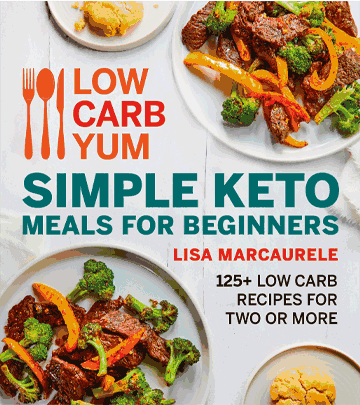 Adapted From
Low Carb Yum Simple Keto Meals for Beginners
Buy On Amazon
Nutrition
Serving:
1
serving
Calories:
364
kcal
Carbohydrates:
11
g
Protein:
28
g
Fat:
25
g
Saturated Fat:
3
g
Polyunsaturated Fat:
2
g
Monounsaturated Fat:
11
g
Trans Fat:
1
g
Cholesterol:
142
mg
Sodium:
1430
mg
Potassium:
1010
mg
Fiber:
4
g
Sugar:
3
g
Vitamin A:
5513
IU
Vitamin C:
16
mg
Calcium:
187
mg
Iron:
3
mg
Nutrition information is automatically calculated, so should only be used as an approximation.
Recipe © 2021 Lisa MarcAurele. Photo © 2021 Ben Dearnley. All rights reserved.
---
Recipe Testers' Reviews
It's hard to get excited about eating low-carb (as we do in my household) when you're craving something crispy and crunchy wrapped in a tortilla. Fortunately, I think I found the solution to that problem! Enter…almond flour. Now, I have had a bag of almond flour in my pantry for about six months. I've experimented with it enough to know that it didn't work well for several of my desired applications, but it works like a dream for these low-carb fish tacos! It's totally changed the way I'm going to think about it.
If you can't find fresh cod, don't fret. I had that issue and simply thawed half a pound of Alaskan cod. It worked great. Just be sure to pat it dry before you get started to remove the residual liquid from thawing.
If you can find it, go with butter or little gem lettuce. The leaves work great. I used a dark chili powder and opted for the cayenne, and I recommend you don't skip it. It made for a great-tasting breading.
Texturally, this fish taco recipe is a delight, between the crispy crunchy fish, the freshness of the lettuce and salsa, and the soft bites of the cucumber and tomato. It's a winner!
These low-carb fish tacos with cucumber salsa will thoroughly satisfy the tastebuds of both gluten intolerant and gluten tolerant folks. I found the lightly, pan-fried pieces of sweet cod, which were perfectly seasoned with the warm, earthy spices, to be the ideal complement to the cool, refreshing cucumber salsa drizzled with a splash of lime. Mounded on cold, crispy lettuce boats, or for those gluten tolerant friends who will be joining you, tucked into scrumptious homemade flour tortillas with bacon fat, these fish tacos will definitely earn a place at any food lover's table.