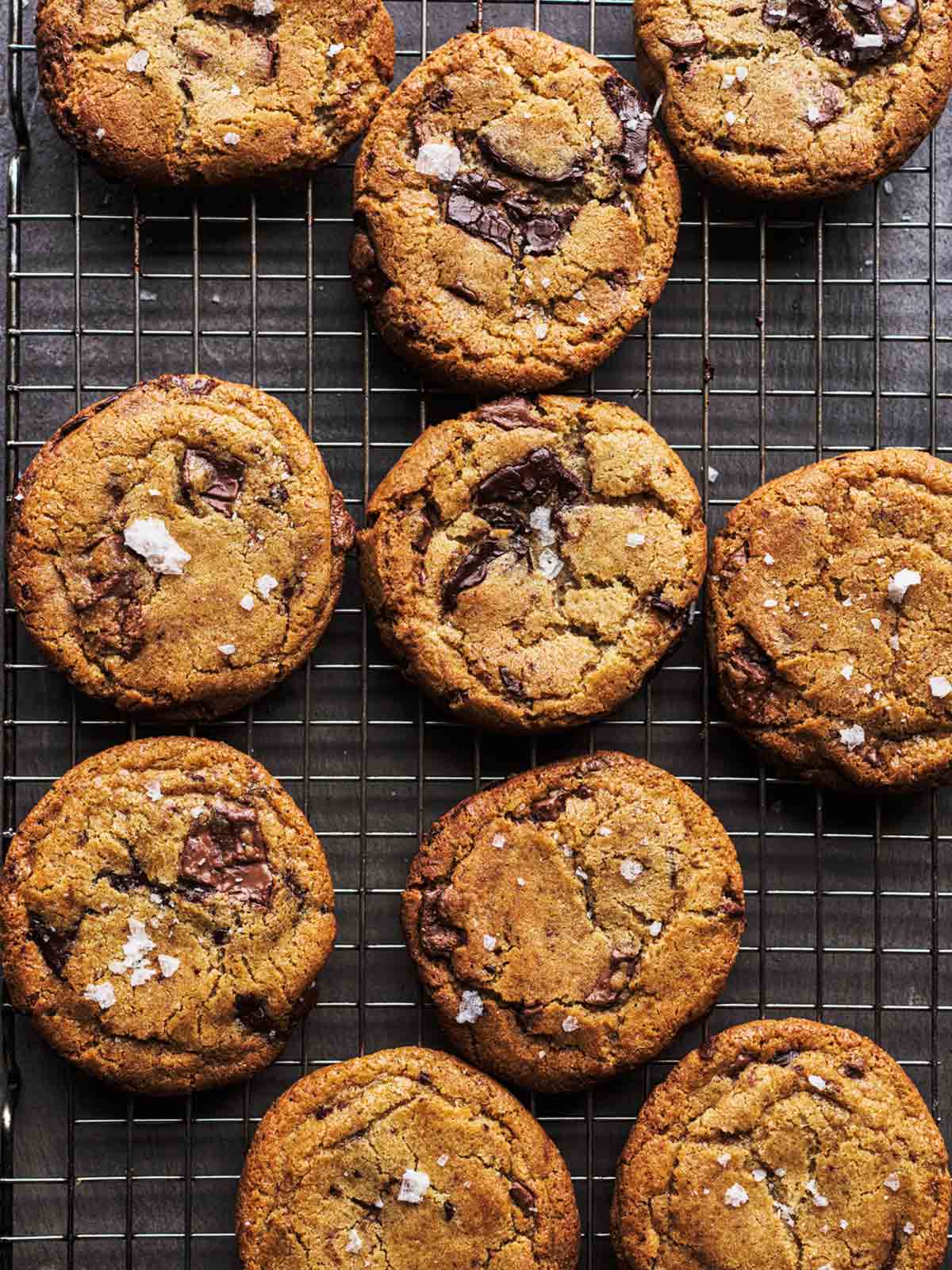 Adapted from Lea-Wilson Family | Sea Salt | White Lion Publishing, 2022
These salted brown butter chocolate chunk cookies are the right balance of sweet and salt with an extra toasty depth – the kind of cookie you never want to end. We have adapted the recipe ever so slightly, but the soul remains the same.
The depth here comes from two ingredients – brown butter and the secret, toasted whole milk powder. The latter is something you're going to have to seek out, but it's easy to buy good organic stuff online, and trust me, the smell when you open the oven door will be so worth it.
There are a few stages here, but the good news is, once you've made a batch, they freeze well in individual portions and you can bake them as and when needed – just add a couple of minutes to the cooking time.–Lea-Wilson Family
Salted Brown Butter Chocolate Chip Cookie FAQs
What is whole milk powder?
Whole milk powder (aka: powdered milk) is simply whole milk (although it can be found in all types – 2%, skim, etc.) that's been pasteurized, dried through evaporation, and then packaged in powdered form. It can generally be found in boxes, plastic jars, and even bags in the baking section at your local grocery. Take note that there's a texture difference between milk powder and instant powdered milk – the instant version tends to be grittier.
Why are these cookies cooled on the baking sheet instead of a rack?
Cookies left on a hot cookie sheet will continue to cook for a few minutes, even out of the oven. This is why timing and temperature are so important. Additionally, keeping the chocolate a little melty will also help the flaky sea salt adhere to your cookies.
What is the difference between light and dark brown sugar?
Dark brown sugar contains more molasses than light brown. The sugars are generally interchangeable but aren't exact substitutes. Using dark brown sugar when a recipe calls for light will give your final product a more robust, rich, caramel-y taste and a darker color, and could slightly affect the texture. Using light brown sugar instead of dark in this recipe will result in lighter-colored cookies with a less robust flavor.
Can I freeze these chocolate chunk cookies?
Yes. After scooping the cookie dough into rounds in step 12, freeze the cookies on the baking sheets until solid, then transfer to a resealable bag. When ready to bake, cook as many as you like from frozen, adding 4 to 5 minutes of baking time.
Salted Brown Butter Chocolate Chunk Cookies
Flaky sea salt, nutty brown butter, toasted milk powder, and sweet chocolate chunks combine to make the perfect cookie.
Ingredients
For the brown butter
2

sticks (8 oz)

unsalted butter
For the toasted milk powder
7

tablespoons (1 3/4 oz)

milk powder
For the chocolate chunk cookies
2/3

cup

superfine (caster) sugar (or blitz granulated sugar in a food processor until finely ground)

2

medium

eggs

2

teaspoons

vanilla extract

2/3

cup

soft dark brown sugar

2

cups plus 1 tablespoon

all-purpose flour

1

teaspoon

baking soda

1/2

teaspoon

fine flaked sea salt

8

ounces

good-quality dark chocolate (at least 70% cocoa solids)

,

chopped

Flaked sea salt

,

for scattering
Instructions
Make the brown butter
In a small saucepan over medium heat, melt the butter, then cook until the butter begins to foam and turn a couple of shades darker, tilting and swirling the pan so you can see the butter changing color as it cooks under the foam.

When the butter is browned and smells nutty, after 5 to 7 minutes, remove from the heat and use a wooden spoon to loosen the solids from the base of the pan. (Browned butter can continue to cook for longer than you think – it's only when it tastes bitter that it has gone too far.) Pour the melted butter, bits and all, into a large bowl and leave to cool for an hour or so.
Toast the milk powder
Preheat the oven to 300°F (150°C).

Line a large rimmed baking sheet with parchment paper. Spread the milk powder over the lined baking sheet in a thin, even layer and toast in the oven until light golden, 5 to 10 minutes. Remove from the oven and let cool. (If the milk powder is clumped up in the oven, smash it into a powder once again.)
Make the chocolate chunk cookies
Using a stand mixer with the balloon whisk attachment on medium-high speed, whisk the caster sugar, eggs, and vanilla together until thick ribbons of the mixture form when you lift the whisk from the bowl, 5 to 7 minutes.

Add the cooled, toasted milk powder and the dark brown sugar to the browned butter and roughly mix it together.

In a separate large bowl, whisk the flour, baking soda, and fine flaked salt together until combined.

Add the buttery mixture to the egg mixture, a spoonful at a time, and fully incorporate before adding the next one.

If using a free standing mixer, switch the attachment to the paddle. Add the flour mixture to the wet ingredients in three stages, incorporating the flour until no dry patches are visible with each addition. Add the final third of the flour by hand, together with the chopped chocolate, mixing with a wooden spoon.

Cover the dough and chill in the fridge for at least 2 hours, or overnight. You can keep the dough refrigerated like this for up to three days. If chilling overnight, remove the dough from the fridge 45 minutes before baking.

When ready to bake, preheat the oven to 340°F (170°C) and line 2 large rimmed baking sheets with parchment paper.

Using an ice-cream scoop, shape 2 ounce (57 g) balls of dough and place on the lined baking sheets, leaving at least 1 1/2 inches (4 cm) space between each cookie to allow for spreading.

Bake until they are golden brown but not too crisp, 11 to 15 minutes. As soon as they come out of the oven, sprinkle a good amount of flaked salt on top and leave to cool on the baking sheets.

Store in an airtight container for up to a week.
Nutrition
Serving:
1
cookie
Calories:
270
kcal
Carbohydrates:
30
g
Protein:
4
g
Fat:
15
g
Saturated Fat:
9
g
Polyunsaturated Fat:
1
g
Monounsaturated Fat:
4
g
Trans Fat:
0.4
g
Cholesterol:
44
mg
Sodium:
135
mg
Potassium:
149
mg
Fiber:
2
g
Sugar:
18
g
Vitamin A:
335
IU
Vitamin C:
0.2
mg
Calcium:
46
mg
Iron:
2
mg
Nutrition information is automatically calculated, so should only be used as an approximation.
---
Originally published July 13, 2022