Most of us grew up loving macaroni and cheese and I'm no exception. But now that I'm all grown up, I prefer a more sophisticated version than the one my mom made for me. I add a little truffle oil to kick it into another sphere. If you really like truffles and have some fresh ones on hand, chop them up and stir them into the casserole before baking for even more flavor. On the other hand, you could omit the truffle oil and still end up with an amazing mac and cheese.—Rick Tramonto
What is LC Hump Day Pasta?
We're glad you asked. LC Hump Day Pasta (#LCHumpDayPasta) is a little something we cooked up to help you on the night of the week that you feel least like cooking. Wednesday was traditionally Prince Spaghetti Day (for those of you old enough to remember). We've revamped and updated that to Hump Day and included every type of pasta there is.
Truffled Mac and Cheese FAQs
Is there any way to make this mac and cheese faster?
We found, through a rather fortuitous accident, that the recipe can easily be tweaked for those nights when you're short on time. (Is there ever a night when you're not short on time?) Simply omit the baking time and instead toss the cooked pasta with the cheesy, truffle-y goodness, top with the breadcrumbs, and run under the broiler just long enough to crisp the crumbs. See? High falutin' and weeknight-savvy.
Can I add black truffles to this recipe, too?
If you take a look at the pic above, you'll notice a mound of lovely, rich black truffle slices on top of the creamy mac and cheese. If you have some on hand, or feel like making this dish extra-special, go ahead and sprinkle some on. When it comes to truffles, you should be free to do whatever you like, darling.
What's the difference between black and white truffles?
If you're buying a truffle or truffle oil for the first time, you'll want to know what you're getting. Black truffles are less expensive and have a softer flavor, often compared to earth, red wine, or chocolate. Physically, they're a little hardier and can stand up to heat, making them suitable for pizza, pasta, and truffle butter.

White truffles have a strong ammonia-like scent but a flavor that can be rather garlic-like. More expensive and a little fragile, they're best used in delicate dishes, usually raw and shaved. Using white truffle-infused oil is a great way to get the flavor at a manageable price.
Truffled Mac and Cheese
Mac and cheese just went from kids' food to fancy schmancy. All you need to do is toss in a few shavings of black truffle and some truffle oil. Pricey, perhaps. But well worth it every once in a special while.
Ingredients
1

cup

fresh breadcrumbs

1/2

cup

grated Parmesan cheese

3

tablespoons

white truffle oil (optional)

2

tablespoons

unsalted butter

,

plus more for the baking dish

2

tablespoons

all-purpose flour

2

cups

half-and-half

1/4

pound

Swiss cheese

,

grated

1/4

pound

sharp Cheddar cheese

,

grated

1/4

pound

Fontina cheese

,

grated

1

teaspoon

Dijon mustard

Kosher salt and freshly ground black pepper

8

ounces

elbow macaroni
Instructions
Preheat the oven to 375°F (190°C).

In a small bowl, mix together the breadcrumbs, Parmesan, and 1 tablespoon of the truffle oil.

In a large, heavy saucepan, melt the butter over medium heat. Add the flour and whisk for about 3 minutes, or until the mixture is thoroughly combined and forms a paste. Whisk in the half-and-half, bring to a simmer, and cook for 3 minutes.

Stir in the Swiss, Cheddar, and Fontina cheeses, and then add the mustard. Remove the sauce from the heat when the cheeses have melted. Stir in the remaining truffle oil and season to taste with salt and pepper.

Meanwhile, bring a large pot of lightly salted water to a boil over medium heat and cook the macaroni for about 7 minutes, until al dente. Drain the pasta and add to the saucepan with the cheese sauce. Stir well.

Turn the macaroni and cheese into a buttered 2-quart baking dish. (At this point you could refrigerate the casserole dish for up to 24 hours.) Top the casserole with the breadcrumb mixture and bake for 25 to 30 minutes, until the casserole is bubbling.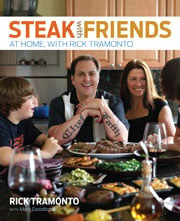 Nutrition
Serving:
1
serving
Calories:
1018
kcal
Carbohydrates:
73
g
Protein:
42
g
Fat:
62
g
Saturated Fat:
33
g
Polyunsaturated Fat:
4
g
Monounsaturated Fat:
22
g
Trans Fat:
1
g
Cholesterol:
160
mg
Sodium:
914
mg
Potassium:
428
mg
Fiber:
3
g
Sugar:
4
g
Vitamin A:
1490
IU
Vitamin C:
1
mg
Calcium:
915
mg
Iron:
3
mg
Nutrition information is automatically calculated, so should only be used as an approximation.
Recipe © 2010 Rick Tramonto. Photo © 2010 Ben Fink. All rights reserved.
---
Recipe Testers' Reviews
Truffled mac and cheese is a rich, creamy casserole with very sensual overtones. Its decadent, earthy muskiness makes you want to partake in more than you really should! The flavour generated by using white truffle oil is exceptional without the added fresh truffle. I tried this as is, and also with a few chopped shavings of fresh black truffle over the warmed mixture, once plated. It's somewhat nicer, but it's an expensive indulgence.
Note: If using freshly grated Parmesan (recommended), you need about 1 1/2 ounces. The recipe also needed 5 minutes of extra time to heat the cream to a simmer. The completed casserole won't fit in a 1-quart dish, but will amply fill a 2-quart dish. So much so, that filling it any more would have caused it to bubble over in the oven.
This is just about as good as it gets: Easy, beautiful out of the oven, and delicious. Next time, I'll eliminate the mustard, because we're not mustard fans, and I may cut back a bit on the truffle oil in the sauce. I may also try black truffle oil to see if there's a difference. (I can see that I'm just thinking up excuses to make this again.) This is definitely party fare for a crowd. The recipe makes more than enough for 8 people, although it says it serves 4.