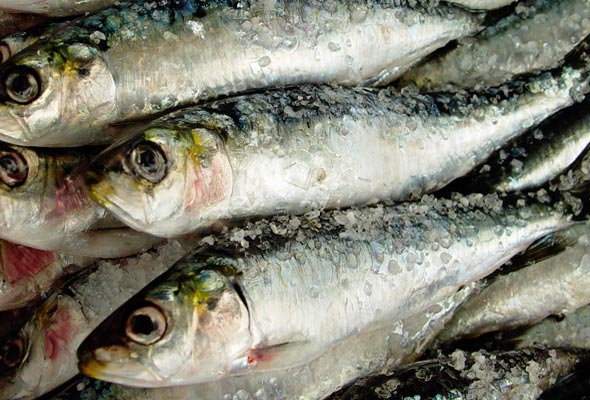 This classic Sicilian dish traditionally calls for rolling the sardines around the filling. I prefer my mom's tactic, which sandwiches the filling between sardines. This means less fuss both in preparing and eating the dish, ensuring that the savory filling stays put rather than spills out.–Mary Ann Castronovo Fusco
LC You Say Sardines, We Say Sarde Note
This classic Sicilian sardine dish sorta sounds like something Tony Soprano would order at Artie's restaurant, eh? The name just dances on the tongue. Sarde a Beccafico. Try it. It's as easy peasy to say as it is to make. Truly. Not convinced? Take a twirl through author Mary Ann Castronovo Fusco's article on sardines, which includes talk of cooking sardines. Then get back to us.
Stuffed Sardine
Quick Glance
30 M
45 M

Serves 2
Ingredients
4 fresh whole sardines, gutted

1/4 cup fresh breadcrumbs

4 teaspoons plus 1 tablespoon olive oil

1/4 cup grated pecorino cheese

1 tablespoon grated onion

1 tablespoon minced flat-leaf parsley leaves

1 tablespoon raisins

1 tablespoon pignoli (pine nuts)

Black pepper to taste

6 large bay leaves
Directions
1. Preheat oven to 350° F (176°C). If your fishmonger has not already done so, cut off the head and fins from the fish, but do not remove the tail. Under running water, hold each sardine, belly-side up and slide your thumbs along the backbone so the fish opens up. Remove the backbone, snapping it off at the tail. Rinse to remove any broken bones and set aside to drain.

2. Place breadcrumbs in a small frying pan over a low flame and toast, stirring continuously to prevent scorching. When lightly golden, add 4 teaspoons olive oil and stir until fully incorporated and golden brown. Transfer to a small bowl.

3. Add the grated cheese, onion, parsley, raisins, and pignoli to the bread crumbs. Stir in remaining 1 tablespoon olive oil until well combined.

4. Distribute bay leaves on the bottom of an 8 by 8 inch baking pan. Place 2 sardines, skin-side down, over the bay leaves. Top each with half of the bread crumb mixture. Sprinkle with pepper. Top each with one of the remaining sardines, skin side up, taking care to align the tail ends to create neat sardine "sandwiches." Bake for about 15 minutes. Transfer each sardine "sandwich" to a plate. Serve hot or at room temperature.
Stuffed Sardine Recipe © Mary Ann Castronovo Fusco. All rights reserved. All recipes and photos used with permission of the publisher.
If you make this recipe, snap a photo and hashtag it #LeitesCulinaria. We'd love to see your creations on Instagram, Facebook, and Twitter.