Batter-fried fish tacos recipes as we know them in the United States originated in the 1930s in Ensenada, Mexico, home to a large Japanese immigrant population who worked in the fishing industry there. Along with their skills as fishermen, the Japanese also brought with them the technique for tempura—deep-frying fish in batter. The Mexicans adapted this technique to make tacos using young shark, a very inexpensive local catch that held up beautifully when fried. These fish tacos are best served immediately as fried foods (obviously) get soggy if left to sit.–Mark Miller
LC Suckers for Sustainability Note
This taco recipe, which was published in a cookbook years and years ago, originally called for shark. Uh huh. That's not happening for many reasons, among them the fact that we're suckers for sustainability and shark isn't on the Monterey Bay Aquarium's Seafood Watch green list. You can use just about any firm, moist white fish that is a sustainable catch in its place. Chef Mark Miller suggests tilapia or the incomparably sweet mahi mahi (often known as dorado), although the commonplace Pacific-caught cod also works quite well.
Baja-Style Tempura Fish Tacos
Quick Glance
15 M
1 H

Makes 10 tacos
Special Equipment: Deep-fry or candy or instant-read thermometer
Print Recipe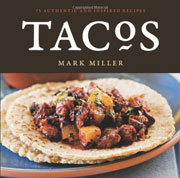 Ingredients
For the chile-lime marinade

1 1/2 cups cold water

1/2 cup fresh lime juice (from 4 to 6 limes)

10 cloves garlic, sliced

2 serrano chiles, stemmed and sliced

2 teaspoons dried Mexican oregano, ground (optional)

1 tablespoon fine sea salt

2 pounds firm white fish fillets, cut into 4-by 3/4-inch strips (See LC Suckers for Sustainability Note)

For the Baja tempura batter

3/4 cup plus 1 tablespoon ice water

2 1/2 teaspoons yellow mustard (optional)

1 cup bleached all-purpose flour

Vegetable oil, for deep-frying

For assembling the tacos

10 (5 1/2-inch) soft corn tortillas, warm (or if you want to be authentic, do as they do in Southern Cali and double the number of tortillas so each taco has a double thickness)

Lime wedge

Pickled jalapeño rings
Directions
Make the chile-lime marinade

1. In a large bowl, combine the cold water, lime juice, garlic, chiles, oregano (if using) and salt. Add the fish and set aside to marinate at room temperature for at least 20 minutes.

Make the Baja tempura batter

2. In a separate bowl, whisk together the ice water and mustard. Gently stir in the flour, being careful not to overmix the batter; a few small lumps are okay. Cover and refrigerate for 30 minutes.

Fry the fish

3. Drain the fish and pat the pieces dry with a paper towel. Have a plate lined with paper towels at the ready.

4. In a large, heavy-bottomed pot, heat at least 2 to 3 inches of oil over medium heat until it reaches 360°F (182°C) on a deep-fry or candy or instant-read thermometer.

5. Remove the tempura batter from the refrigerator and stir once more. Dredge a few pieces of fish in the batter at a time, turning to coat them evenly. Gently drop 2 pieces of fish at a time into the oil, adding 2 more pieces every 30 seconds (fry no more than 4 pieces at a time). Fry the fish until the pieces are a crisp, light golden brown and floating on the surface of the oil, about 2 1/2 minutes per batch. Monitor the temperature of the hot oil throughout frying, letting the oil return to proper temperature, if necessary, between batches; to ensure crispness, it must remain a constant 360°F to 380°F (182°C to 193°C). If the temperature is too low, the fish will be oily; if it is too hot, the pieces will burn.

6. Using a fine-mesh skimmer, transfer the fish tempura to the paper towel-lined plate to drain. Repeat with the remaining fish and batter, being sure to remove any pieces of floating batter in between batches or the oil and your fish will take on a burnt taste.

Assemble the fish tacos

7. Place the tortillas side by side, open face and overlapping, on a platter. (If using double the number of tortillas, simply double them up.) Divide the slaw and fish equally among the tortillas. Top with salsa and desired garnishes or allow guests to do so themselves. Grab, fold, and eat right away.
Recipe Testers Reviews
Baja-Style Tempura Fish Tacos Recipe © 2009 Mark Miller. Photo © 2009 Ed Anderson. All rights reserved. All recipes and photos used with permission of the publisher.
If you make this recipe, snap a photo and hashtag it #LeitesCulinaria. We'd love to see your creations on Instagram, Facebook, and Twitter.