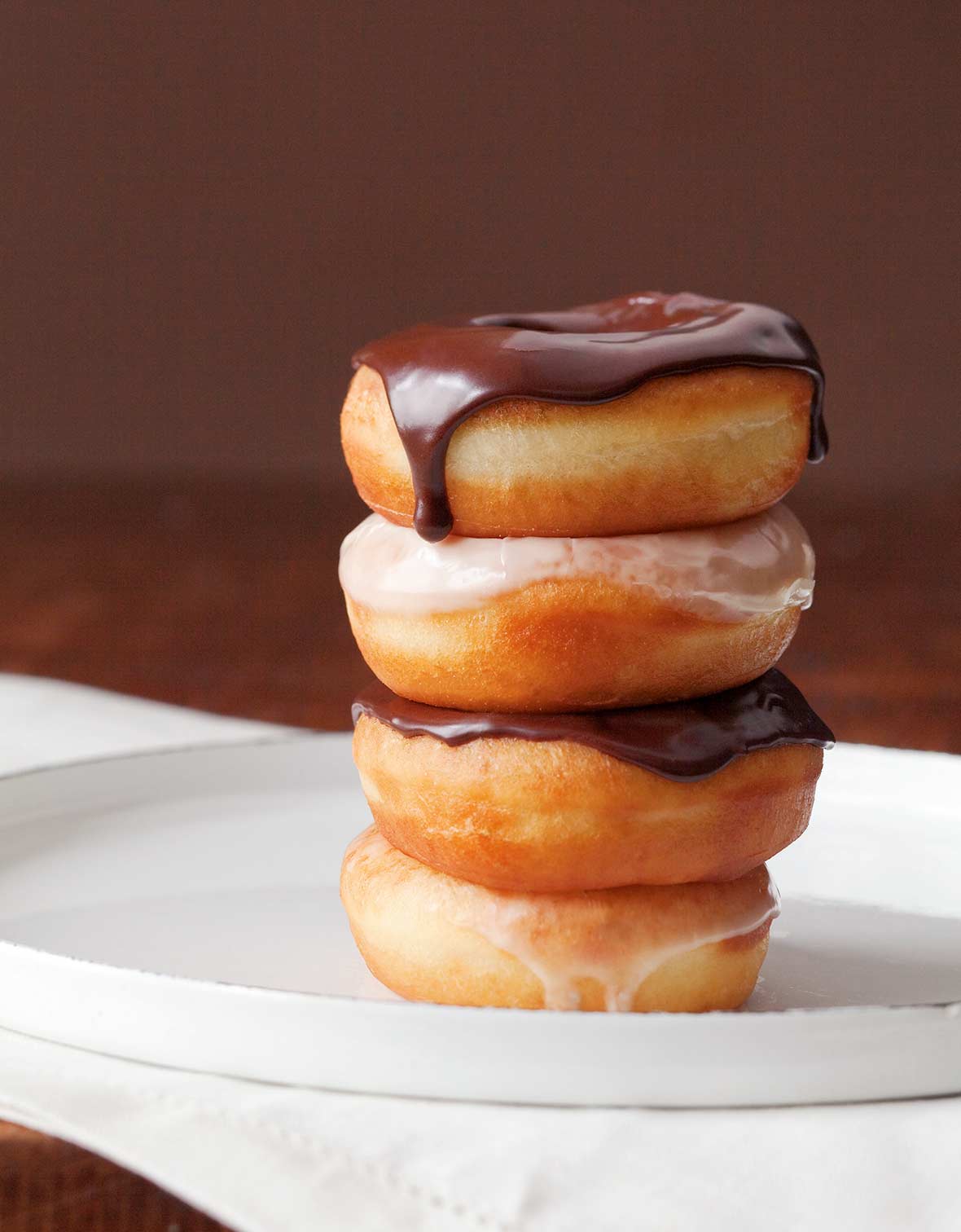 Glazed doughnuts. Everybody loves 'em. Even when seemingly everyone is paleo this and gluten-free that, you rarely see someone refuse a glazed doughnut. Especially when they're homemade, hot from the oil, and taste just like the old-fashioned kind you remember from childhood. This particular recipe turns out doughnuts that aren't quite as airy as Krispy Kreme doughnuts, but we don't think that's a bad thing. The doughnuts are less sweet than most, which means you can drown them in glaze and they still won't seem cloying. Talk about our kinda doughnut. [Editor's Note: Seriously. I can't stop eating these doughnuts. This note may have been typed impatiently and one-handedly while attempting to lick drippy doughnut glaze from fingers and wrist before it plummets to certain disaster onto my laptop.]–Renee Schettler
How To Make Yeasted Glazed Doughnuts
To make her doughnuts so wildly fluffy, author Lara Ferroni relies on a higher proportion of yeast than one would expect. A neat 3 tablespoons of active dry yeast, to be exact. You could substitute instant yeast—not to be confused with rapid rise yeast—but you'll need to carefully reduce the amount, explains recipe tester and baking guru Cindi Kruth. Instant yeast is what's now most readily available in larger packages, AF and Red Star being the most common brands you'll find at big box stores and supermarkets. At only $3 or $4 a pound, this is by far the cheapest way for home bakers to buy yeast. Kruth made these using 2 1/4 teaspoons instant yeast in place of the 3 tablespoons active dry and she was quite, quite pleased.
Glazed Doughnuts
These glazed doughnuts are light, fluffy, and just sweet enough without being cloying. I urge you to use a glaze to make them as gloriously nostalgic as possible.
Ingredients
For the doughnuts
3

tablespoons

active dry yeast or 2 1/4 teaspoons instant yeast

1

cup

whole milk

,

heated to 110˚F (43°C)

2 to 2 1/2

cups

bread flour

,

plus more for the work surface

2

tablespoons

superfine sugar

,

(or just blitz granulated sugar in a blender until finely ground but not powdery)

1/2

teaspoon

salt

1

teaspoon

vanilla extract

3

large

egg yolks

4

tablespoons

unsalted butter

,

at room temperature

Vegetable oil

,

for frying
For the basic glaze
1 1/2

cups

confectioners' sugar

,

sifted to remove any lumps

3 to 4

tablespoons

milk or water

2

teaspoons

vanilla extract,

(optional)
For the chocolate glaze
1 1/2

cups

confectioners' sugar

4

tablespoons

cocoa powder

2

tablespoons

milk or water

2

teaspoons

vanilla extract,

(optional)
Instructions
Make the doughnuts
In a medium bowl, dissolve 2 tablespoons yeast in 3/4 cup warm milk. Stir in 3/4 cup of the flour to create a smooth paste. Cover and let rest in a warm spot for 30 minutes.

Combine the remaining warm milk and yeast in the bowl of a stand mixer fitted with the paddle attachment. Add the flour mixture along with the sugar, salt, vanilla, and egg yolks. Mix until smooth. Turn off the mixer and add 1/2 cup of the remaining flour. Mix on low for about 30 seconds. Add the butter and mix until it becomes incorporated, about 30 seconds. Switch to a dough hook and, with the mixer turned off, add more flour, about 1/4 cup at a time. Knead the dough on medium speed between additions until the dough pulls completely away from the sides of the bowl and is smooth and not too sticky. It will be very soft and moist, but not so sticky that you can't roll it out. (You may have flour left over.) Cover the bowl with plastic wrap and refrigerate for at least 1 hour and up to 12 hours.

Line a baking sheet with a lightly floured dish towel. Roll out the dough on a lightly floured surface to 1/2 inch thick. With a doughnut or cookie cutter, cut out 3-inch-diameter rounds with 1-inch-diameter holes. (Note: If making filled doughnuts, clearly, don't cut out the holes.) You can re-roll the scraps and cut out additional holes.

Place the doughnuts at least 1 inch apart on the baking sheet and cover loosely with plastic wrap. Let rest in a warm spot to proof until they almost double in size, 5 to 20 minutes, peeking every five minutes. To test whether the dough is ready, touch it lightly with a fingertip. If it springs back immediately, it needs more time. If it springs back slowly, it is ready. If it doesn't spring back at all, it has over-proofed, in which case you can punch it down and re-roll it once.

While the doughnuts are proofing, heat a heavy-bottomed pot with at least 2 inches of oil until a deep-fat thermometer registers 360˚F (182°C). With a metal spatula, carefully place a couple of doughnut holes or doughnuts in the oil, being careful not to crowd the pot. Fry for 1 to 2 minutes per side, until light golden brown. Remove with a slotted spoon, drain on a wire rack over a paper towel, and let cool slightly before glazing. Repeat with the remaining doughnuts and holes, keeping the temperature consistent.
Make the glaze
Whichever glaze you're making, place the sugar (and cocoa powder, if relevant) in a bowl and slowly stir in the milk and vanilla, if using, a little at a time, to make a smooth, pourable glaze.
Glaze the doughnuts
Pour the glaze into a shallow bowl. Dunk the doughnuts, let any excess glaze drip off, and then transfer them to a wire rack placed on a baking sheet or over a sheet of parchment paper to rest until glaze sets. (Who are we kidding? We know these glazed doughnuts are going straight from bowl to gaping mouth.)
Nutrition
Serving:
1
serving
Calories:
344
kcal
Carbohydrates:
58
g
Protein:
8
g
Fat:
9
g
Saturated Fat:
5
g
Polyunsaturated Fat:
1
g
Monounsaturated Fat:
3
g
Trans Fat:
0.2
g
Cholesterol:
88
mg
Sodium:
164
mg
Potassium:
149
mg
Fiber:
2
g
Sugar:
27
g
Vitamin A:
317
IU
Vitamin C:
0.01
mg
Calcium:
58
mg
Iron:
1
mg
Nutrition information is automatically calculated, so should only be used as an approximation.
Recipe © 2010 Lara Ferroni. Photo © 2010 Lara Ferroni. All rights reserved.
---