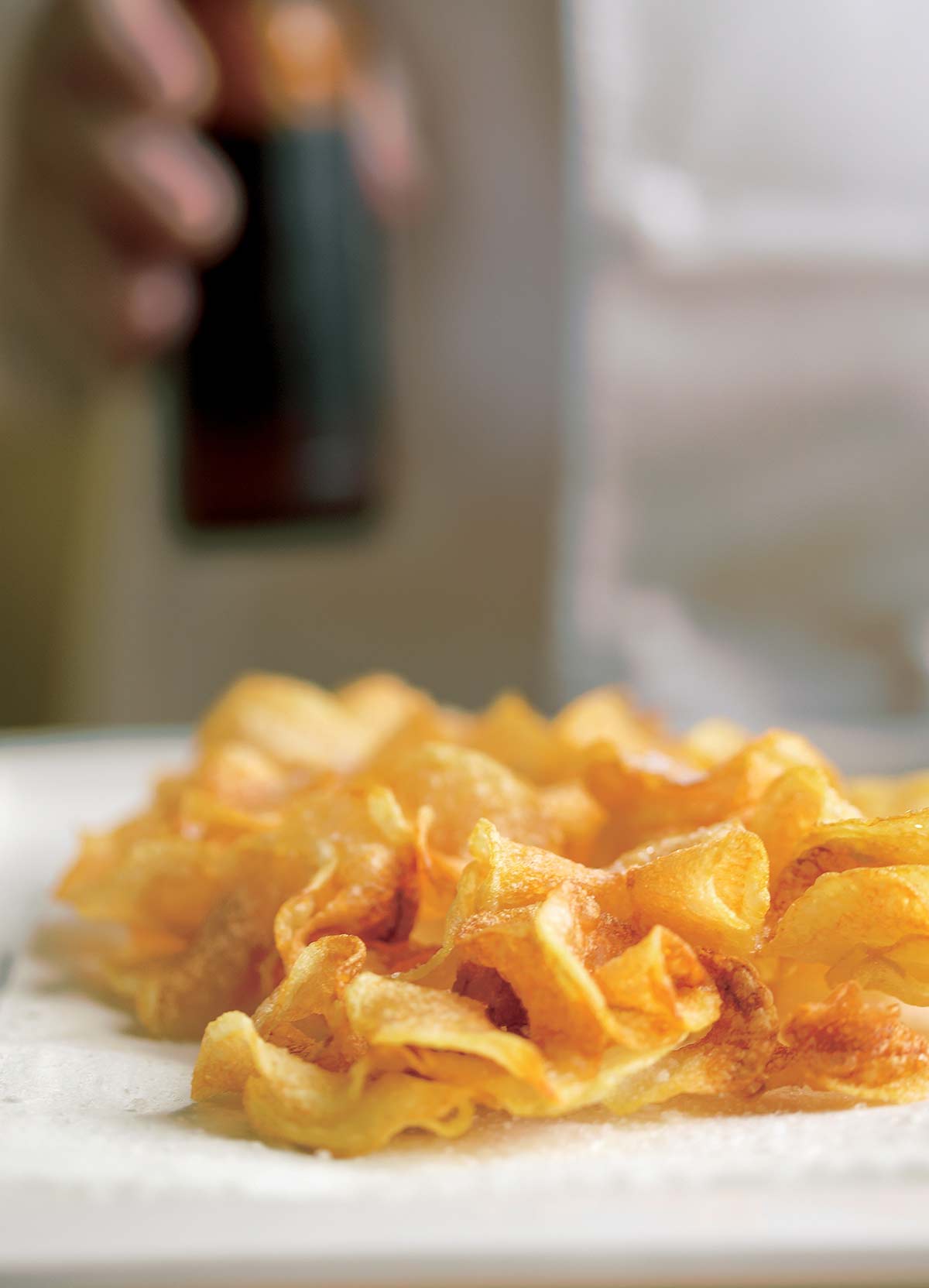 My favorite ingredient is the potato. Why? No one ever creates something better than fried potatoes. You take a potato and fry it you have the most timeless food. When you eat it it's fabulous. Mashed potatoes, roasted potatoes, even my potato risotto. And I love everything that goes with potato—onion, shallot, garlic, leeks, cream, butter.—Michel Richard
Homemade Ribbon Fries FAQs
How easy is it to double this ribbon fries recipe?
Clearly frying up a single potato, as the recipe below suggests, is only going to get you so far. Fortunately, the recipe can easily be doubled, tripled, quadrupled, or otherwise multiplied exponentially. Given how quickly our greasy little fingers kept reaching for the ribbon fries, it's best to allow one large potato per person.
I don't have a turning vegetable slicer. Can I still make ribbon fries?
These require a turning vegetable slicer, perhaps holding the most appeal, fittingly, for those casual couch potatoes who like to stay up late at night and are privvy to infomercials. That said, an old-fashioned apple peeler will work in its place, provided you make just a few adjustments. (See the comment from Dan Kraan beneath the recipe.) A Y-shaped vegetable peeler? Not so much.
Homemade Ribbon Fries
Serve these ribbon fries as you would potato chips, as a nibble with cocktails, alongside a sandwich, or as a side to a main course such as roast chicken.
Equipment
Turning vegetable slicer; deep-fry or candy or instant-read thermometer
Ingredients
Peanut or canola oil for frying

2

large

baking potatoes

,

peeled if desired
Instructions
Pour enough oil to reach a depth of 2 3/4 inches in a deep fryer or a large, deep pot. Do not overfill the fryer or pot as the oil will bubble up when the potatoes are added. Heat the oil to 325°F (163°C). Line a baking sheet with a paper bag cut open or with a wire cooling rack and place it next to the stove.

Meanwhile, set up a turning vegetable slicer with the straight blade. Cut off both ends of a large baking potato and attach one end of the potato to the grip at the end of the handle; the other end of the potato should sit flush against the blade. Turn the handle, pushing toward the potato with gentle pressure. The potato will rotate through the blade, forming extremely long ribbons of potato.

Place the potatoes on paper towels and pat dry; they should be very, incontrovertibly dry before they go into the hot oil, as any residual moisture will cause the oil to bubble up and spatter even more.

Carefully add some of the potato ribbons to the hot oil, working in batches. Add only enough potatoes to make a layer that is no more than 2 inches thick. Fry the potatoes until they are golden brown on the bottom. Using long tongs, gently turn the potatoes over. Continue to fry until the potatoes are evenly browned and crisp, about 6 minutes total, depending on the thickness of your ribbons.

When the ribbon fries are done, use tongs to carefully lift them onto the paper bag or rack to drain. Serve the ruffles on a platter with a generous sprinkling of fleur de sel.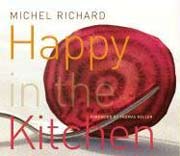 Nutrition
Serving:
1
portion
Calories:
292
kcal
Carbohydrates:
67
g
Protein:
8
g
Fat:
1
g
Saturated Fat:
1
g
Polyunsaturated Fat:
1
g
Monounsaturated Fat:
1
g
Sodium:
18
mg
Potassium:
1539
mg
Fiber:
5
g
Sugar:
2
g
Vitamin A:
4
IU
Vitamin C:
21
mg
Calcium:
48
mg
Iron:
3
mg
Nutrition information is automatically calculated, so should only be used as an approximation.
Recipe © 2006 Michel Richard. Photo © 2006 Deborah Jones. All rights reserved.
---
Recipe Testers' Reviews
If you have some spare time on your hands, these homemade ribbon fries are a very festive way to prepare potatoes. I sprinkled the fleur de sel immediately upon transfer to the paper toweling. The finished ribbon fries look splendidly irresistible once piled high and displayed!
Your best results will come from a potato that is relatively and uniformly oval. If it's like a "flattened egg", it won't work as well–or at all. I have an apple peeler that I modified to make ribbons of potato. The first thing I did was remove the automatic corer/slicer at the end of the machine. I also had to adjust the peeler thickness to get the right size of ribbon. When I turned the crank, the potato didn't get cored and sliced on the first pass, though it did deliver one long strand of potato. I then released the auger catch, brought the potato back, and repeated as many times as it takes to get as close to the core as possible, creating a ribbon of potato each pass. The ribbons were then spread over paper toweling and covered with another couple of sheets to pat them dry before frying.
I fried the ribbons in batches and they fried up fairly quickly, about 3 or so minutes per batch, turning and pushing them into the hot oil once or twice, until they get that wonderful golden brown look. If you want to fry the "cores", quarter them and make them in a separate batch, taking about 6 minutes total.
So I dug around in the basement and found my old White Mountain 300 Apple Parer, Corer, and Slicer. I was able to determine it was still sharp in that time-honored old fashion way of taking a good-sized slice of my knuckle off while adjusting it. Yup, sharp indeed, though a little rusty. Good thing my tetanus vaccine is up to date.
I love potatoes in any form and fried as chips is a favorite. Since this recipe is potato, oil, and salt I knew it had the basics down perfectly. The ribbons were narrower than the photo. A turning vegetable slicer is simply a different sort of gadget from one designed to do apples. Mine is meant to peel the thin skin of an apple. I was able to adjust it to go deeper, but that wasn't the issue. The thinness of the ribbon, a mere 1/6 inch, was fine. It made for quick frying and crispy potato ribbons. But the width was about half of what it looks like in the book. The potato ribbons, though thin and narrow, fried up fine. Two minutes on one side, two on the other. Drained, salted, devoured. Yum.
The main disadvantage of making these ribbon fries was the parer produced about an ounce of ribbon from a 9-ounce potato. The rest was wasted. Well, I did fry the pieces up, but they weren't chips. More like french fry scraps. There isn't any way with my type of parer to do a second peeling. The machine pushes the "peeled" potato along so it then gets cored and sliced. Perfect for apple pies. But winding up with most of the potato in 1/4″ slices and a "core" of solid potato wasn't the desired end goal here.
Tis the season…for fried foods! At my house, we don't deep-fry very often, so this seemed a decadent departure from the norm, something special for us. Let's start with the good news: these are delicious, fun, and easy, so long as you get the hang of your turning vegetable peeler! The peeler was my biggest challenge. First I had trouble locating it and then all the parts didn't appear to be there. I Google'd about and found instructions. One particularly helpful comment described the base succinctly as the worthless suction-cup base, and it was. The suction cup base never held to the counter and I had to both push down on the peeler to hold it in place and simultaneously turn the handle to run the potato through the turning peeler.
But first, there was a small issue with the potato vis-a-vis the peeler. Once I got the turning peeler to the point of using it on the potato, my large baking potato was too large for the peeler. It wouldn't fit in the space between the prongs and the blade. So I cut the potato in half after peeling, after having specifically purchased large potatoes. Then I started to turn the handle, applying gentle pressure as directed. The potato did rotate through the blade and I did get long ribbons. My ribbons were of varied thicknesses, however, as I must not have been applying consistent gentle pressure. This concerned me, but it turned out not to matter.
In the middle of futzing around with the peeler, I had filled my large, deep pot with canola oil to the specified depth of about 2 3/4 inches. Once I'd run the whole potato through the peeler, I patted, blotted, and re-patted and re-blotted, to make absolutely certain my ribbons were dry enough. Meanwhile, I'd been heating the oil in my pot with a thermometer attached to keep a watchful eye on the temperature.
My one potato didn't nearly make a 2-inch layer, so there was no need to be concerned about the note in the directions to avoid layering more than 2 inches thick in the oil. My potatoes took six to eight minutes total to reach a lovely golden brown color and crisp texture. Some went a bit faster than others, due to the varied potato ribbon thicknesses previously described. I took out a few of the thinnest at the six-minute mark and took out the last of them at the eight-minute mark. I never needed to turn the potatoes over, perhaps because my layer was so thin. They browned evenly as they fried.
They were attractive and I sprinkled a bit of salt (ordinary salt was fine—we didn't have fleur de sel on hand) on them before serving. After a quick taste test, I sprinkled more on them. These call out for more than a little sprinkling of salt! Unlike the potato chips to which they were compared, these are at their best piping hot.
The total time start to serving was right at the 40 minutes noted, and making them again, I'd be faster I'm sure! For future servings, I'd allow one large potato per person, at least. And there's no need to peel the potatoes before running them through the turning vegetable peeler; that extra bit of texture and color adds to the flavor and visual appeal. I might go with peanut oil next time, for its higher smoke point and better reputation as a frying oil. Also, I'm betting these would be excellent made with sweet potatoes, and/or a combination of sweet and white potatoes.