This homemade red wine pasta recipe, made with 00 flour, red wine, eggs, and olive oil, goes spectacularly well with any wine-braised ragu. And wait'll your guests catch its eye-catching colors.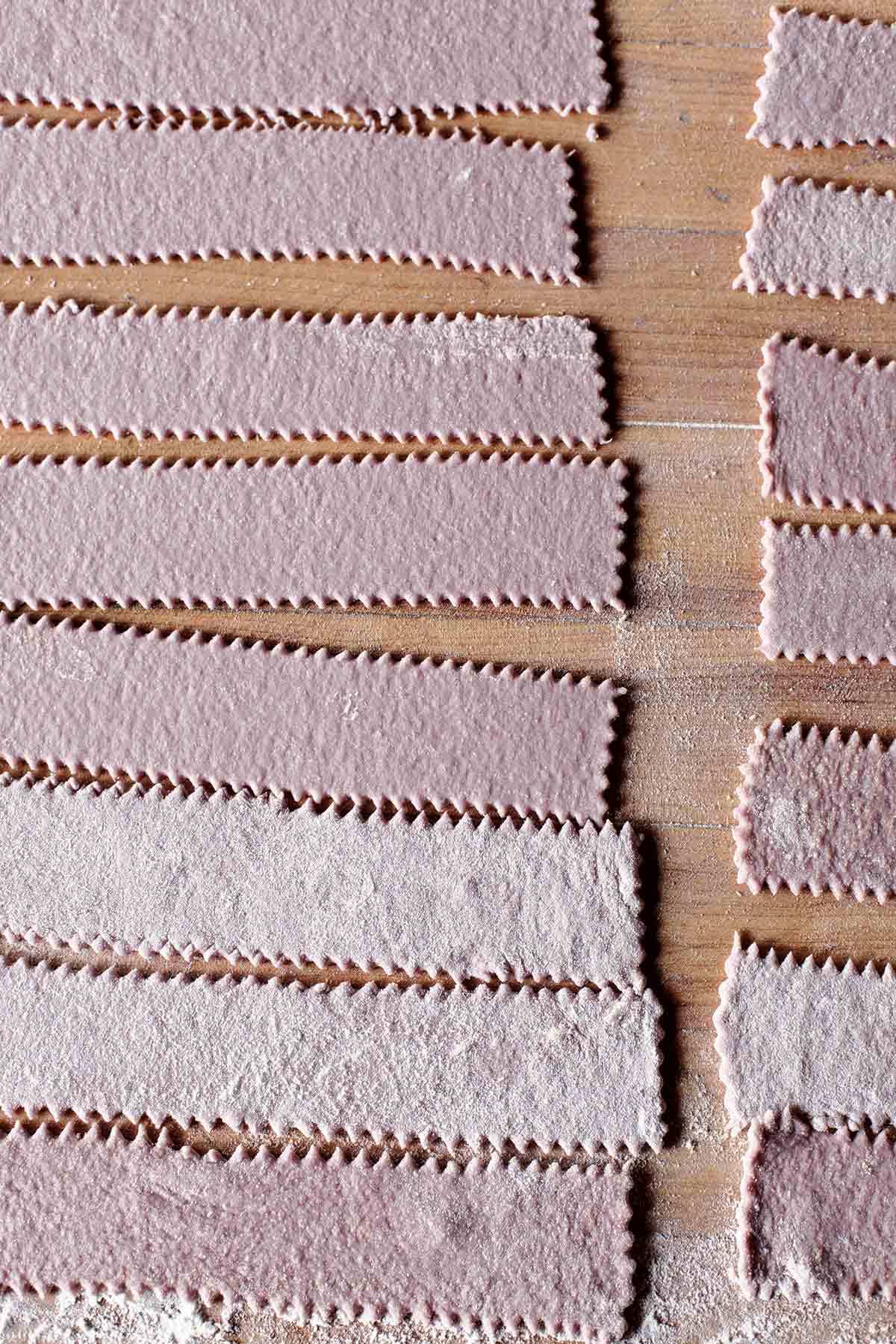 To underscore the red wine flavor of their beef ragu with red wine, the authors used wine rather than water in this homemade pasta recipe. (Brilliant, no?!) What results is stunning to the eye as well as the palate. Don't let its staggeringly keen looks keep you from smothering its vibrant hue with all manner of sauces. We prefer the silken pasta rolled out in wide ribbons known as pappardelle, shown in the photo above, a pasta shape that's especially adept at standing up to the robustness of ragus. When we say this intensely hued red wine pasta is simply stunning, we also mean that it comes together so simply as to stun us. Love when that happens! Originally published February 3, 2014.–Renee Schettler Rossi
Homemade Red Wine Pasta
Quick Glance

(1)

1 H
1 H, 45 M

Makes about 2 pounds
Print Recipe
Ingredients
Email Grocery List
Directions
Crack the eggs into a large liquid measuring cup and add about 2 tablespoons olive oil (roughly 2 good glugs). Pour enough wine into the measuring cup until the total liquid volume measures 2 1/2 cups (750 ml). Whisk the ingredients together.
Dump the flour in a bowl and make a well in the center. Pour the wine mixture into the well and, using your hands, work the liquid into the flour until the mixture starts to come together in a ball. Turn the dough ball out onto a clean work surface and knead the dough until it's smooth and has a nice elasticity, about 10 minutes. (The dough is ready when you press it with a fingertip and it springs back immediately.) Wrap the pasta dough with plastic wrap and let it rest at room temperature for 30 minutes.
To form the pasta dough into pappardelle, as in the photo above, roll the pasta dough through a standard pasta machine set to the number 4 setting. Then dust it on both sides with flour and lay it on a work surface. Cut the sheet widthwise into sections 8 inches long. Using a fluted or straight pasta cutter, cut down the length of the pasta sheet to make noodles about 1 inch wide. Place the noodles, not touching, on a semolina-dusted baking sheet. Otherwise, form it into whatever shape you fancy, using your own experience or the
shaping instructions toward the end of this recipe
as your guide.
Bring a large pot of salted water to a boil. When the water is boiling, drop in the pasta and cook until the desired doneness. (If you intend to toss the pasta in a skillet with some sauce and warm it for a minute or two, you should cook it until not quite al dente, 3 to 5 minutes. Don't worry about the pasta being too toothsome. It will continue to cook in the sauce. If you intend to drain the pasta and dress it with sauce, cook the pasta a minute or so longer.) Drain the pasta, reserving some of the cooking water. Serve however your heart desires.
Print Recipe
*00 Flour Note
The traditional flour used for pasta­making, Italian "00″ flour isn't inexpensive. But it is worth its weight in gold. Or pasta. Whichever you value more. Look for 00 flour at Italian delis and markets, specialty stores, and some grocery stores.
Recipe Testers Reviews
Homemade Red Wine Pasta Recipe © 2013 Michael Hudman and Andrew Ticer. Photo © 2013 Ed Anderson. All rights reserved. All materials used with permission.
If you make this recipe, snap a photo and hashtag it #LeitesCulinaria. We'd love to see your creations on Instagram, Facebook, and Twitter.