This easy slow cooker cassoulet calls for beans, garlic, store-bought duck confit, and sausage, just like the traditional cassoulet recipe from France.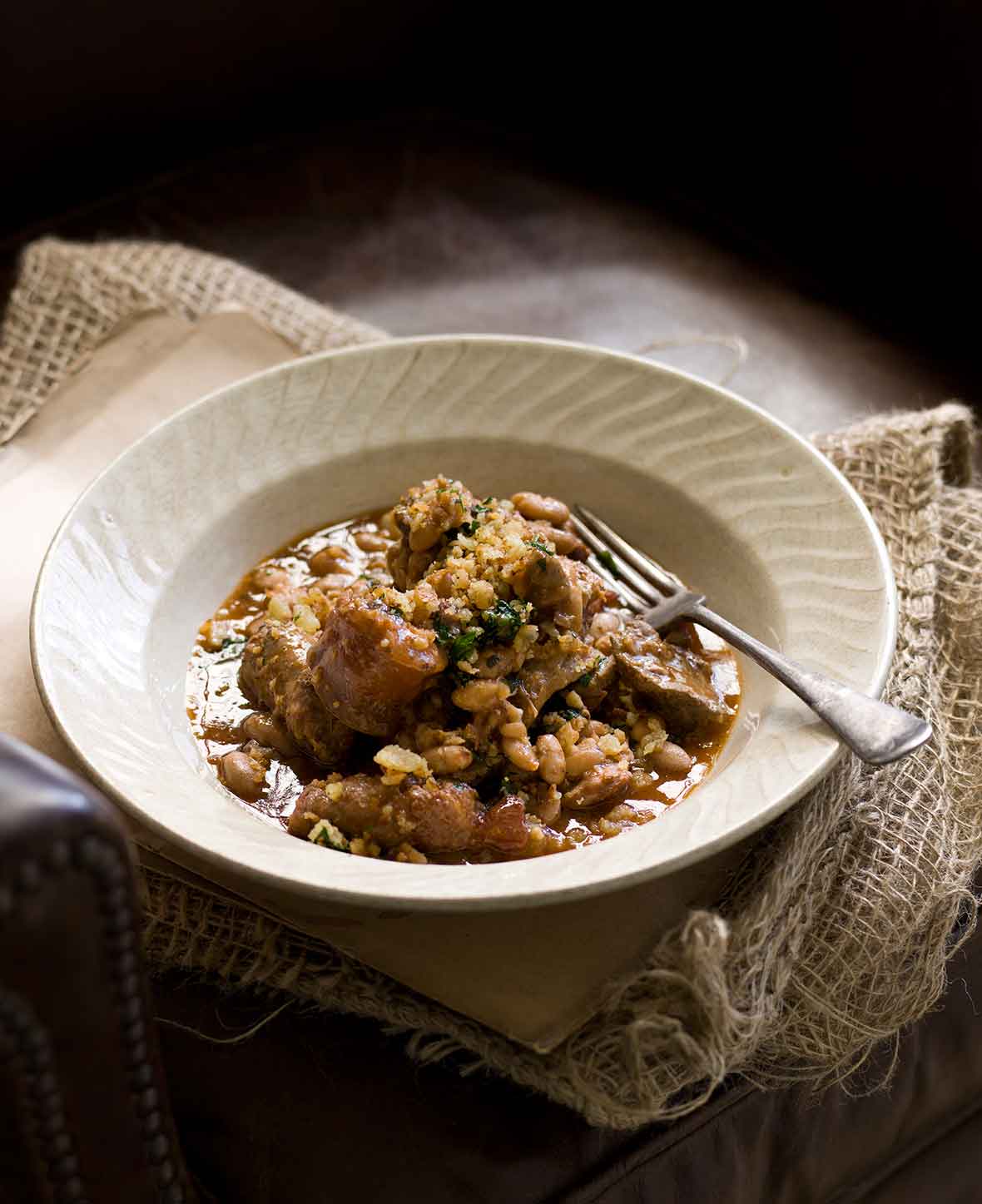 "Cassoulet, the peasant-cum-gastronome casserole from Toulouse, is a time-honored gut-buster," says author Andrew Schloss. Being the resident Fatty Daddy of cassoulets around here, I can tell you two things about Andy: 1.) He ain't talking trash, and 2.) The guy knows from easy. That's why I love his slow cooker cassoulet. It's one of those lovely sorts of dishes that you can pull off in a Crock-Pot–which isn't an oxymoron anymore. What makes cassoulet so freaking perfect for the slow cooker is that the dish traditionally bathes in the duck fat for hours on end in the oven or on the stovetop, which means there are minimal tweaks to translating it to the countertop.–David Leite
Slow Cooker Cassoulet
This easy slow cooker cassoulet calls for beans, garlic, store-bought duck confit, and sausage, just like the traditional cassoulet recipe from France.
Ingredients
1

pound

dried large white beans

such as cannellini or baby limas

1

about 4 lbs

duck

such as Muscovy or Peking

1

pound

boneless leg of lamb

cut into 2-inch (5-cm) cubes (ask the butcher to do this)

2

teaspoons

coarse sea salt

1/2

teaspoon

freshly ground black pepper

8

ounces

garlic sausages

cut into 2-inch chunks

8

ounces

smoked sausages

such as andouille, cut into 2-inch chunks

1

large

yellow onion

chopped

2

large

celery stalks

cut into 1/2-inch slices

4

garlic cloves

minced

1

teaspoon

Italian seasoning

(store-bought or homemade)

1/4

teaspoon

freshly grated nutmeg

Pinch

ground cloves

1/2

cup

dry white wine

1

quart (4 cups)

homemade chicken stock or good-quality low-sodium beef broth

One

(14.5-oz) can

diced tomatoes

drained

2/3

cup

bread crumbs

1/4

cup

coarsely chopped flat-leaf parsley
Directions
The day before you plan to serve the cassoulet, pick over the beans and cast aside any stones, grit, bits of twigs, or other curious objects you find. Rinse the beans in a colander and drain them well. Dump the beans in a bowl and add enough water to cover by at least 3 inches. Let soak overnight.

The next day, cut the duck into 8 pieces and trim off all visible fat and excess skin, reserving both the duck pieces and the excess duck fat and skin.

Cook the duck fat and skin in a large heavy skillet over medium heat until between 1/4 and 1/3 cup fat has rendered and is shimmering, golden and beautiful, about 4 minutes.

Remove and discard the solid pieces of fat and skin. Season the duck and lamb with the salt and pepper. Add the duck pieces to the skillet and sear them in the hot fat, turning to brown both sides. Transfer them to a plate. Repeat with the lamb cubes and then the sausage chunks.

Scatter the onion and celery into the skillet and sauté until lightly browned. Add the garlic, Italian seasoning, nutmeg, and cloves and sauté until aromatic, about 1 minute. Add the wine and bring to a boil. Add the chicken stock or broth and tomatoes and bring to a boil. Remove from the heat.

Drain the beans. In a 6-quart slow cooker with an ovenproof insert (check the manufacturer's instructions), layer the beans and meats, beginning and ending with the beans and alternating with the meat (4 layers of beans, 3 of meat). Pour the hot stock mixture over the layers of beans and meat. Cover and cook until the beans are tender, 8 to 10 hours on low. (We found that 9 hours did the trick perfectly.)

Crank the oven to 350°F (180°C).

Mix the bread crumbs and parsley in a small bowl and scatter over the top of the cassoulet. Remove the insert from the slow cooker, place it on a baking sheet, and bake until the top of the cassoulet is browned and bubbling, about 30 minutes. Serve immediately. (You can cover and refrigerate the cassoulet for up to 5 days. Reheat gently in a low oven or on the stovetop over low heat.)
Show Nutrition
Serving:
1
portion
Calories:
1059
kcal
(53%)
Carbohydrates:
30
g
(10%)
Protein:
38
g
(76%)
Fat:
84
g
(129%)
Saturated Fat:
26
g
(163%)
Polyunsaturated Fat:
9
g
Monounsaturated Fat:
34
g
Cholesterol:
173
mg
(58%)
Sodium:
1727
mg
(75%)
Potassium:
1047
mg
(30%)
Fiber:
5
g
(21%)
Sugar:
3
g
(3%)
Vitamin A:
494
IU
(10%)
Vitamin C:
14
mg
(17%)
Calcium:
129
mg
(13%)
Iron:
8
mg
(44%)
If you make this recipe, snap a photo and hashtag it #LeitesCulinaria. We'd love to see your creations on Instagram, Facebook, and Twitter.
Recipe Testers' Reviews
This slow cooker cassoulet was quickly and simply assembled and made a satisfying dish. It could definitely be served as a party dish with some crusty bread and wine. My cassoulet cooked for 9 hours total and the beans were done and the duck was falling-off-the-bone tender.
(After 5 hours of slow cooking, some of the beans were coming to the top and turning hard, so I added an additional 3/4 cup broth and pushed the beans down into the liquid.) Also, I would suggest cooking the duck fat and skin over low heat for 15 to 20 minutes and watch that it doesn't burn. Then, measure out the needed 1/4 to 1/3 cup to saute the duck, lamb, and sausage. Keep the remaining rendered duck fat in the freezer for frying potatoes. Don't waste any of the duck fat. We loved the crumbs on top. This recipe is definitely a keeper and great to make and forget about for hours. Our few leftovers the next day had even more flavor.
I was so excited to try this slow cooker cassoulet. The finished dish was spectacular—and even better the next day. It was slightly time consuming to make, considering everything was thrown in the slow cooker, but it's completely worth it. I don't care for lamb, so I substituted pork for the lamb and this worked beautifully. I could only find a frozen culver duck and this duck was frozen; I thawed the duck for 2 days in my fridge prior to beginning to cook it. I had never cut a duck before, and it's similar to cutting a chicken. I just did the best I could. I had no trouble rendering enough duck fat to brown the meats and sauté the vegetables. I used store-bought Italian seasoning and Chardonnay. Once the cooking was completed (roughly 9 hours), the smell in the house was fantastic. The flavors melded beautifully together, and the broth became very thick and flavorful. I served the cassoulet with warm, crusty bread that soaked up the rich juices. This recipe makes a lot, and I would suggest serving this to company, it's that good. It felt like sophisticated comfort food.
It does take some planning, what with soaking the beans and, in my case, thawing the duck, but it's so, so worth it!
The resulting slow cooker cassoulet was tasty and had a good gravy. This recipe required quite a lot of time to cut up the lamb and the duck. I also removed the bones, fat, and skin from the duck so that the meats would be similar in texture, rather than one still containing bone. Although it's very French to brown off the meats in the duck skin fat, I'd prefer, for health reasons, to brown the meats in olive oil. I boiled the duck and lamb bones separately to make stock, and since I felt the cassoulet required a little more liquid, I added a little of the duck stock.
Recipe © 2013 Andrew Schloss. Photo © 2013
Alan Benson
. All rights reserved. All materials used with permission.
If you make this recipe, snap a photo and hashtag it #LeitesCulinaria. We'd love to see your creations on Instagram, Facebook, and Twitter.