This red pozole recipe, also known as posole, is an easy Mexican soup that's commonly made with chicken. It's not mole nor enchiladas nor tamales but rather deserves a place of its own in your culinary repertoire.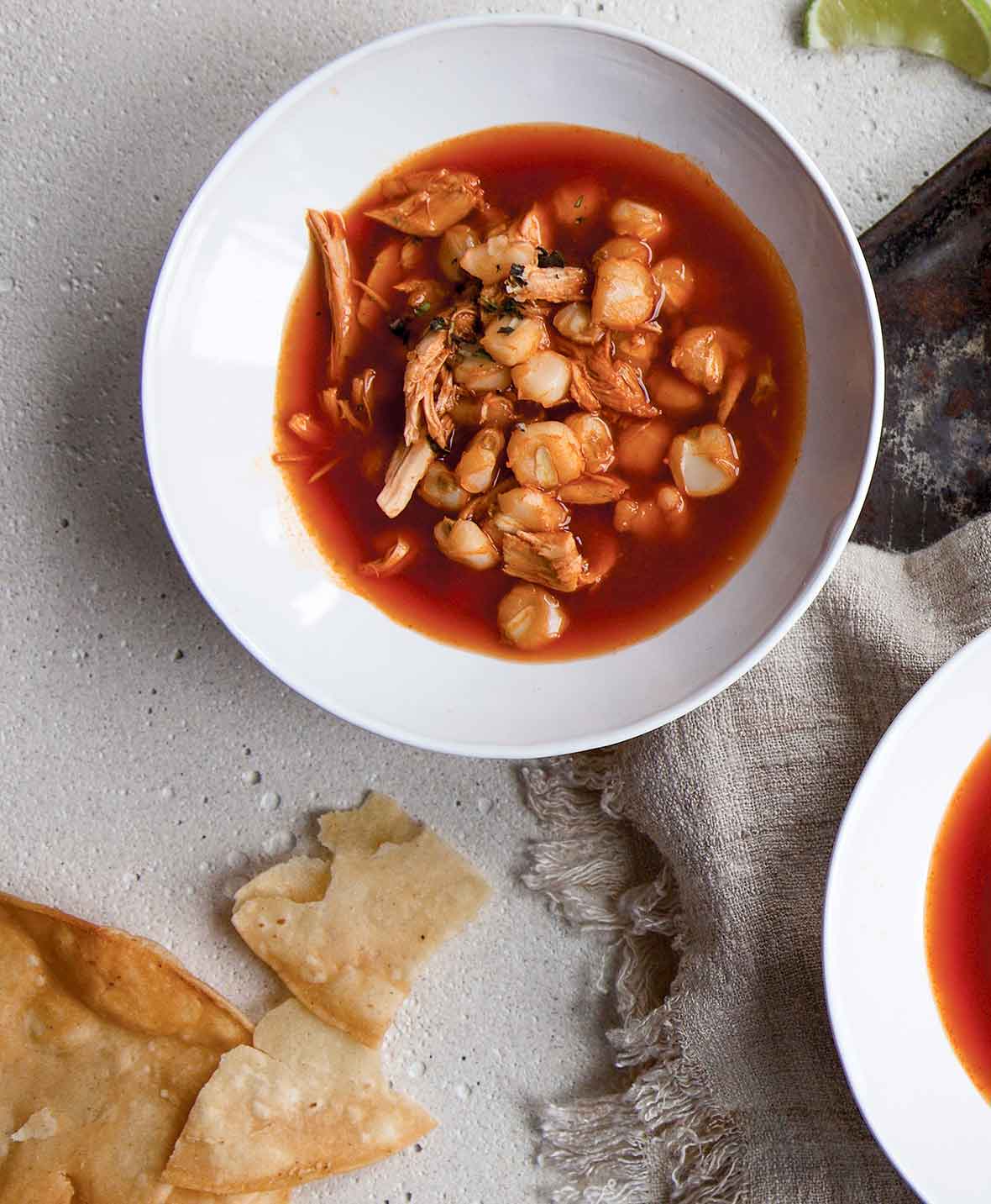 Red pozole, or posole, is a source of tremendous pride for Mexican home cooks. As you can imagine, there are as many recipes for this easy Mexican classic, whether made with chicken or pork or both, as there are families. It conveniently makes a big batch and tastes even better when made ahead and reheated, as is the case with most soups, making it swell for entertaining. The word pozole (pronounced po-so-LAY if in Mexico, po-SOL if in Central America, hence the interchangeable use of the word "posole") comes from Nahuatl and means "foam," explains author Pati Jinich. The hominy expands while it cooks and opens in such a way that it appears to bloom—and in so doing it forms some foam on the surface of the cooking liquid. "That's how you know when it's ready," explains Jinich. We coulda sworn it means "make a big batch of this on the weekend and reheat during the week after soccer practice." (Not really.) Originally published March 19. 2014.–Renee Schettler Rossi
Red Pozole
Quick Glance
1 H, 10 M
2 H, 30 M

Serves 12
Ingredients
Email Grocery List
For the white pozole

1 pound dried hominy (also called maíz mote pelado or giant white corn) or three 29-ounce cans hominy, drained and rinsed

1 head garlic, papery outer layers removed (if using dried hominy)

Kosher or coarse sea salt

Two 3-pound chickens, cut into serving pieces

1 white onion, halved

5 cilantro sprigs

For the chile purée

2 dried ancho chiles, rinsed, stemmed, and seeded

3 dried guajillo chiles, rinsed, stemmed, and seeded

1/4 cup chopped white onion

3 garlic cloves, chopped

Pinch ground cumin

2 whole cloves

1 teaspoon kosher or coarse sea salt, or to taste

3 tablespoons vegetable oil

Accompaniments

5 to 6 limes, halved

10 radishes, halved and thinly sliced

1 head romaine lettuce, leaves separated, rinsed, dried, and thinly sliced

1/2 cup chopped white onion

Dried ground chile, such as piquí­n, or a Mexican mix such as Tajín

Dried oregano, preferably Mexican

Tortilla chips or tostadas

Refried beans (homemade or store-bought)
Directions
Make the white pozole
1. If using dried hominy, place it in a large pot, add enough water to cover the hominy by at least 4 inches, and then toss in the head of garlic. (Don't add salt before or during cooking or the hominy will toughen.) Bring the water to a boil and then reduce the heat, cover partially, and gently simmer over medium-low heat until the hominy has "bloomed," or opened, 4 to 4 1/2 hours, skimming the foam from the surface and adding more water as needed. The hominy will be chewy. Remove from the heat and add 2 teaspoons salt.

If using precooked hominy, dump the drained and rinsed hominy into a large pot and add 2 cups cold water.

2. Place the chicken in a large pot and add enough water to cover by at least 2 inches. Add the onion, cilantro, and 1 tablespoon salt. Bring to a boil and then reduce the heat, cover partially, and gently simmer over medium-low heat until the chicken is cooked through and tender, about 40 minutes. Remove the chicken from the pot, straining and reserving the cooking liquid. Let the chicken cool.

3. When the chicken is cool enough to handle, remove and discard the skin and bones and shred the meat into bite-size pieces.

4. Dump the shredded chicken and its cooking liquid into the pot with the hominy and place over medium heat until warmed through, about 10 minutes. It should be soupy. Taste and add more salt if necessary. Remove the pot from the heat and set it aside while you make the chile purée. (To make the pozole ahead of time, let it cool to room temperature, cover, and refrigerate it for up to 3 days.)

Make the chile purée

5. Place the ancho and guajillo chiles in a medium saucepan, add just enough water to cover, and bring to a boil over medium-high heat. Simmer until softened and rehydrated, about 10 minutes.

6. Place the chiles and 3/4 cup of their soaking liquid in a blender or food processor along with the onion, garlic, cumin, cloves, and salt and purée until smooth. Pass the purée through a fine-mesh strainer into a bowl, pressing on the solids with the back of a wooden spoon to extract as much liquid as possible. Discard the solids.

7. Heat the oil in a medium saucepan over medium heat until hot but not smoking. Add the chile purée and bring to a boil, then cover partially and simmer, stirring occasionally, until thickened, 6 to 8 minutes. Remove from the heat.

To assemble

8. Reheat the white pozole over medium-high heat until it comes to a gentle simmer. Stir in the chile purée and cook for 20 minutes. Taste and adjust the salt.

9. Ladle the red pozole into soup bowls and pass the limes, radishes, lettuce, onion, ground chile, dried oregano, tortilla chips or tostadas, and refried beans in bowls at the table so each diner can fancy the pozole up as they like. One topping that ought not be optional is the lime—go ahead and squeeze it liberally over the pozole. One taste of how that bright acidity rounds out the pozole and you'll be glad you did.
Red Pozole With Pork Variation
You can make this red pozole recipe with pork in place of chicken or in addition to chicken. Follow the recipe above, substituting 3 pounds chicken parts and 3 pounds pork shoulder (butt) for the 2 whole chickens and cook as directed in step 2. Keep in mind that the pork will take about twice as long to cook as the chicken. Reserve the broth to add to the pozole.
Recipe Testers Reviews
Red Pozole Recipe © 2013 Pati Jinich. Photo © 2013 Penny De Los Santos. All rights reserved. All materials used with permission.
If you make this recipe, snap a photo and hashtag it #LeitesCulinaria. We'd love to see your creations on Instagram, Facebook, and Twitter.