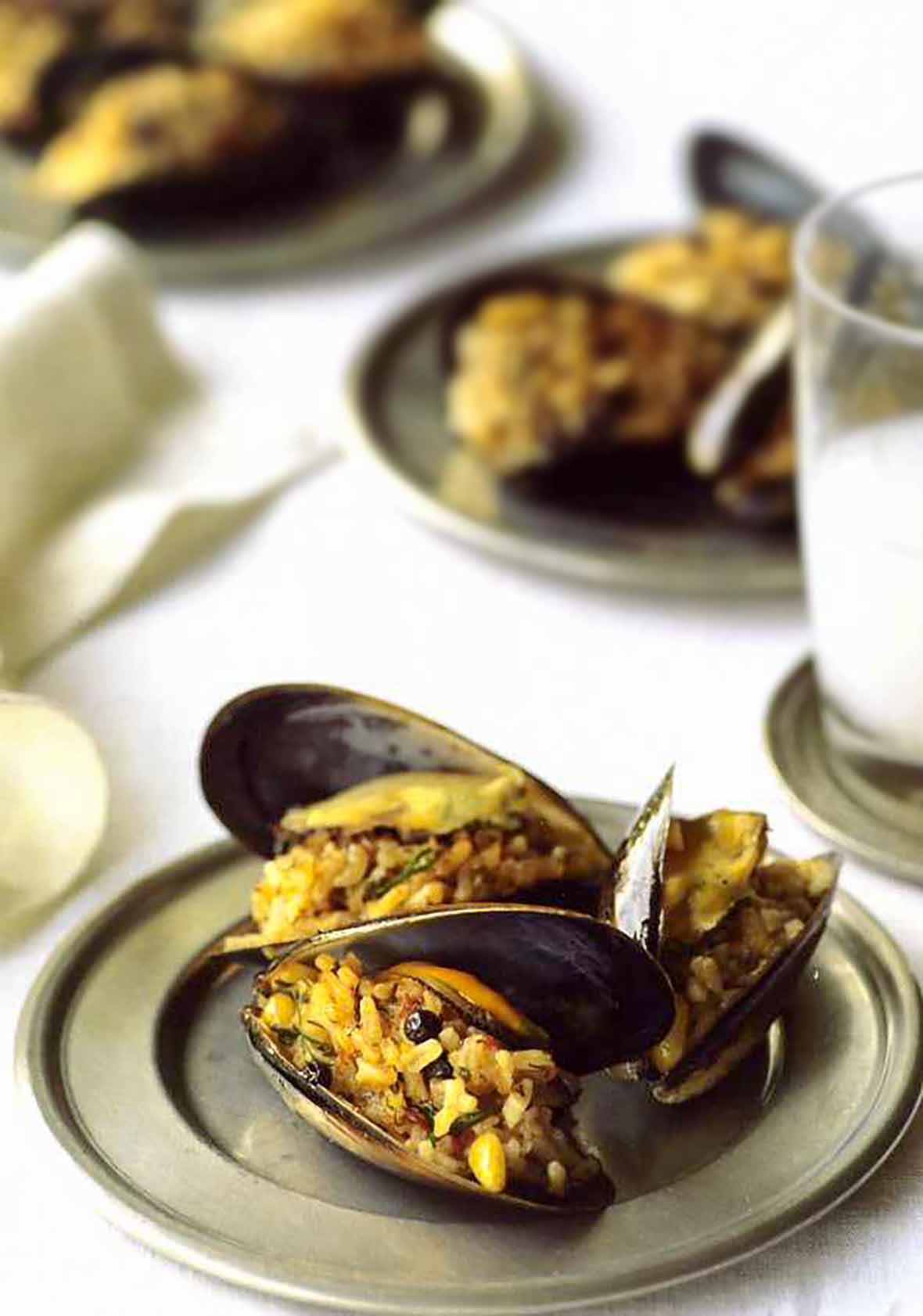 For us, a defining image of Istanbul will always be the great trays of gleaming blue-black mussels that are sold by vendors around the street cafes, markets, and waterfront. They were exquisitely displayed, the shells open just enough to reveal their stuffing of plump orange mussel, herbed rice, pine nuts and currants. Always willing to make the most of this bounty, we also learned the elegant art of eating these mussels: you break off the top shell, squeeze on a little lemon juice, then use the loose shell as a scoop to spoon the delicious contents straight into your mouth.
There's also an art to opening live mussels, but it definitely gets easier with practice. Soaking the mussels in warm water first relaxes them, so that the shells open a little. You then insert a sharp knife between the shells along the flat edge and cut through the mussel where it is attached to the top, rounded end. The shells can then be pried open gently and filled with the traditional rice stuffing before cooking.
This is a great starter—for an extra-special presentation, lightly brush the shells with vegetable oil to give them a glossy sheen.–Greg and Lucy Malouf
Stuffed Mussels
Quick Glance
1 H
3 H

Serves 4 to 6
Print Recipe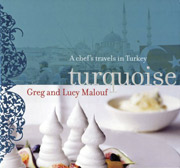 Ingredients
Email Grocery List
1/4 cup currants

1/3 pound short-grain rice

30 mussels, cleaned and bearded

1/3 cup olive oil

2 ounces pine nuts

1 large onion, finely diced

2 cloves garlic, finely chopped

1/4 teaspoon ground nutmeg

1 teaspoon ground cinnamon

1 vine-ripened tomato, grated

Pinch of sea salt

Boiling water

1/3 cup finely chopped dill

1/3 cup finely chopped flat-leaf parsley leaves

Lemon wedges, to serve
Directions
1. Soak the currants in a little warm water for 10-15 minutes, then drain.

2. Meanwhile, put the rice into a large bowl and rinse well under cold running water, working your fingers through it to loosen the starch. Drain off the milky water and repeat until the water runs clear. Cover the rice with cold water and leave to soak for 10 minutes. Drain the rice and rinse a final time.

3. Soak the cleaned mussels in a sink or large bowl of warm water for about 10 minutes.

4. Heat the oil in a saucepan. Fry the pine nuts, onion, garlic and spices on a medium-low heat for about 10 minutes until the pine nuts begin to color a light golden brown. Stir in the drained rice, tomato and currants and cook for 2 minutes.

5. Season lightly with salt, then pour on enough boiling water to just cover the rice. Stir, then bring to the boil and cover with a tight-fitting lid. Cook over a very low heat for 15 minutes, or until the liquid has been absorbed. Put the rice into a shallow bowl, then fork through the herbs and leave to cool a little.

6. To prepare the mussels, use a small sharp knife and work over a large bowl to catch and reserve the juices. Hold each mussel by its narrow end, with the "pointed" edge facing outward. Insert the knife between the two shells near the large rounded top and cut through the mollusk where it is attached. You should then be able to pry the shells open, taking care not to break them—the idea is to open them slightly, not fully and for the mussels to stay in their shells.

7. Strain the reserved mussel juice into a measuring cup and add water to make it up to about 2 cups if necessary, then pour this into a large, heavy-based saucepan. Stand a colander inside the pan. Spoon a generous amount of rice into each mussel, then squeeze the shells shut and wipe away any excess. Stack the mussels in the colander and cover with wet parchment paper. Weight the mussels down with a plate to keep them from opening too wide as they cook. Cover the pan and bring to the boil, then lower the heat and simmer for about 20 minutes.

8. Remove from the heat and let the mussels cool in the pan. When cold, refrigerate for at least 1 hour before serving chilled or at room temperature.

9. Stack the mussels onto a serving platter when ready to serve. To eat, break off the top shell, squeeze on a little lemon juice, then use the loose shell to scoop out the contents.
Recipe Testers Reviews
Stuffed Mussels Recipe © 2008 Greg and Lucy Malouf. Photo © 2008 Lisa Cohen. All rights reserved. All materials used with permission.
If you make this recipe, snap a photo and hashtag it #LeitesCulinaria. We'd love to see your creations on Instagram, Facebook, and Twitter.