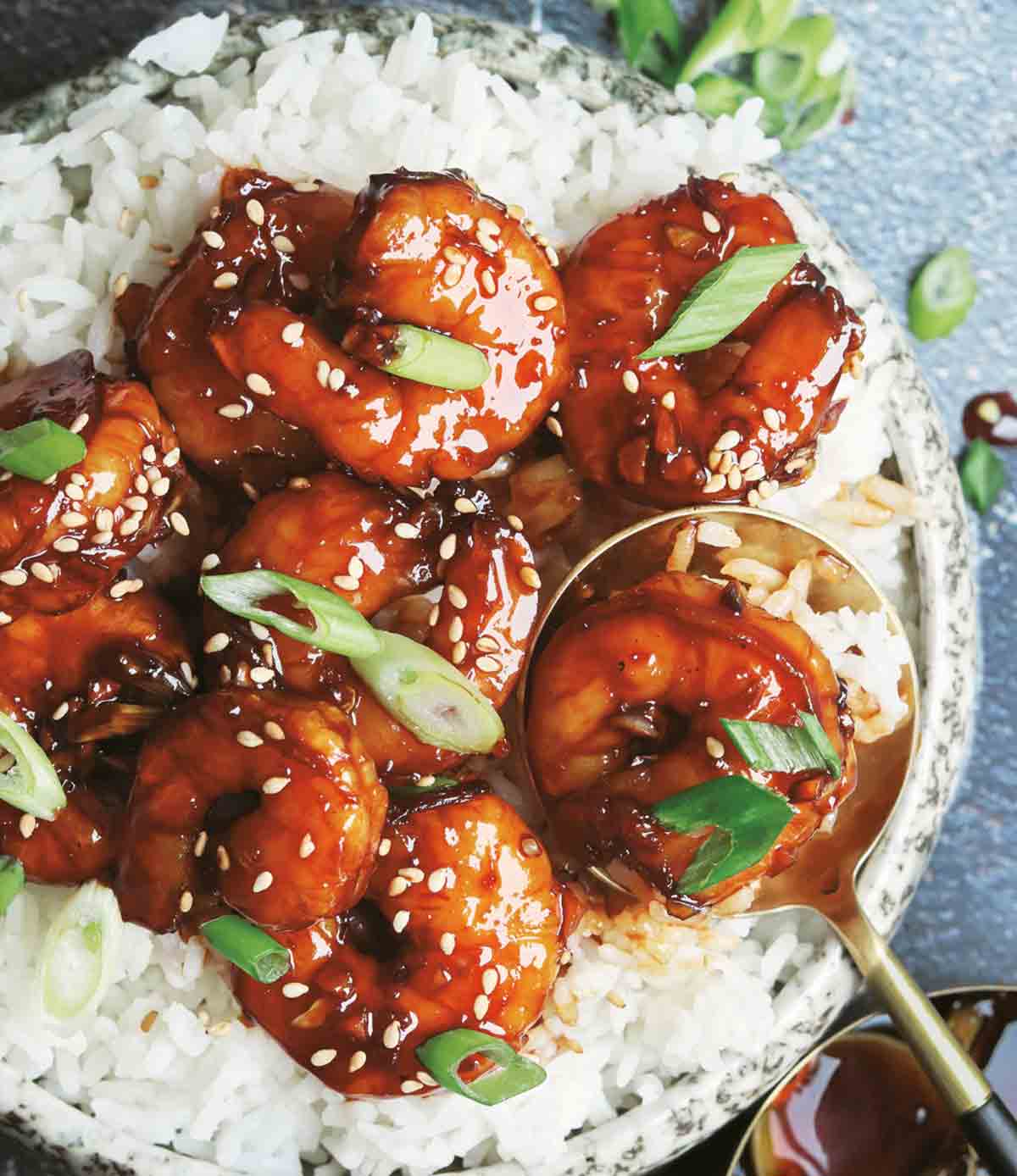 Adapted from Farrah Jalanbo | The Quick and Easy Spiced Nice Cookbook | Page Street Publishing, 2022
This quick shrimp recipe is the perfect dish to make during the week as it only takes about 20 minutes and you most likely have the ingredients in your pantry. The saucy shrimp have the perfect amount of garlic and honey, as well as a kick of ginger and spice. It'll satisfy any takeout cravings and is way healthier and more delicious.–Farrah Jalanbo
Sticky Honey Garlic Shrimp FAQs
What is the best way to thaw frozen shrimp?
First, fill a large bowl with cold water. Take the desired amount of shrimp from their original package and seal them into a zip-top bag. Place the bag in the cold water and weigh it down with a pot lid or plate to make sure the bag remains fully submerged. Let it sit for 20 to 30 minutes or until your shrimp are fully thawed. Easy peasy.
What is Sambal chili paste?
Basic sambal is made of red chile peppers, vinegar, and salt, and can be quite spicy, depending on the brand you choose. Some versions are smooth, some are chunky. You can also make your own sambal chili paste.

If you're spice averse, omit it entirely (although it does add a lovely flavor), or add it into the recipe in small amounts and taste.
What should I serve with this?
Steamed rice and an easy vegetable, like steamed or roasted broccoli are the perfect sides for this easy shrimp recipe.
How should I store leftovers?
Leftovers can be stored in the fridge in an airtight container for up to 3 days. Reheat over low heat, taking care not to overcook your shrimp.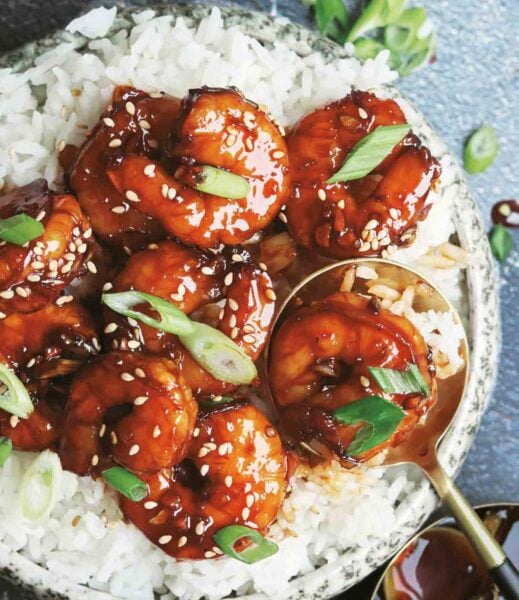 Sticky Honey Garlic Shrimp
This easy shrimp recipe is made with a sweet-spicy honey and garlic glaze that coats tender pan-seared shrimp. It's a quick meal that's on the table in less than 30 minutes.
Ingredients
1/4

cup

soy sauce

8

cloves

garlic

,

finely chopped

1/2

teaspoon

ginger powder

1/4

teaspoon

ground white pepper

4

tablespoons

honey

1

tablespoon

sambal chili paste (optional, but suggested)

1

tablespoon

vegetable oil

1

pound

jumbo shrimp

,

peeled and deveined, tails removed

1

teaspoon

cornstarch

2

teaspoons

water

2

scallions

,

thinly sliced

1/2

teaspoon

toasted sesame seeds
Instructions
Whisk the soy sauce, garlic, ginger powder, white pepper, honey, and chili paste (if using) in a small bowl.

Warm the vegetable oil in a large nonstick skillet over medium-high heat. Once the oil is hot, add the shrimp and cook until pink, about 1 minute per side. (We just want to get some color on the shrimp here—it doesn't need to be fully cooked on the inside just yet!)

Remove the shrimp from the skillet and set aside. Pour the prepared sauce into the skillet, and let it come to a simmer over medium heat.

Combine the cornstarch and water in a small bowl to create a slurry. Slowly mix this into the heated sauce, and let it all simmer together until you have a thick, sticky sauce, 2 to 4 minutes.

Toss the shrimp back into the pan. Cook until the shrimp is opaque and fully cooked, about 3 minutes more. Garnish with the sliced scallions and toasted sesame seeds.
Nutrition
Serving:
1
portion
Calories:
266
kcal
Carbohydrates:
30
g
Protein:
23
g
Fat:
6
g
Saturated Fat:
1
g
Polyunsaturated Fat:
3
g
Monounsaturated Fat:
1
g
Trans Fat:
0.04
g
Cholesterol:
191
mg
Sodium:
1625
mg
Potassium:
326
mg
Fiber:
1
g
Sugar:
23
g
Vitamin A:
373
IU
Vitamin C:
5
mg
Calcium:
116
mg
Iron:
1
mg
Nutrition information is automatically calculated, so should only be used as an approximation.
Recipe © 2022 Farrah Jalanbo. Photo © 2022
Farrah Jalanbo
. All rights reserved.
---
Recipe Testers' Reviews
"Better-than-takeout" recipes are a mixed bag. Some are truly what they promise, but a lot more fall disappointingly flat. This recipe for sticky honey garlic shrimp is definitely in the former category–these shrimp are tasty little firecrackers!
Honey and soy are matches made in sweet-and-salty heaven. Adding garlic and chile really pumps up the bass.
I used just 1 teaspoon of sambal oelek because I'm a spice wimp, and it was still pretty tingly for me. Dial it back further or omit it altogether if you're also faint of tongue. My heat-seeking beloved said he could handle more, so if you like it spicy, use the full tablespoon.
I served this quick and easy shrimp dish with jasmine rice and thinly sliced, quickly sautéed zucchini. The tame sides let the fiery main sing.
I will most definitely be making these delicious sticky honey garlic shrimp again and again. This recipe checked all the boxes: tasty, quick, and indeed more satisfying than takeout.
I needn't have worried about it being too sweet, as the honey was nicely balanced by the heat from the chili paste and spices.
The garlic flavor comes through loud and clear, and the only caution I would share is to reduce the number of cloves if they are on the large side. I used 6 large ones, and my garlic-loving companion found even that to be a bit overpowering.
Sprinkle liberally with toasted sesame and green onions, serve with steamed rice and broccoli, and you too can have a scrumptious and satisfying dinner on the table in no time.
This sticky honey garlic shrimp was definitely an easy weeknight dinner with easy preparation! It was very flavorful.
I served it with a side of rice which was the perfect combination. We are a family of two, and it served the perfect amount of food for us!
Select a Tester
This honey shrimp is a lovely back-pocket gem of a weeknight recipe. Most of the ingredients are pantry staples. If you have a packet of frozen shrimp stashed in the back of your freezer, you can have a very satisfying meal on the table in about 45 minutes–less if your shrimp are already peeled and deveined.
The sauce gives the dish a savory, sweet, and spicy flavor. Scallions and sesame seeds give the meal a nice savory, oniony bite, and they look beautiful too! I served this with white rice and a crisp green salad on the side.
This sticky shrimp dish is easy to make and delicious. I'd recommend getting uncooked pre-peeled and deveined shrimp if it's a weekday and you're in a rush. You can start some rice or some noodles and quickly sauté the shrimp at the last minute.
I pretty much always have frozen shrimp in my freezer–having this honey garlic shrimp recipe will mean there's always an easy dinner ready in 30 minutes or so. I paired the shrimp with a salad and rice, definitely a must to soaking up every bit of the garlicky, sweetish shrimp sauce with sneaky heat.
I used the full tablespoon of sambal oelek, but you can always cut back depending on your heat sensitivity. All in all, this honey garlic shrimp is a recipe I will return to often.
I served the sticky sweet shrimp with rice and a salad.
There's nothing better at the end of a long day than knowing that you can have a home-cooked dinner on the table in a matter of minutes with very little effort. It allows you to breathe easy and spend the evening relaxing.
Enter this honey-glazed shrimp recipe, which completely fits the bill! The flavor is comforting, crave-able, and better than takeout!
Unlike some of the recipes I've found on Pinterest that borrow from this same flavor profile, but are way too sweet, this one offers a nice balance with the heat. It's great that it can also be customized to fit the tastes of whoever is eating it.
I couldn't believe how quickly it came together, and it can be paired with so many things. I served it up with cauliflower rice and some sauteed snow peas. It was quite satisfying, and I'll be doing it again the next time I'm in a rush but want to resist the pull toward fast food!
Don't skip the sesame seeds and scallions, They make it not only beautiful but provide great texture. Buy your shrimp ready to go–peeled, deveined, and tails removed–this saves so much time! Also, in my opinion, using freshly grated ginger just provides more spice and flavor than powdered ginger.
This stores well and reheats nicely for a lunch the next day if you had leftovers as we did. I was worried about the shrimp being way too overcooked, but I reheated the leftovers in a skillet over a gentle heat, and it was fine.
A recommended quick and delicious weeknight dinner that I imagine would be popular with most people, as you can add more of the sambal to make it spicier. The recipe quantity of chili sauce is not very spicy. We served this with rice and lettuce wraps (used romaine), and this was very refreshing.
Is there anything that can beat a meal you can prep, cook, and serve in under an hour? Sticky honey garlic shrimp checks all those boxes and is delicious to boot. I'd add this to a dinner rotation for both its flavor and simplicity without hesitation.
This quick shrimp recipe is simple and superb. Throw it together in 10 minutes, add some rice and broccoli and you have dinner on the table.
The directions are easy to follow. Sambal chili paste is a must. It gives it the perfect balance of sweet, salty, and spicy. This is a keeper!
Originally published October 14, 2022