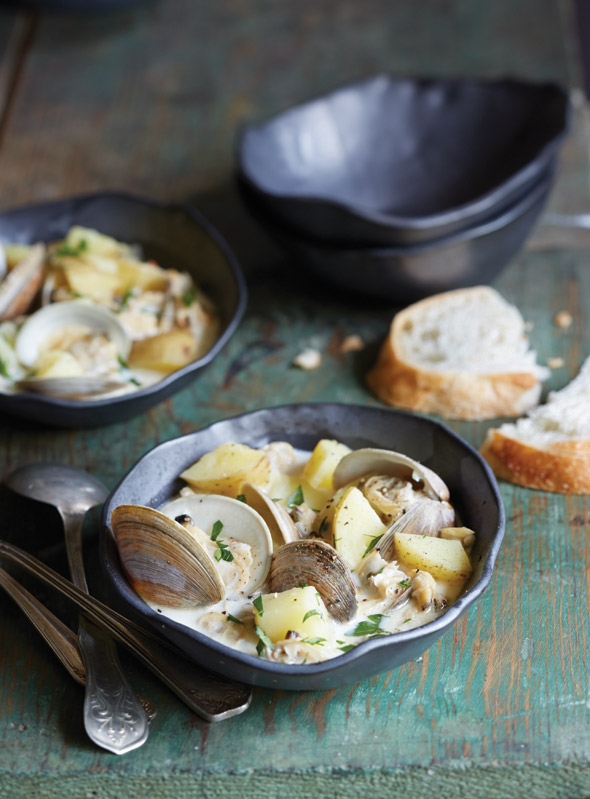 No, not Maine clam chowder. North Carolina clam chowder. All along our Outer Banks and southern Outer Banks is home to this style of chowder. Somewhat akin to the chowders of Rhode Island, this style is more about the clams than the thick, cream-based chowders of New England. "It's a type of chowder," says Fred Thompson, a cookbook author, resident of Raleigh, North Carolina, and publisher of Edible Piedmont, "that you'll find at a local's home."–The Lodge Company
LC How To Make Darn Good Chowder Note
The folks at The Lodge Company—you know, that place that does cast-iron cookery of all sorts—came up with a list of essentials when it comes to how to make darn good North Carolina Clam Chowder. Here's what they have to say on the topic:
1. The key to a good chowder is timing. Wait until the potatoes are fork-tender before adding the clams in the shell, because they don't take long to cook.
2. Be careful not to overcook the clams. They will be completely cooked when their shells open wide (about 10 minutes). Discard any shells that remain closed.
3. To thicken this chowder like the locals do, place a slice of white bread in the bottom of each serving bowl before ladling the chowder into the bowl.
North Carolina Clam Chowder
Quick Glance
30 M
2 H

Serves 8
Special Equipment: Cast-iron Dutch oven (optional)
Print Recipe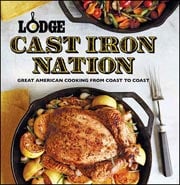 Ingredients
Email Grocery List
1 tablespoon bacon drippings, or 1/4 pound salt pork or bacon

1/2 to 1 cup chopped onion

3 cups bottled clam juice

3 cups cold water

1/4 teaspoon freshly ground black pepper

4 cups coarsely chopped frozen or canned clams

4 cups potatoes, scrubbed or peeled and cut into 1/2-inch dice

2 dozen small clams in the shell (such as littlenecks), scrubbed

Milk, half-and-half, light cream, or heavy cream, to taste (optional)

1 teaspoon salt (optional)

8 slices white bread (optional)

Chopped flat-leaf parsley leaves, for garnish

Oyster crackers or saltines (optional)
Directions
1. If using bacon drippings, heat them in a cast-iron Dutch oven or large cast-iron skillet over medium heat. If using salt pork or bacon, cook it in a cast-iron Dutch oven or large cast-iron skillet over medium heat until crisp. Remove the pork or bacon and reserve for another use. Reserve the rendered fat in the pot. (You should have about 1 tablespoon drippings. A little more or a little less is fine.)

2. Add the onion to the Dutch oven or skillet and cook, stirring on occasion, until tender, about 5 minutes. Don't let the onions take on any color. Pour in the clam juice and water, then add the pepper and bring to a boil. Add the chopped clams (if using canned clams, also add the liquid from the can to the chowder), reduce the heat to low, and gently simmer, uncovered, until the chowder clams are tender, about 1 hour.

3. Add the potatoes, increase the heat to medium, and simmer until the potatoes are just barely fork tender, about 10 minutes. Add the clams in the shell, cover the pot, and cook for 10 minutes more, or until the potatoes are tender throughout and the shells have opened. Remove and discard any shells that remain closed.

4. If desired, add anywhere from a splash to 2 cups milk, half-and-half, or cream and let the chowder cook for a couple minutes more to warm through. Taste and, if necessary, season with salt. If you like, place a slice of bread each in 8 large, shallow serving bowls, then ladle in the chowder, making sure to get a couple shell clams in each bowl. Sprinkle with the parsley and serve with the crackers, if desired.
Recipe Testers Reviews
North Carolina Clam Chowder Recipe © 2014 The Lodge Company. Photo © 2014 Hélène Dujardin. All rights reserved. All materials used with permission.
If you make this recipe, snap a photo and hashtag it #LeitesCulinaria. We'd love to see your creations on Instagram, Facebook, and Twitter.