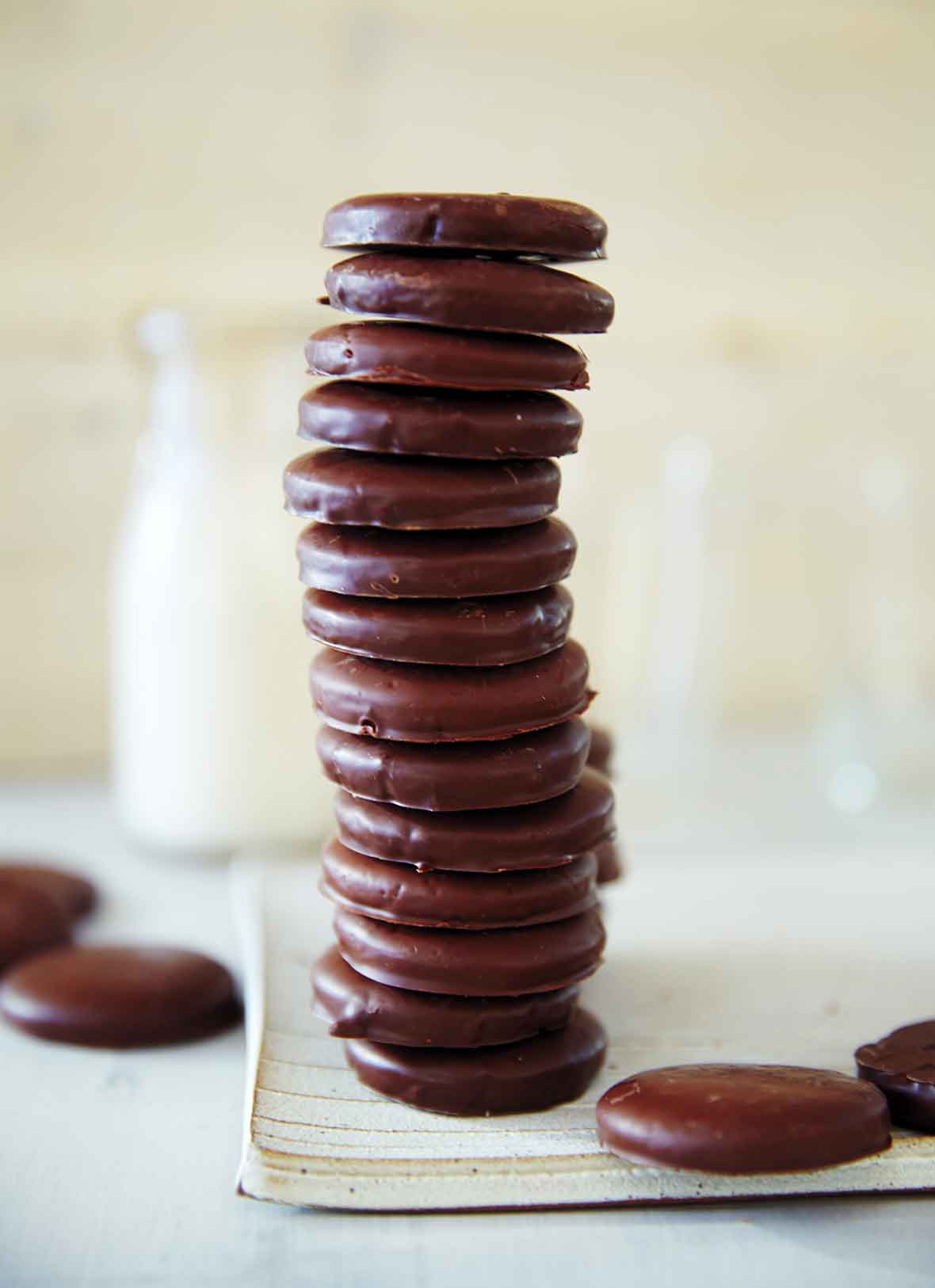 After spotting kids selling boxes of Girl Scout Cookies on the streets of Brooklyn, I knew I had to reclaim my childhood memory of snacking on Thin Mints. This homemade Thin Mints recipe yields the perfect mint chocolate cookie, including the shiny coating.–Silvana Nardone
LC We Did It! Homemade Thin Mints! Note
No more waiting and waiting and waiting each year for that magical moment when your boxes of Girl Scout Cookies FINALLY arrive. No more trying and trying and trying the rest of the year to resist the lure of those boxes you attempted to hide from yourself. No more praying and praying and praying you'll forget the craving because you depleted your secret stash of Thin Mints and there are still months to go before they're once again available. No more wishing for a homemade Thin Mints recipe, because here it is. Whew.
Homemade Thin Mints
Quick Glance
45 M
1 H, 35 M

Makes about 50 1-inch cookies
Special Equipment: 1 1/2-inch round cookie or biscuit cutter
Print Recipe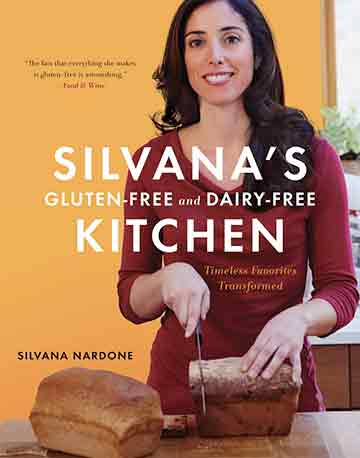 Ingredients
1 cup Gluten-Free All-Purpose Flour Mix (or substitute all-purpose flour)

1/2 cup unsweetened cocoa powder


1/2 teaspoon baking powder


1/2 teaspoon baking soda

1/2 teaspoon salt


3/4 cup granulated sugar

2 1/2 ounces (5 tablespoons) shortening (or substitute butter), at room temperature


1 large egg plus 1 large egg yolk, at room temperature

1 teaspoon vanilla extract

1 1/2 to 2 teaspoons peppermint extract (depending on how minty you like your Thin Mints)

Confectioners' sugar, for dusting

12 to 16 ounces semisweet chocolate, such as Guittard or Callebaut, finely chopped
Directions
1. In a medium bowl, whisk together the flour, cocoa powder, baking powder, baking soda, and salt. In the bowl of a stand mixer or in a large bowl with an electric mixer, beat together the sugar and shortening (or butter) on medium speed until creamy and well combined, about 1 minute. (Just a heads up, if you're using shortening, the mixture will not become light and fluffy as it does when you beat sugar with butter.) Reduce the speed to medium-low and add first the egg and then the egg yolk, beating well after each addition. Beat in the vanilla and peppermint extracts. Slowly beat in the flour mixture until just combined. The dough will be mad crazy sticky.

2. Dust the cookie dough, your hands, and a piece of parchment paper with confectioners' sugar. Shape the dough into a disk on the parchment paper. (If the dough is so sticky that attempting to shape it into a disk is making you miserable, just plonk it in the fridge for 30 minutes and it'll be more manageable.) Now wrap the disk of cookie dough in plastic wrap and refrigerate until firm, at least 30 minutes. (You can refrigerate the dough up to overnight, though you'll need to let it warm slightly at room temperature before you're able to roll it out.)

3. Preheat the oven to 350°F (177°C) and adjust the oven racks to the middle and upper third positions. Line 2 baking sheets with parchment paper.

4. Roll out the dough on the parchment until it's 1/8 to 1/4 inch thick. Using a 1 1/2-inch round cutter, cut out cookies from the dough and place them 1/2 inch apart on the prepared baking sheets. Reroll any scraps and cut out more cookies. Freeze the cutouts for about 15 minutes.

5. Bake the Thin Mints, switching the baking sheets from top to bottom and front to back halfway through, until dry and crisp and firm around the edges, anywhere from 10 to 18 minutes, depending on exactly how thick they are. Use the first batch as a test batch. When the cookies cool, they should be crisp throughout. If they are not crisp, then they need more time in the oven. Let the cookies cool slightly on the baking sheets and then transfer them to wire racks to cool completely.

6. Meanwhile, in a double boiler or a heatproof bowl set over a pan of gently simmering water, heat 2/3 of the chocolate until it melts and registers 115°F on a candy or deep-fry thermometer. Stir in the remaining chocolate and let sit for 5 minutes, then stir to combine. Remove the pan from the heat and let the chocolate cool to 90°F (32°C). Submerge a cookie into the melted chocolate and turn to coat. Shake off any excess and place on parchment paper. Repeat to coat all the cookies, reheating the chocolate to maintain it as close to 90°F (32°C) as needed. Resist the urge to nibble the cookies until the chocolate has set, which will take at least 30 minutes. In theory, the cookies will keep, layered between sheets of parchment paper in an airtight container, for up to 1 week.
Homemade Thin Mints Recipe © 2014 Silvana Nardone. Photo © 2014 John Kernick. All rights reserved. All recipes and photos used with permission of the publisher.
If you make this recipe, snap a photo and hashtag it #LeitesCulinaria. We'd love to see your creations on Instagram, Facebook, and Twitter.