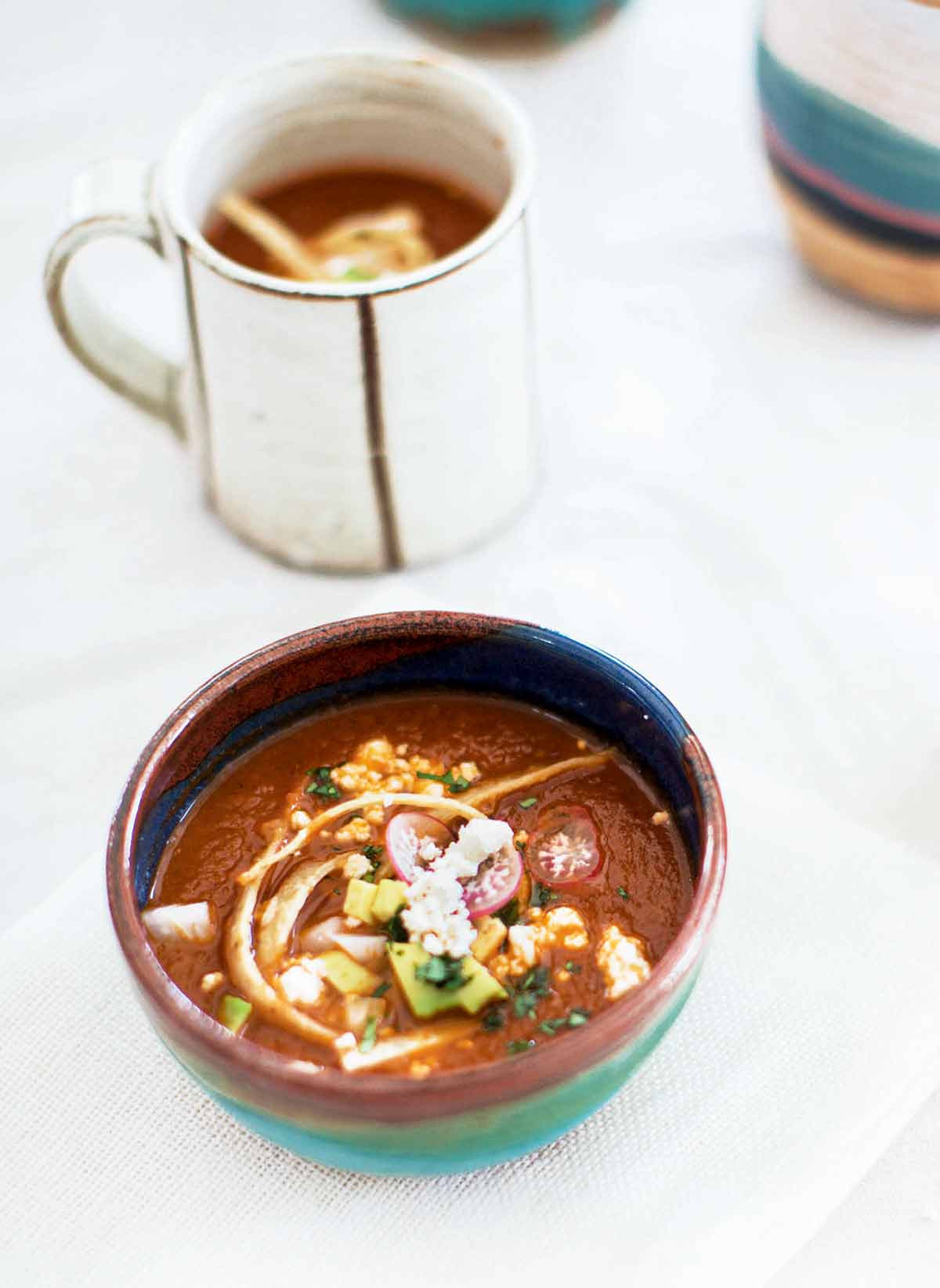 One look at the photo above tells you that this subtly spiced and authentic Mexican soup has an earthy elegance. It's easy as tossing some stuff in a pot and letting it simmer for hours. And it not only tastes effing awesome but it's actually also sorta effing awesome to observe each person at the table carefully strew the soup with whichever garnishes please them and then sigh as they take that first sip. [Editor's Note: After making this tortilla soup, one of our trusted testers commented that the garnishes make the soup. She's correct, you know.] See for yourself. And thank us later. –David Leite
What is tortilla soup, anyway?
Traditionally flavored with tomato, garlic, onion and chilies, this Mexican soup is heavily spiced but not necessarily spicy. Commonly made with a chicken or tomato-based broth, tortilla soup has dozens or variations, depending on what you have on hand. And the best part? Adding whatever you could possibly want to the bowl right before you eat.
Tortilla Soup
Tortilla soup is an authentic Mexican staple that's made with chicken, chiles, tomatoes, and, natch, tortillas. Let everyone choose their own toppings. Easy and effing awesome.
Ingredients
3

tablespoons

mild olive oil or vegetable oil

1

large

onion

,

chopped

3

cloves

garlic

,

chopped

1

poblano chile

,

seeded and chopped

1/2

teaspoon

salt

Freshly ground black pepper

Juice of 1/2 lime

,

plus wedges for garnish

1/4

teaspoon

ground cumin

1/2

teaspoon

smoked paprika

1/2

teaspoon

ground coriander

1/2 to 1

teaspoon

crushed red pepper flakes

1/4

cup

cilantro leaves

,

chopped

One

(28- to 32-ounce)

can crushed tomatoes

,

undrained

8

cups

homemade chicken stock

1

cup

mild olive oil or vegetable oil

4

small

corn tortillas

,

cut into thin strips

1/4

avocado

,

diced

1/4

onion

,

diced

1/4

cup

crumbled cotija cheese

Lime wedges

Chopped cilantro leaves

Sliced radishes
Instructions
In a large Dutch oven or heavy saucepan, heat the 3 tablespoons oil over medium-high heat. Add the onion, garlic, poblano chile, salt, and black pepper. Reduce the heat to medium and sauté for about 2 minutes. Then add the lime juice, cumin, paprika, coriander, bay leaves, red pepper flakes, and cilantro. Continue to cook for 2 to 3 minutes, until the seasonings release their aromas and the onion and chile have softened.

Add the tomatoes and chicken stock and bring to a boil over high heat. Then reduce the heat to medium, partially cover, and cook, stirring intermittently, for about 1 1/2 hours.

While the soup is cooking, heat the remaining 1 cup oil in a small saucepan over high heat. Fry the tortilla strips in batches the hot oil for about 3 minutes, until crisp. Use a slotted spoon or tongs to remove them with a slotted spoon and drain on paper towels.

Once the liquid has thickened somewhat, remove the bay leaves and purée the soup with an immersion blender. (If you do not have an immersion blender, you may carefully purée the soup in batches in a blender, but let the soup cool for at least 10 minutes first.) The consistency may be somewhat thinner than you expect, but the taste should be perfect. (If you desire a thicker consistency, gently simmer the soup over medium-high heat for a few minutes until it thickens slightly.)

Serve the tortilla soup in bowls and pass the tortilla strips, avocado, onion, cheese, lime wedges, cilantro, and radishes on the side as toppings.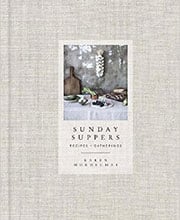 Nutrition
Serving:
1
portion
Calories:
312
kcal
Carbohydrates:
35
g
Protein:
13
g
Fat:
15
g
Saturated Fat:
3
g
Polyunsaturated Fat:
2
g
Monounsaturated Fat:
9
g
Cholesterol:
15
mg
Sodium:
911
mg
Potassium:
905
mg
Fiber:
5
g
Sugar:
13
g
Vitamin A:
607
IU
Vitamin C:
34
mg
Calcium:
119
mg
Iron:
3
mg
Nutrition information is automatically calculated, so should only be used as an approximation.
Recipe © 2014 Karen Mordechai. Photo © 2014 Karen Mordechai. All rights reserved.
---
Recipe Testers' Reviews
We loved this version of tortilla soup. It had a good deal of heat, some of which might have been from an exceptionally hot poblano. Someone who prefers less heat (or more) could fine-tune that element by adjusting the amount of red pepper flakes.
After 1 1/2 hours, the soup hadn't really thickened. I gave it another 10 minutes or so with the heat turned up and lid off and then blended it with an immersion blender. At serving, it was still a fairly thin soup. The garnishes really make a tortilla soup, and it was worth the time to prep all of them, most of which could be done while the soup was cooking. I was running low on regular onions and so used a few sliced scallions as a garnish instead.
It took close to 4 minutes for the first batch of tortilla strips to crisp but 1 1/2 to 2 minutes for the later ones once the oil was really hot. Some ended up a bit burnt. Shredded poached chicken was reheated in the tortilla soup the next day for lunch with more of the other garnishes.
Don't let the simplicity of this tortilla soup recipe fool you—it's hearty and flavorful and perfect for a blustery fall day. I actually made it twice this week. First, I made the recipe as written, garnished with the tortilla strips, a sprinkle of cilantro, and some diced avocado, for my family. I think I could eat this every day. It's a lot like a tomato bisque but without the dairy, so not as indulgent. The combo of spices is really what makes the dish. Unlike a lot of Mexican-style foods, this one doesn't rely heavily on cumin. Instead, it uses an interesting mix of smoked paprika (my new favorite spice) and coriander (also can't go wrong there). Dial down the poblano and red pepper flakes if you need a less spicy tortilla soup, but don't skip either one altogether.
The second time I made the soup, I was cooking for a crowd so I sorta doubled the recipe. My pot wouldn't fit all the liquid, so I added all of the broth I could fit, then continued to stir in more as it simmered down. I would recommend adding more than twice the spices. I also used reduced-sodium chicken stock this time, and I think that was an improvement.
To serve, I set out dishes of the recommended toppings, including shredded rotisserie chicken, and had everyone build their own bowl. It was a hit and not a drop of soup remained.
One last recommendation—I didn't want to fry up the corn tortilla strips the second time I made it, so I bought a bag of them in the salad dressing aisle. This was easier with the same result. I would definitely go this route again in the future.
I already make a tortilla soup recipe that I like a lot, but this recipe intrigued me enough to give it a try. I'm very happy that I did. Instead of being a brothy soup, this tortilla soup is thick with great flavors and a very nice texture.
With the cover just halfway on the pot, the soup really cooked down in an hour and a half. The immersion blender did a great job of giving the soup a nice thick consistency. All the toppings not only made the soup very pretty to look at, they also made it delightful to eat.
This soup is very easy to throw together. A little bit of chopping, and then you can go away for an hour and a half and come back to a satisfying meal. This will be made and enjoyed often.