The trick to a great flan de leche begins and ends with the caramelo—the sugar heated slowly over a steady flame until it reaches just the right amber hue without becoming bitter. It can get away from you easily, but it's always fun to see how far you can take it.–Ana Sofía Peláez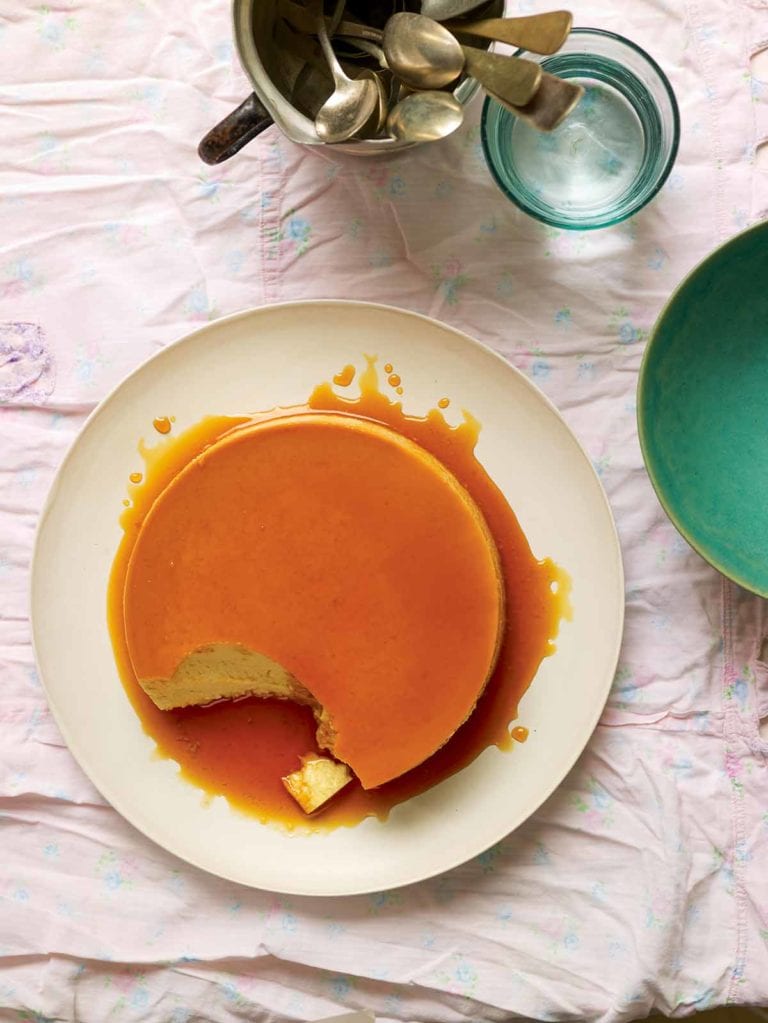 Flan de Leche
This flan de leche, a popular Spanish dessert, is a creamy egg and milk custard served in a sweet caramel sauce. And this is the best we've ever had.
Equipment
7- to 8-inch flanera or a 9-inch round heavy metal cake pan (preferably 3 inches deep) or ramekins
Ingredients
For the custard
2 1/2

cups

whole milk

One

can

evaporated milk

1 1/2

cups

granulated sugar

1

whole

cinnamon stick

1

whole

vanilla bean, split lengthwise, or 1 tablespoon vanilla extract

2-inch strip

lemon zest

,

preferably organic, or more to taste

1/8

teaspoon

kosher salt

6

large

eggs
Instructions
Make the caramel
Pour the sugar into a flanera or cake pan or, if using ramekins, a large saucepan. Place the pan over medium heat and move the pan constantly, without stirring, until the sugar melts and takes on a deep amber hue, 4 to 8 minutes.

Remove the pan from the heat and tilt the pan so that the bottom and sides are lightly covered with the caramel. The caramel will be very hot and should be handled carefully. If using ramekins, immediately and carefully divvy the caramel among the ramekins. Set the pan or ramekins aside.
Make the custard
Combine the whole milk, evaporated milk, sugar, cinnamon stick, vanilla bean or extract, lemon zest, and salt in a heavy 4-quart saucepan and bring to a boil over medium heat. Remove the saucepan from the heat and let steep until the milk has cooled to room temperature, about 30 minutes.

Preheat the oven to 350ºF (177°C).

Remove and discard the cinnamon stick, vanilla bean (if using), and lemon zest from the milk mixture. Combine the cooled milk mixture and eggs in a bowl and whisk until well combined. Carefully pour the custard into the prepared pan or ramekins, straining it if desired. Close the lid of the flanera, if using, or tightly cover the pan or ramekins with aluminum foil.

Place the filled pan or ramekins inside a larger roasting pan. Pour enough hot water into the roasting pan so that it comes about halfway up the sides of the flanera or ramekins. Carefully transfer the roasting pan to the oven and bake for 60 to 75 minutes, until a knife inserted into the center of the flan comes out clean.

Let the flan cool completely at room temperature, then loosely cover and refrigerate for at least 4 hours or overnight.

To unmold the flan, run a thin knife around the edge of the pan. Gently shake the pan to loosen the flan. Place a large plate over the flan and quickly invert the pan in one motion. The flan will gently drop onto the plate and a generous amount of caramel will spill out and pool around the flan. Serve at once.
Notes
What Pan Should I Use?
This creamy, milky, not egregiously sweet, altogether lovely flan de leche is traditionally made in a specially designed pan known, fittingly, as a flanera. A flanera is typically 7 to 8 inches in diameter and has straight sides. Ask any Spanish home cook and you'll hear that it's ridiculously easy to get flan to release from it. If you have no flanera—and no intention of buying one—you can instead use a 9-inch round cake pan or, if you'd like to create individual flans, you can swap in individual ramekins. Whatever you do, do not rely on a springform pan for this recipe or you'll end up with a mess on your hands. Trust us. (Yeah, we went there. Just to see what would happen. And we want you to avoid having to cleaning up that same mess.)
Nutrition
Serving:
1
slice
Calories:
318
kcal
Carbohydrates:
60
g
Protein:
7
g
Fat:
6
g
Saturated Fat:
3
g
Polyunsaturated Fat:
1
g
Monounsaturated Fat:
2
g
Trans Fat:
1
g
Cholesterol:
147
mg
Sodium:
123
mg
Potassium:
154
mg
Fiber:
1
g
Sugar:
60
g
Vitamin A:
326
IU
Vitamin C:
1
mg
Calcium:
109
mg
Iron:
1
mg
Nutrition information is automatically calculated, so should only be used as an approximation.
Recipe © 2014 Ana Sofía Peláez. Photo © 2014 Ellen Silverman. All rights reserved.
---
Recipe Testers' Reviews
This flan de leche recipe is delicate in flavor and texture, kissed with cinnamon, and hugged by caramel—not to mention the simplicity of ingredients and ease of making it. It's THE perfect accompaniment to a freshly brewed cup of espresso, whether you're starting your day on a sweet note or ending it.
I made a silly rookie mistake and baked it in a cheesecake pan. Lo and behold, as predicted, half the flan was swimming in the roasting pan. Thankfully one bite was all it took to forgive and forget the disaster I made. The cinnamon adds a touch of spice that works brilliantly with the richness of the flan. I adore lemons, so for me there wasn't enough flavor imparted with just a single 2-inch strip of citrus zest. Bloody brilliant!
When I decided to make this recipe, the only granulated sugar I had on hand was Morena sugar. It's less processed than "white sugar" and has larger granules, so I wasn't positive it would work for the caramel.
I was happy to discover that it does. I chose to use a specialty pan for this, dividing it into 6 portions instead of a single pan. Because of the increased surface area to coat with the caramel, I increased the sugar to 1 to 1 1/4 cups, and I used a slightly lower flame than medium. Once the caramel was ready, I poured it into the 6 cups and quickly tilted and turned the pan to cover the bottoms and as much of the sides as feasible.
I whisked the milk mixture with the eggs, poured it into the cups until it was level with the top, and covered everything with foil. There was just slightly less than 1/2 cup of the mixture left over. It could have been baked in a separate cup in the bain-marie. Because of the pan size difference, I let it bake for 45 minutes. I removed the cups of flan from the bain-marie, placed them by an open window to cool for about an hour, and put them into the fridge to chill for about 2 hours.
To unmold, I put some waxed paper on the counter, loosened the edges of each cup, and quickly inverted the pan onto the waxed paper. I patted the bottom of each cup just to be sure they were all out and removed the pan. To my delight, there were 6 perfect little flans. The texture was smooth and satiny, and the flavor was balanced—no one component dominating but rather all contributing to a delightful dessert. Since it's not too dense or heavy, the 6-portion size worked well. They could also be shared, but this is not likely in my house.