Each autumn, it goes something like this in our house:
"Hey, The One. What do you want for dinner?"
"Something pumpkin."
"What about lunch?
"Something pumpkin."
"A snack."
"Something pumpkin."
"Dessert? Let me guess: Something pumpkin."
"No, chocolate."
I can't win with this man. But I have gotten good at serving him all kinds of pumpkin dishes: Pumpkin Soup, Braised Short Ribs with Pumpkin Orzo, Pumpkin Lasagna, and my famous Pumpkin Cake With Maple-Cream Cheese Frosting.
This year, though, I wanted to surprise him with something different. I had exhausted just about every pumpkin recipe on this site, and then it hit me: This man is a massive cheese ball. (I mean this in the very best way possible.) He loves cheese. On top of that, he literally, truly says, at least once a week, "I could eat pasta every day." So I did a little math.
Cheese + pasta + pumpkin = pumpkin macaroni and cheese.
No, it wasn't a huge leap, but it was a huge ass success. He loved the creaminess and the subtle-but-not-too-subtle pumpkin flavor that doesn't distract from the sharp Cheddar cheese. And as he was shoveling forkfuls of the stuff into his mouth, he kept asking, "What's that tang?" Then he'd cluck his tongue trying to guess it. (I knew he'd never figure it out. It's cider vinegar. Just enough to brighten the flavor and complement the cheese.)
And since it's near Thanksgiving and everyone will be wondering, What in the hell am I going to do with all this leftover turkey? I have just one answer: Bury chunks of it in this dish. And then make The One proud and serve a chocolate dessert afterward.

When it comes to this recipe for macaroni and cheese with pumpkin, or any mac and cheese recipe, call me wild and crazy, but I prefer unusual pasta shapes. Yes, yes you can go with old school elbow mac that we all had as kids in this pumpkin macaroni and cheese, but I say go a little wild. Several pasta shapes that are relatively easy to find that I like include gemelli, campanelle, caserecce, and cellentani. Will this baked pumpkin mac and cheese recipe succeed or fail because of your pasta shape? No. Will your choice of a snazzy shape dress it up a bit? Absolutely.–David Leite
Pumpkin Mac and Cheese FAQs
What's the best way to reheat this mac and cheese?
This pumpkin macaroni and cheese recipe makes A LOT of macaroni and cheese. As in, ample. Enough for leftovers, even. This simple fact is epic because, like all casseroles, this dish actually improves with age—but only if you reheat it with care. Shy away from the temptation to plop it in the microwave as the fats in the sauce separate and all manner of nasty greasiness will ensue.

Instead, cover the dish of macaroni and cheese and slide it in a warm oven or scoop the macaroni and cheese into the top of a double boiler and gently heat until it's warmed through. If your leftover pumpkin macaroni and cheese seems a touch on the dry side as you warm it, just stir in a little whole milk.
Can I make this with a different type of squash?
Yes, you can. The color won't be as vibrant, depending on the type of squash, but you could use another type of winter squash, such as butternut or kabocha.
Can I make my own pumpkin puree?
Definitely. To make homemade pumpkin puree, simply roast cubes or halves of fresh pumpkin until tender, dump into the food processor, and blitz until smooth.
Pumpkin Macaroni and Cheese
This pumpkin macaroni and cheese is easy and creamy and rich. What else would you expect from a skillet full of pasta, Cheddar, pumpkin, bacon, and sage? Comfort food at its most indulgent with a smidgen of conscience-appeasing healthfulness.
Ingredients
1

pound

cavatappi

,

elbow macaroni, or small pasta shells

5

tablespoons

unsalted butter

,

plus more if needed

1/2

cup

panko or fresh bread crumbs

8

ounces

bacon

,

preferably maple cured, roughly chopped

1

medium

onion

,

halved through the root and then cut into half moons

2

garlic cloves

,

sliced

15

sage leaves

,

roughly chopped

1/4

cup

all-purpose flour

1 1/2

cups

whole milk

2

cups

heavy cream

2 1/2

cups

shredded sharp Cheddar cheese

One

(14.5-oz) can

solid-packed pumpkin

2

tablespoons (30 milliliters)

apple cider vinegar

1

tablespoon

thyme leaves

1/8

teaspoon

freshly grated nutmeg
Freshly ground black pepper
Instructions
Preheat the oven to 350°F (177°C) and adjust the oven rack to the middle position.

Bring a large pot of water to a boil and toss in 3 tablespoons salt.

While the water is coming to a boil, melt 1 tablespoon butter in a 12-inch cast-iron skillet over medium to medium-high heat and stir in the panko. Season with salt and pepper and cook, stirring, until the panko are coated with butter. Scrape the panko into a bowl.

In the same skillet over medium heat, fry the bacon until crisp yet still chewy, 5 to 10 minutes. Transfer the bacon to paper towels or a brown paper bag to drain.

If there's enough fat in the skillet to cook the onion, great. If not, add a tablespoon or two of butter to the bacon drippings. Cook the onion over low heat, stirring often, until softened and golden, about 20 minutes.

Add the garlic and cook for 3 minutes more. Scrape the mixture into a bowl.

Meanwhile, dump the pasta in the boiling water. Give it a stir to prevent it from sticking and cook it for 2 minutes less than specified on the package. (Trust us. The pasta will continue to cook in the oven.)

While the pasta cooks, melt the remaining 4 tablespoons butter in the skillet over medium heat, add the sage, and let sizzle for 1 minute.

Dump in the flour and whisk constantly for 1 minute. Raise the heat to medium-high and slowly pour in the milk, still whisking continually. Repeat with the cream. Whisk in 2 cups cheese until it melts.

Add the reserved bacon, onion, pumpkin, vinegar, thyme, nutmeg, 2 1/2 teaspoons (9 grams) kosher salt,, and freshly ground pepper to taste. Take a taste and add more salt or pepper, if you wish.

Drain the pasta and dump it into the skillet and stir to combine. (Alternately, you could dump everything in a 9-by-13-inch baking dish.) Top with the remaining 1/2 cup cheese and then sprinkle with the buttered panko. Bake in the oven until bubbling and the panko is lightly browned, 25 to 30 minutes.

Let the pumpkin macaroni and cheese rest for about 10 minutes and then bring it to the table and scoop it straight from the skillet.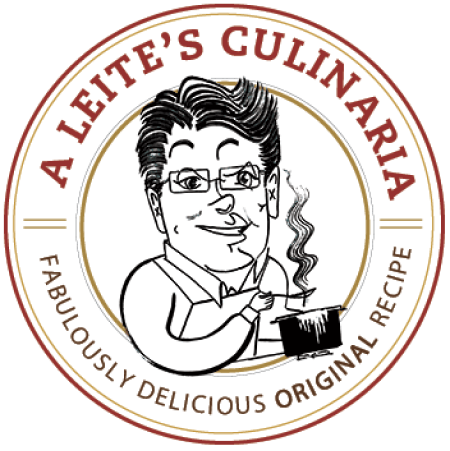 Nutrition
Serving:
1
serving
Calories:
553
kcal
Carbohydrates:
40
g
Protein:
16
g
Fat:
37
g
Saturated Fat:
20
g
Polyunsaturated Fat:
3
g
Monounsaturated Fat:
11
g
Trans Fat:
1
g
Cholesterol:
107
mg
Sodium:
336
mg
Potassium:
361
mg
Fiber:
2
g
Sugar:
4
g
Vitamin A:
3865
IU
Vitamin C:
5
mg
Calcium:
262
mg
Iron:
1
mg
Nutrition information is automatically calculated, so should only be used as an approximation.
Recipe © 2015 David Leite. Photo © 2015 David Leite. All rights reserved.
---