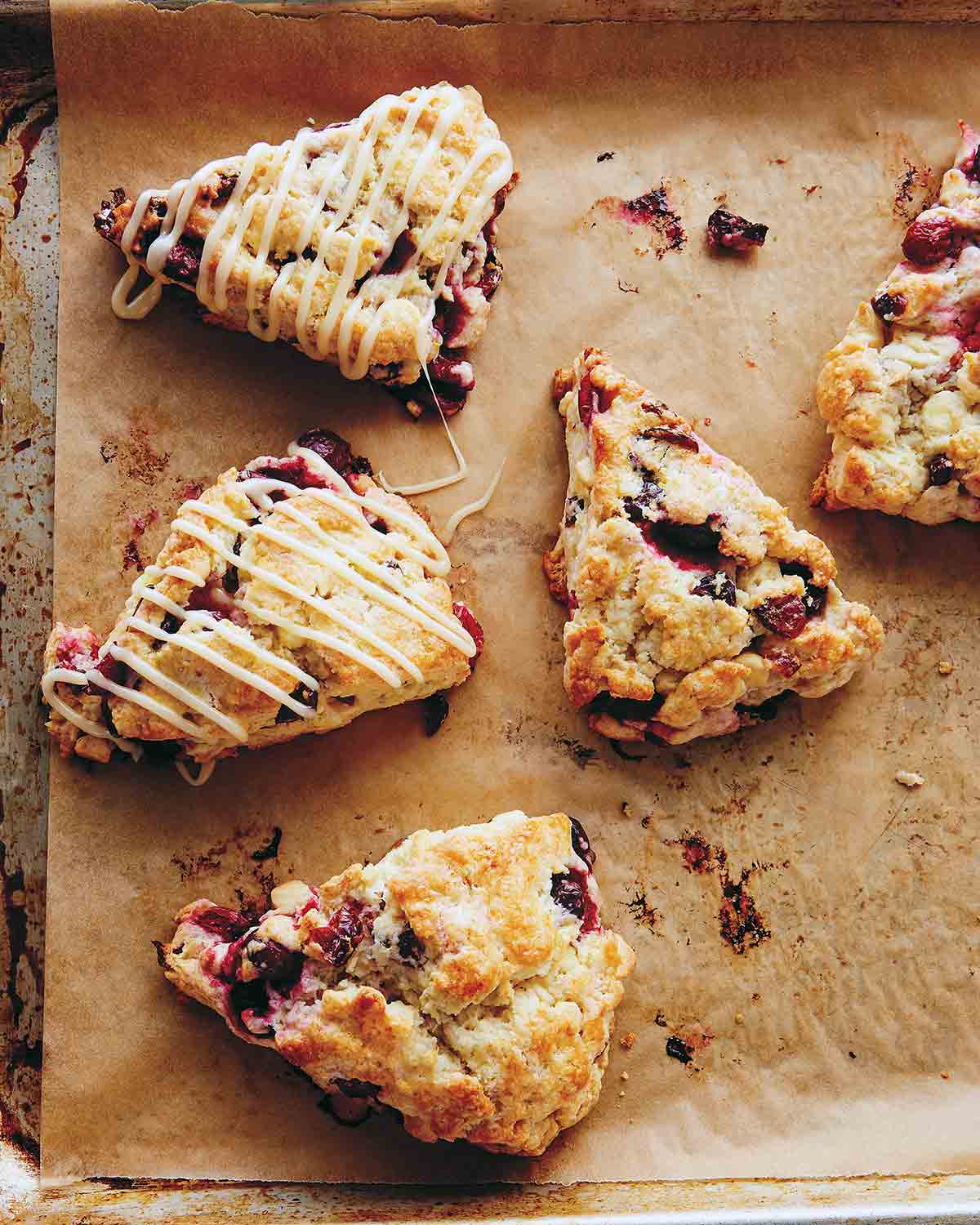 Let's talk about scones. Whether you prefer a more savory bacon and cheddar scone, or a sweeter blueberry lemon scone, or something in between, like these apple and white Cheddar scones, we can all agree that they're easy, quick, arguably healthy, and they're what you need in your life. If you get a little crazy about cranberries come Thanksgiving, then these cranberry scones are exactly what you need to be making.
The scones are made in a classic manner with cream to ensure delicate flakiness. What's not so classic about them is how the tart cranberries are perfectly offset by the chunks of sweet white chocolate. We're not complaining.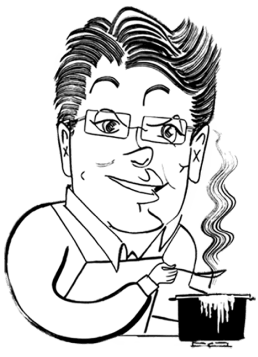 Why Our Testers Loved This
Our testers were delighted with the tender, flaky texture of these "melt-in-your-mouth" cream scones. They loved the balance of tart fresh cranberries with sweet white chocolate. Even our testers who generally don't enjoy scones are praising these.
Notes on Ingredients
All-purpose flour–Stick with all-purpose flour here to ensure light, flaky scones.
Lemon zest–We love the combination of cranberries, lemon, and white chocolate, but cranberries and orange also pair beautifully, so feel free to swap in orange zest, if you prefer.
Unsalted butter–It's critical to keep your butter cold. If you have a warm kitchen, we suggest popping the butter in the fridge or freezer for a few minutes after cutting it.
Cranberries–Fresh or frozen will work here. If using frozen, let them thaw at room temperature for an hour, drain off any excess liquid, and pat dry before using.
How to Make This Recipe
Heat the oven. Line a rimmed baking sheet with parchment paper.

Make the scone dough. Combine the flour, sugar, lemon zest, baking powder, and salt, then work in the butter to make a crumbly dough. Mix in the fresh and dried cranberries and white chocolate.

Knead the dough. Mix the cream, egg, and vanilla together, then gently mix it into the dough. Knead the dough briefly, then shape into a disc and cut into wedges.

Bake the scones. Cook the scones until golden, then transfer to a wire rack to cool.

Make the white chocolate glaze (optional). Combine the chocolate and corn syrup over low heat until melted, then stir in cream and lemon zest. Drizzle over the scones.
Recipe FAQs
What's the secret to making good scones?
Like any butter-heavy pastry, a secret to making these cranberry white chocolate scones light, fluffy, and crave-worthy is to keep everything cold. Chill your butter and, if possible, your bowl and pastry cutter as well. Even more helpful is to chill them before baking—half an hour in the fridge should do.

Next, don't overmix that batter. Not only will you break up those precious bits of butter, but you'll also end up developing gluten. You want the batter to just come together and be quite fetchingly lumpy.
What's the easiest way to chop cranberries?
You can give them a quick pulse in your food processor or chop them by hand. If chopping by hand, cut each berry in half to prevent them from rolling off the counter, then gather them together and give everything a rough chop.
Can you freeze scones?
Yes. Since scones can become dried out and stale within a day or two, we recommend freezing any you don't enjoy within a day of making them. Thaw in the fridge overnight or at room temperature for a couple of hours.
Helpful Tips
Work your dough as little as possible. The more you mix and knead your dough, the more likely the scones will be heavy and dense.
For extra-flakey scones, grate your butter instead of dicing it. Be sure to chill it again after grating.
Write a Review
If you make this recipe, or any dish on LC, consider leaving a review, a star rating, and your best photo in the comments below. I love hearing from you.–David
Cranberry Scones
Cranberry scones drizzled with white chocolate that are flaky and perfectly balanced between tart and sweet, and festive as can be in appearance. Certainly sounds like an ideal Thanksgiving breakfast to us.
Ingredients
For the cranberry scones
2

cups

all-purpose flour

,

plus more for the work surface

1/4

cup

granulated sugar

1

tablespoon

baking powder

2

teaspoons

finely grated lemon zest

,

preferably organic

1/2

teaspoon

kosher salt

1

stick

unsalted butter

,

cold, cut into pieces

1

cup

roughly chopped fresh cranberries or whole frozen cranberries

,

thawed and patted dry

1/2

cup

dried cranberries

1/2

cup

white chocolate chips or chopped white chocolate

1/2

cup

heavy cream

1

large

egg

1/2

teaspoon

vanilla extract
For the white chocolate glaze (optional)
3

ounces

white chocolate

,

chopped

2

tablespoons

light corn syrup

1

tablespoon

heavy cream

1/2

teaspoon

finely grated lemon zest

,

preferably organic, plus more to taste
Instructions
Make the cranberry scones
Preheat the oven to 400°F (204°C). Line a rimmed baking sheet with parchment paper.

In a large bowl, combine the flour, sugar, baking powder, lemon zest, and salt. Toss in the butter and, using your fingers or a pastry cutter, blend everything until the butter is in pea-size crumbs. Add the fresh or frozen cranberries, dried cranberries, and white chocolate and toss to coat with the flour mixture.

In a small bowl, whisk together the cream, egg, and vanilla. Pour it into the flour mixture and stir just until everything is moistened, taking care to not overmix the dough or your scones will turn out dense rather than delicate.

Turn the dough onto a lightly floured surface and gently knead it 4 times. No more than 4 times. No less than 4 times. Do not overwork the dough.

Form the dough into a flat circle that measures 6 to 8 inches (15 to 20 cm) in diameter. Cut the dough into 8 large wedges and place them on the prepared baking sheet, leaving 1 inch (2.5 cm) between scones.

Bake the scones until they're golden on the bottom, 16 to 18 minutes. If you're uncertain if they're done, break one open and it should have the same light and flaky consistency throughout. If it has any dense doughy spots in the center, return the pan to the oven for a couple more minutes.

Place the scones on a wire rack and let cool slightly.
Make the white chocolate glaze (optional)
Just before serving the scones, combine the white chocolate and corn syrup in a small saucepan set over low heat. Stir constantly until the chocolate melts and then stir in the cream. Remove from the heat and stir in the lemon zest.
Serve the cranberry scones
If using the glaze, drizzle it over the scones and wait a few minutes for the excess to drip. Serve the scones shortly after glazing.
Notes
Easier cleanup–Before glazing your scones, slip a piece of parchment under the wire rack. Any excess glaze will drip onto the parchment, which can then be crumpled up and tossed out.
Flakier scones–For the lightest and most flaky scones, grate your butter. You'll need to chill the butter again after grating to keep it very cold.
Nutrition
Serving:
1
scone
Calories:
454
kcal
Carbohydrates:
55
g
Protein:
6
g
Fat:
25
g
Saturated Fat:
15
g
Polyunsaturated Fat:
1
g
Monounsaturated Fat:
6
g
Trans Fat:
0.5
g
Cholesterol:
77
mg
Sodium:
183
mg
Potassium:
282
mg
Fiber:
2
g
Sugar:
28
g
Vitamin A:
646
IU
Vitamin C:
3
mg
Calcium:
129
mg
Iron:
2
mg
Nutrition information is automatically calculated, so should only be used as an approximation.
Recipe © 2016 Julie Albert | Lisa Gnat. Photo © 2016 Ryan Szulc. All rights reserved.
---