Knowing how to make chorizo is, we think, an essential life skill everyone should learn and practice often. We explain how with this recipe, which falls smack in between the Mexican and Spanish styles of chorizo. (We simply couldn't decide which style we preferred so we combined our fave parts of each.)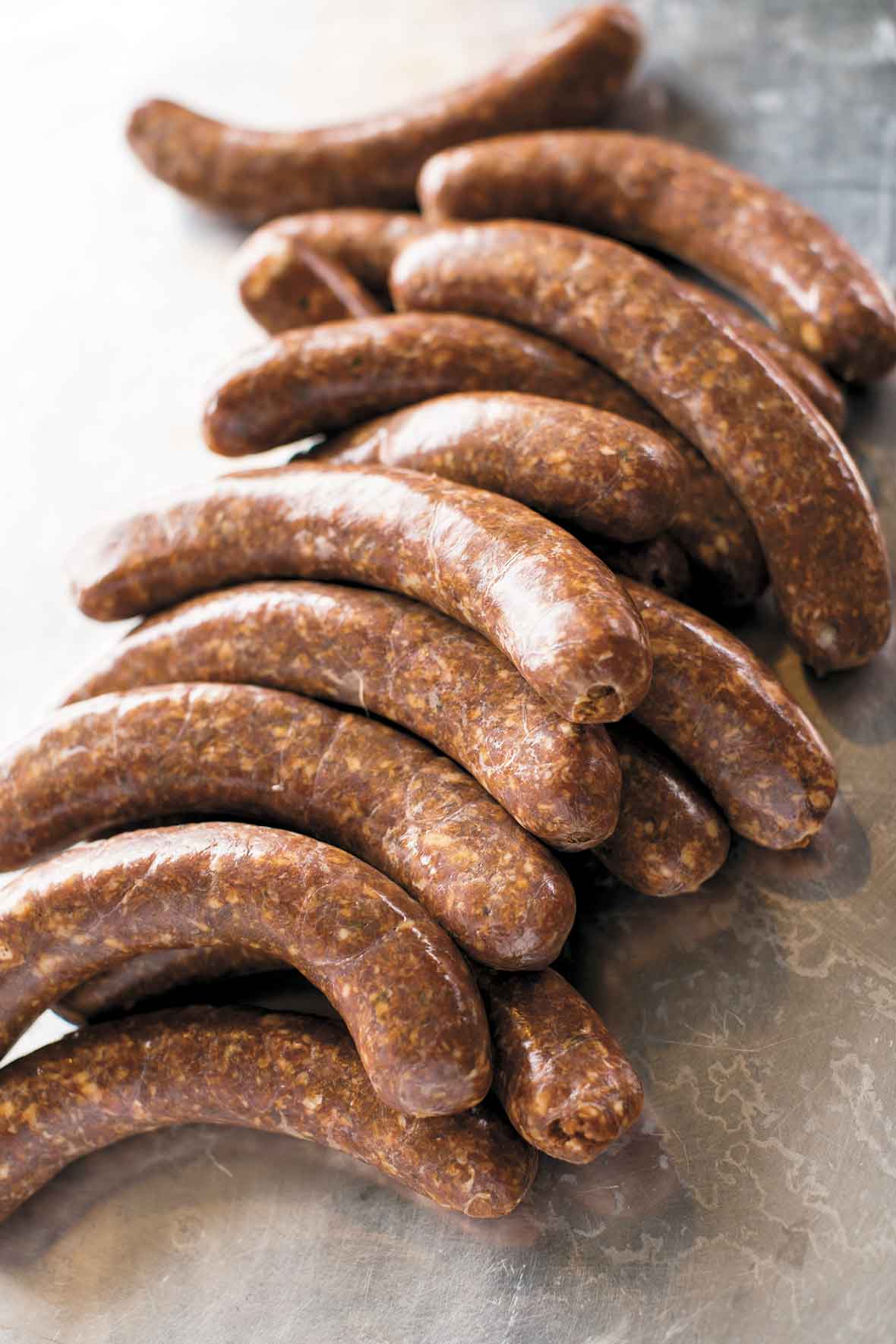 Yep. You're about to learn how to make chorizo. And it's easy enough to do even if you're a sausage-making virgin. This recipe draws on the best aspects of both Mexican and Spanish chorizo sausage for something that sorta falls in between the two traditional styles. The links are laced with garlic and chile powder, paprika, and cumin aplenty, and it's also a good thing the recipe makes a lot because once word gets out you know how to make chorizo, all your friends and neighbors will be begging you to share.–Angie Zoobkoff
What Are the Different Types of Chorizo?
"Chorizo" is somewhat of a loaded term because the word means different things to different people. From Portugal to Mexico to Spain and beyond, chorizo has incredible variance. Traditional Mexican chorizo is sold fresh— meaning raw and uncooked—and incorporates plenty of ancho chile and cumin into the ingredient list. Spanish chorizo, on the other hand, is dry cured and eaten more like a salumi, alongside cheese or even on its own, and has a strong presence of paprika. This recipe is like a mixture of the two.
Special Equipment: Meat grinder with 3/16 die (medium) or meat grinder attachment for your KitchenAid; sausage stuffer
How To Make Chorizo Recipe
Quick Glance
2 H, 30 M
1 D, 3 H

Makes about 4 1/2 pounds (2 kg)
Ingredients
5

pounds (2.27 kg)

fatty pork shoulder or other well-marbled cut of pork

1 1/2

ounces (43 grams)

salt

1/2

ounce (14 grams)

ancho chile powder

1/4

ounce (7 grams)

paprika

1/4

ounce (7 grams)

cayenne pepper

1/3

ounce (9 grams)

ground cumin

Pinch freshly ground black pepper

5/8

ounce (18 grams)

garlic (about 5 smallish cloves)

, minced

1/4

ounce (7 grams)

fresh oregano

, minced

29 to 32

millimeters

hog casings* (about 2 1/2 casings)
Directions
1. Dice the pork into smallish 1-inch (2.5-cm) cubes.

2. In a large bowl, use your hands to mix together the pork, salt, ancho, paprika, cayenne, cumin, black pepper, garlic, and oregano until everything is equally distributed. Cover and refrigerate the chorizo mixture until you're ready to grind.

3. Meanwhile, place your meat grinder in the freezer until chilled through, at least 30 minutes. (By way of explanation, this helps keep the meat cold as you process it. If the grinder isn't cold, the meat will become too warm and it won't grind properly, which will ruin the emulsification and result in a dry, crumbly, less flavorful chorizo sausage, which ultimately leads to sadness.)

4. Set up the grinder with a 3/16 (medium) die or, if you're using a KitchenAid grinder attachment, start with the larger of the two dies for the first grind and then switch out to the second, smaller die for the second grind. Turn the grinder on and slowly add the pork through the feed tube. Be careful not to overload or overfill the grinder. Add the pork slowly, piece by piece, so the elbow doesn't get overfilled or clogged. If you notice any smearing or clogging on the die, turn off the grinder and clean out the die. Also check your pork to make certain it's still cold. If at any point the grinder is no longer cold, return it to the freezer until it's thoroughly chilled and refrigerate the pork rather than leave it at room temperature.

5. After the first pass through the grinder, use your hands to completely combine the ingredients. Then pass it through the grinder a second time. (The more you grind the meat, the finer the texture will become and the firmer the resulting chorizo sausage will be.) After the second grind, use your hands to once again thoroughly mix the ingredients until the mixture becomes sticky and fully combined. (The sausage should stick to your hand when you turn it upside down.) Cover and refrigerate the chorizo mixture until chilled through, about 1 hour.

6. If you're using natural casings, they'll need to be soaked in room-temperature water for at least 1 hour before using. You'll want to change the water several times and we've found that running water through them a few times before trying to put them on the extruder tube makes everything way easier. This also results in a softer and more pliable casing, which makes it easier to slide the casing onto the extruder and less likely to split when being filled.

7. Prepare your stuffer or stuffing attachment according to the manufacturer's directions. Add the loose sausage mixture to the stuffer or stuffing attachment and pack it down to remove all air pockets. Lubricate the feeder tube with water and slide the casing onto the tube. Once the casing is entirely scrunched onto the feeder tube, pull 2 inches (5 cm) of casing off the tip of the tube. Grasp the casing end with one hand and begin cranking with the other hand. Once you can see meat begin to make its way out of the tube, pinch off the end of the casing so the meat is forced to expand inside the casing as you slowly pull away, keeping a grip on the casing. Be sure both the casing and the counter on which the sausage will fall are very wet and lubricated to prevent any ripping or sticking. (You may find it handy to keep a squeeze bottle of water nearby for this). When about 3 to 4 inches (8 to 10 cm) of chorizo sausage mixture has made its way into the casing, let go of the end and use one hand to feed the casing off of the tube while the sausage is being cranked out with your other hand. As you are doing this, be mindful about filling the casing. You want to find that sweet spot where the casing is filled with meat and a little amount of air remains but not so full that it will bust when you begin twisting. Once all the meat has been stuffed into the casing, leave 6 inches (15 cm) empty casing on the end and cut off any excess to reserve for future use. [Editor's Note: Having 2 people for this process makes it SO MUCH EASIER! One person can pack the meat in the grinding tube, and the other can guide the casing and the sausage.]

8. Tie off one end of the sausage and twist, making a simple knot. Measure the desired length of the sausage and mark your workspace with either a piece of tape or line it with parchment and mark it with a pen or pencil to help ensure consistency in the length of all your links. You want to twist the links so that you get about 3 links to 1 pound (455 grams). In general, each sausage should be 5 to 6 inches [13 to 15 cm] long. Starting from the tied-off end of your sausage, use one hand to pinch it at the appropriate length. Then, keeping a hold on the pinched spot, slide your other hand down and pinch off the next length. Now, twist by picking up the sausage, holding onto the 2 pinched spots, and swinging it like a jump rope. Repeat until no sausage remains. When you get to the end, tie it off with a simple knot. When you get to the end, tie it off with a simple knot. You should have 15 to 20 links of homemade chorizo, each 4 to 6 inches in length.

9. Lightly poke each sausage link with a fork no more than 2 or 3 times where air bubbles are visible. These tiny holes will allow some liquid to release while the sausages cook and prevent them from exploding. (No need to go wild here with the poking. The more you poke the sausage, the more likely it is to dry out during cooking. Do not poke holes in the casing if you're planning to smoke the sausage.)

10. Place the twisted links in a single layer on a baking sheet or plates, being careful that the links don't touch one another. Refrigerate, uncovered, overnight to dry out the casings.

11. Snip the sausages at the seams to separate them into links (or, if desired, leave them as a whole rope of links like those you might have seen in cartoons!). Cover and refrigerate for up to several days until ready to cook.

12. To cook your homemade chorizo, you have a decision. You can grill the links over a charcoal or gas flame, sizzle them in a skillet, braise them in beer, toss them in the smoker, or cook them according to pretty much any recipe that calls for raw chorizo. Whatever approach you decide to take, you want the chorizo to be thoroughly cooked. We'd love to hear what you did with your chorizo so let us know in a comment below!
*How to Select and Prepare Casings
Hog casings are available in both natural and synthetic form. Natural hog casings need to be soaked in warm water for at least 1 hour prior to use and the water should be changed often during this time. Synthetic, or collagen, casings should not be soaked prior to use. They have less elasticity than natural casings, so care should be taken to not overstuff them.
Hungry for more?
Chow down on these:
How To Make Chorizo Recipe © 2015 James Peisker | Chris Carter. Photo © 2015 Andrea Behrends. All rights reserved.
If you make this recipe, snap a photo and hashtag it #LeitesCulinaria. We'd love to see your creations on Instagram, Facebook, and Twitter.