Baked feta is one of the easiest and most elegant appetizers out there. The cheese takes on a beguilingly airy texture when gently warmed, and its tanginess takes perfectly to a drizzle of sweet honey. You can continue to impress friends and family with this baked feta recipe all year round when you switch up the fruit seasonally.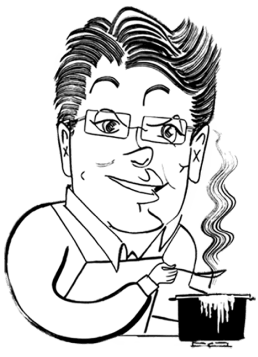 Why Our Testers Loved This
Our testers are calling the combination of warm salted cheese with sweet roasted fruit "simply fabulous" and "special, visually stunning, and very rich." Kind of makes you want to try it, doesn't it?
What You'll Need to Make This
Fresh figs–If you can't get fresh figs, use another dark fruit, such as plums, grapes, or blackberries.
Feta cheese–Since the feta is the star of the dish, choose good-quality feta here. Ideally, Greek sheep or goat's milk feta, if you can get it.
Tarragon–If the anise flavor of tarragon doesn't appeal to you, try substituting other fresh herbs, like chopped rosemary or torn fresh basil.
How to Make This Recipe
Preheat the oven to 375°F. Have ready a 9-by-13-inch baking dish.

Assemble the fruit and feta. Toss the fruit with olive oil and seasoning in the baking dish, then place the feta in the center. Drizzle with olive oil and honey and top with a sprinkling of tarragon.

Bake the feta. Cook until the feta is melting on the edges and the fruit is softened. Drizzle with balsamic vinegar before serving, if desired.
FAQs
What other types of fruit should I use?
Depending on your personal preference, or what is in season, this easy appetizer could be made with plums, red or black grapes, or plump blackberries.
What's the best type of feta to use here?
You definitely want to purchase feta that is stored in brine. For the best results, choose Greek feta, which will be made with sheep or goat's milk.
How should I serve this?
Serve the warm melted feta and fruit with water crackers, toasted crostini, or wedges of homemade pita bread for scooping and spreading. It's excellent as part of a larger mezze meal, including Turkish cigars and stuffed mushrooms.
Helpful Tips
Baked feta is best served immediately, while still warm and soft. We don't recommend storing or reheating.
Don't be tempted to speed along the melting and browning process by broiling the cheese. You risk having the honey and tarragon burn.
If your block of feta is more than 1-inch (25-mm) thick, it may need a few extra minutes of baking time.
Write a Review
If you make this recipe, or any dish on LC, consider leaving a review, a star rating, and your best photo in the comments below. I love hearing from you.–David
Baked Feta and Figs
Baked feta and figs is an impressive and easy appetizer that's ready in less than 30 minutes. Sliced fresh figs are tossed in olive oil and the feta cheese is drizzled with honey. The whole thing is baked until runny and melted and gooey and impossible to not scrape up every last bite.
Ingredients
3/4

pound

fresh figs

,

halved lengthwise (or substitute seedless red grapes, sliced plums, or fresh blackberries)

2

tablespoons

extra-virgin olive oil

1/2

teaspoon

kosher salt

Pinch freshly ground black pepper

One

(8-ounce) block

feta cheese

1

teaspoon

honey

1

tablespoon

roughly chopped fresh tarragon

Assorted crackers or warm pita

,

for serving

Drizzle of balsamic vinegar (optional)
Instructions
Preheat the oven to 375°F (191°C) with a rack in the center position.

Combine the figs in a 9-by-13-inch (23-by-33-cm) baking dish with 1 tablespoon olive oil, the salt, and pepper and toss to coat. If your block of feta is packed in brine, drain it and pat it dry. Nudge the figs toward the edges of the baking dish, and place the block of feta in the center.

Drizzle 1 tablespoon olive oil and the honey over the cheese and then sprinkle the tarragon over everything.

Bake until the figs have released some of their juices and the feta is knife-tender, 15 to 20 minutes. The feta should be relaxed and gloriously melted around the edges. If using any of the substitutes for figs, you may need to add about 5 more minutes to the baking time—you want the fruit to be softened but not shriveled.

Serve the baked feta and figs warm, with plenty of crackers or warm pita alongside. To balance out the sweetness, feel free to add a drizzle of balsamic vinegar (or a nice glass of Malbec, for that matter).
Notes
Serving–This dish is best served immediately after baking. We do not recommend storing or reheating.
Course–This can be served as a standalone appetizer with crackers and pita or as part of a larger mezze meal.
Ingredients–Use good-quality feta, ideally Greek, for the recipe. If your block of feta is more than 1-inch thick, it may need a little extra baking time.
Nutrition
Serving:
1
portion
Calories:
135
kcal
Carbohydrates:
19
g
Protein:
1
g
Fat:
7
g
Saturated Fat:
1
g
Polyunsaturated Fat:
1
g
Monounsaturated Fat:
5
g
Sodium:
293
mg
Potassium:
251
mg
Fiber:
3
g
Sugar:
15
g
Vitamin A:
194
IU
Vitamin C:
3
mg
Calcium:
50
mg
Iron:
1
mg
Nutrition information is automatically calculated, so should only be used as an approximation.
Recipe © 2017 Molly Gilbert. Photo © 2017 Aran Goyoaga. All rights reserved.
---
Recipe Testers' Reviews
This baked feta and figs appetizer idea was simply fabulous. The combination of the salty yet creamy feta cheese, the anise-flavor of the fresh tarragon, and the sweetness of both the honey and the fruit was just wonderful!
I used a nice barrel-aged Greek feta cheese (not packed in brine) and couldn't find fresh figs so I subbed in seedless red grapes instead. I baked the cheese dish for 20 minutes and checked it but I wanted the grapes to be a bit blistered or wilted and they weren't quite there yet, so I increased the total cooking time to 25 minutes. The grapes were warm and blistered at this point and the cheese very soft and slightly melted, which was nice. The cheese melted a bit at the edges.
The taste of the warm feta was lovely—almost reminded me of halloumi cheese in overall taste. I served the warm appetizer with some flavorful black pepper crackers which was a nice combo.
I didn't find it overly sweet with the grapes and the honey because I think the sweetness from the honey was a nice counterpart to the salty taste of the cheese. Overall, a lovely idea to pair the cheese and fruit with tarragon, which I love. I would like to try it with figs when they're in season.
This baked feta and figs reached way past the normal cheese and crackers appetizer. It's special, visually stunning, and very rich. A little goes a long way.
Despite the thought that fresh figs could be elusive in the Midwest when I tested this, I found some Peruvian beauties at a wonderful international produce market. I also purchased a lovely French sheep's milk feta.
As with my question about dried figs, I also wondered and still wonder if dried tarragon could work here, and I believe it could. The fresh tarragon may lend a prettier visual to the presentation, but a good quality dried tarragon should also do the trick.
As suggested, serve with PLENTY of crackers. This will easily serve more than 6, comfortably 8, and quite likely even up to 12.
Since this dish seemed very special, I purchased some very special crackers, a fig and olive crisp that I thought would nicely complement the feta, fig, and tarragon flavors.
My figs were not labeled as to variety. When I cut open the black skin, they were very pink on the inside. My figs retained their stunningly beautiful black on the edges and pink in the center coloring.
I also think it would be quite delicious with a more standard domestic cow's milk feta; in other words, this would still be tasty and special even without going to the uppermost reaches of quality for the key components here.
I would also be interested in the blackberry and plum ideas, since both would not at all bring this into a too sweet direction. Frankly, were the baked figs not so wonderful, I could also envision baking the cheese and all of the other ingredients, minus the fruit, and then serving dried figs or even dried tart cherries and/or some olives or almonds on the side.
Lastly, there is some flexibility with proportions here, less or more cheese, less or more fruit, a combination of fruits, etc. This is absolutely terrific executed with precision and dedication to the recipe as written, and would (will!) also be terrific used as a concept with variations as noted.
This Greek girl thought she knew almost every way to enjoy feta, but this baked feta and figs was totally new and different—and we loved it. This just improved my appetizer toolkit. The simple method can very easily be scaled up or down—a half recipe is a lovely and indulgent mezze course or Friday night nibble for two (although I can vouch for it also being lovely on a Monday).
We tried two variations and can't wait for figs to come back in season so we can try that version. With blackberries (my personal favorite), the slab of feta had nicely kizzened (charred) at the edges after 20 minutes and the blackberries had turned magenta but not burst.
The tarragon might have been the biggest surprise for me—it paired so nicely with the other ingredients. I used kitchen shears to snip the leaves in rough pieces over the dish, then a grind of pepper and some kosher salt.
I kept the slab to about an inch thick. If your feta was thicker you might want to give it a few more minutes. Made with red seedless grapes, I gave it 25 minutes, with feta slabs still about 1-inch thick, and this was the version that himself liked best. The grapes had not shriveled but were cooked enough that you wanted to be careful as the liquid center was very hot straight out of the oven, which is how you want to serve this.
I used a domestic feta that wasn't too salty (you might adjust the salt if using a Greek, French, or other feta). If you want to make this as half a recipe, use a smaller dish (7″ x 9″ or 8″ x 10″ works great).
I served it with water crackers and thin slices of homemade sourdough and both worked fine. With figs, I think you might want to use a little balsamic as they have less acid than berries or grapes.