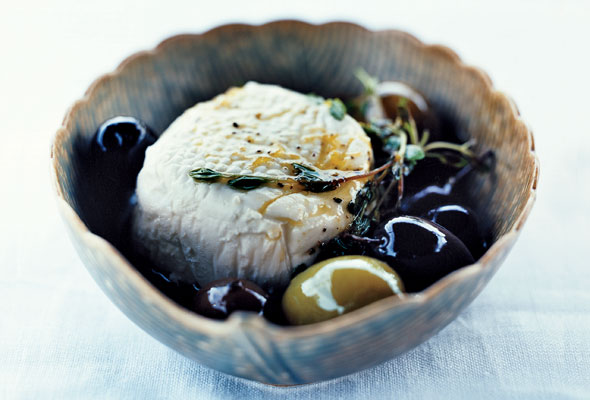 File this one under "secret weapon" and pull it out whenever you need a quick but impressive appetizer. Warming the olives in thyme-and-lemon-zest-infused oil awakens their flavor and transforms a goat cheese medallion into a sumptuous spread.–The Editors of Gourmet Magazine
LC Wowsers Note
Wowsers. Even if you have a mere hour's notice—less, even–that company's coming, you can pull off this elegant alternative to olives and cheese with ease. The components are familiar enough to be unintimidating, yet seemingly fancy enough to be memorable in the loveliest of ways. Don't skimp on cheap ingredients, though, as the quality of each contributes largely to the sum of the parts. If you're especially pressed for time, forget about allowing the olives and infused oil to cool to room temperature. Just dump them over the cheese when you need and the rresidual warmth will work its charms, making the texture of the soft cheese even softer, to the point of being almost ooey and gooey. Just pretend that's how you intended things to be. (We've also found this to be a lovely thing to take to work for an unconventional yet satiating-beyond-words respite from it all, we mean, lunch. Just add crackers or maybe some seasonal crudité along the lines of sliced fennel, strips of yellow or orange or red bell pepper, leftover steamed asparagus or green beans, or, natch, carrots.)
Goat Cheese with Olives, Lemon, and Thyme Recipe
Quick Glance
10 M
25 M

Serves 4
Ingredients
1/2

cup

assorted olives

, pitted if desired

3

thyme sprigs

, leaves stripped from stems if desired

3

tablespoons

extra-virgin olive oil

1/2

teaspoon

finely grated lemon zest

, preferably organic

1/4

teaspoon

coarsely ground black pepper

One

4-to 5- ounce

fresh goat cheese medallion or two 2-ounce goat cheese buttons

, at room temperature

Crackers, flatbread, or baguette slices
Directions
1. Gently heat the olives, thyme, oil, zest, and pepper in a small skillet or saucepan over low heat until fragrant. Do not allow the oil to simmer. Remove from the heat and let cool to room temperature.

2. Pour the olive mixture over the goat cheese. (This can be done up to 2 hours ahead and kept, covered, at room temperature.) Serve with crackers, flatbread, or baguette slices.
Hungry for more?
Chow down on these:
Goat Cheese with Olives, Lemon, and Thyme Recipe © 2012 The Editors of Gourmet Magazine. Photo © 2012 Conde Nast Publications. All rights reserved.
Hey, there. Just a reminder that all our content is copyright protected. Like a photo? Please don't use it without our written permission. Like a recipe? Kindly contact the publisher listed above for permission before you post it (that's what we did) and rewrite it in your own words. That's the law, kids. And don't forget to link back to this page, where you found it. Thanks!