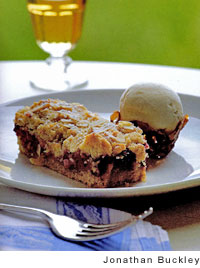 One of the most popular of all our desserts, this raspberry-cinnamon streusel tart is a cross between a crumble and a cake. Two things make it extra special: beautiful homegrown raspberries from the fruit garden, and the exotic spiciness of Sri Lankan cinnamon.
The sabayon ice cream suggested as an alternate to crème fraîche is a frozen take on the French sabayon, or Italian zabaglione—not too creamy but decidedly alcoholic.
You'll need a 14-by-4-inch fluted pan or a 8-inch removable-bottom tart pan that is 1 1/2-inch deep, or an 8-inch springform cake pan.–Orlando Murrin
Raspberry-Cinnamon Streusel Tart
Quick Glance
30 M
1 H, 30 M

Serves 6 to 8
Print Recipe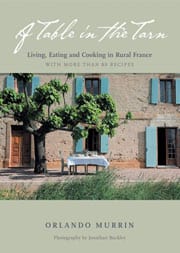 Ingredients
For the sabayon ice cream

1 cup milk

1/2 cup plus 2 tablespoons sugar

4 egg yolks

1/2 teaspoon cornstarch

1 cup heavy cream

6 tablespoons Marsala

2 tablespoons dark rum

1 teaspoon vanilla extract

For the raspberry-cinnamon streusel tart

1 1/4 cups blanched or ground almonds

10 tablespoons softened butter

3/4 cup superfine sugar (or just blitz granulated sugar in a blender until finely ground but not powdery)

1 cup plus 3 tablespoons self-raising flour

1 to 2 teaspoons cinnamon

1 large egg

1/2 pound raspberries

Confectioners' sugar

Crème fraîche or sabayon ice cream, to serve
Directions
Make the sabayon ice cream

1. Heat the milk, sugar, egg yolks and cornstarch in the microwave. Microwave at full power for 1 minute. Whisk. Repeat this twice more. Now go to 30-second increments. After two or three 30-second bursts, the surface of the custard will begin to look a bit crusted. Stop and whisk vigorously. (There is no need to check, but out of interest, if you have a thermometer, it should read between 169°F and 180°F (75°C to 82°C), which is the correct temperature for cooking custard.)

2. When the mixture has thickened, stir in the cream, Marsala, dark rum and vanilla extract. Chill to almost freezing and then churn in an ice cream maker.

Make the raspberry-cinnamon streusel tart

3. Grease the pan, paying attention to the sides and top edge if using a fluted pan as this is where it will stick. If using blanched almonds, which have a slightly better flavor and more interesting texture than commercially ground, grind very thoroughly in the processor till fine-2 to 3 minutes.

4. Now process the almonds with the butter, sugar, flour, cinnamon and egg till combined. Set half aside (if you have time, put in a bag and freeze). Spread the rest in a layer in the base of the pan, using a wet fork.

5. Cover with raspberries and then crumble or grate over the reserved mixture. It does not have to cover completely.

6. Bake the tart for 40 to 60 minutes at 350°F (175°C) [325°F (160°C) convection] oven. The top should feel firm but springy and be well browned; if it begins to scorch before you feel the tart is cooked, cover with foil after 40 minutes. Serve the tart dusted with confectioners' sugar, accompanied by crème fraîche or sabayon ice cream.
Raspberry-Cinnamon Streusel Tart Recipe © 2009 Orlando Murrin and Peter Steggall. Photo © 2009 Jonathan Buckley. All rights reserved.
If you make this recipe, snap a photo and hashtag it #LeitesCulinaria. We'd love to see your creations on Instagram, Facebook, and Twitter.