This Thai-inspired chicken coconut soup with lemongrass is creamy and comforting yet surprisingly light and healthy.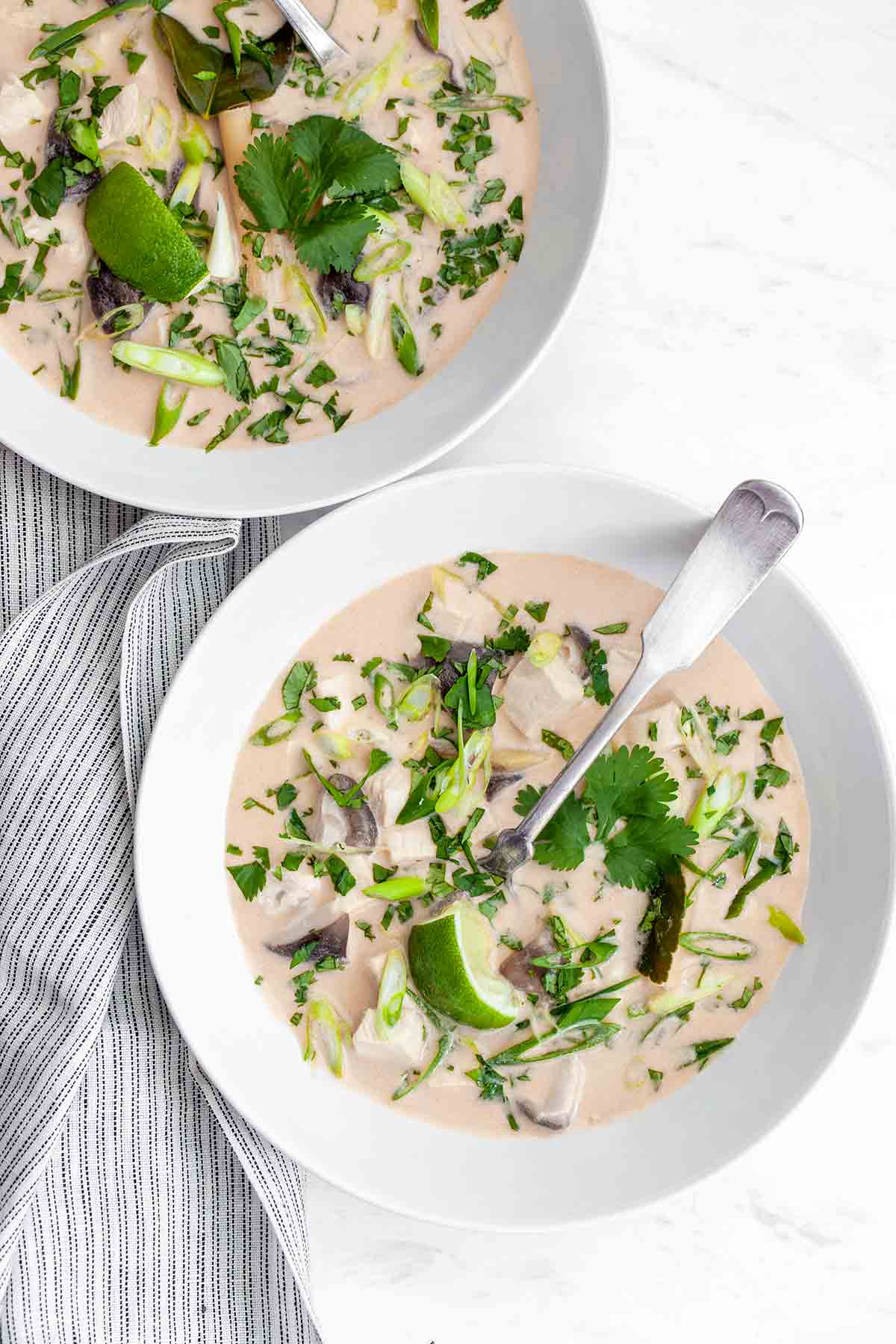 A Note On What Chicken Stock To Use For This Soup
When Jean-Georges Vongerichten wrote this Thai-minded recipe, he specified Rich Chicken Stock as an ingredient, which you'll see listed in the recipe below. It's not the type of stock that would be used in Thailand. It's simply how Jean-Georges refers to his basic chicken stock recipe that's made rich with leeks and thyme and…well, heck, we'll just give you the recipe. Stud 1 medium onion with 6 whole cloves and then toss it in a stock pot along with 3 garlic cloves, 2 pounds chicken wings, 1 carrot, 1 bay leaf, 1 celery stalk, 3 or 4 sprigs fresh thyme, 1 very well rinsed leek, and 10 cups cold water. Bring it to a boil and then immediately reduce the heat to a gentle simmer, skimming any froth or scum that appears on the surface. Cook for a total of 1 1/2 hours. Let cool slightly and then strain. Sorta surprising it isn't more Asian in nature, although as you'll taste from the resulting soup, it's quite nice, just not traditional.
Thai-Inspired Chicken Coconut Soup with Lemongrass
Quick Glance

(3)

30 M
45 M
Serves

4
Print Recipe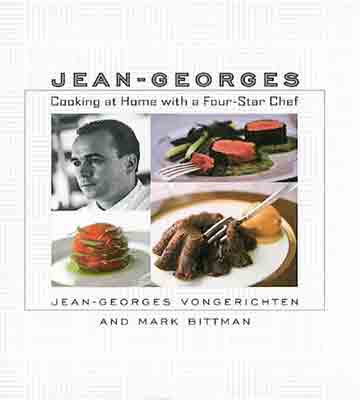 Ingredients
Directions
Trim the lemongrass of its outer sheath and its tough ends. Whack the stalk in a few places with the back of a knife to smash it and then cut it into 2 or 3 pieces.
In a large skillet or medium saucepan, combine the oil, onion, and garlic and turn the heat to medium. Cook, stirring, for 1 minute. 
Then add the lemongrass, curry paste, galangal or ginger, and lime leaves. Cook, stirring, for 3 or 4 minutes, then add the stock. Bring to a boil, then reduce the heat to medium, and cook at a moderate boil for about 15 minutes. (You can cool, cover, and refrigerate the soup base for up to 2 days.)
While the broth cooks, cut the chicken breast into 1/2- to 3/4-inch chunks. Remove the stems from the shiitakes and discard or reserve for stock. Cut the caps into quarters or eighths.
Add the coconut milk, chicken, and mushrooms to the broth. Simmer for about 5 minutes, or until the chicken is cooked through.
Remove from the heat. Stir in the lime juice and nam pla and taste and adjust the seasoning. Divide the soup among 4 bowls and garnish with the scallions and cilantro and serve. You may remove the galangal and lemongrass before serving, or leave them in; they are delicious to gnaw on at the table. Originally published September 17, 1998.
Print Recipe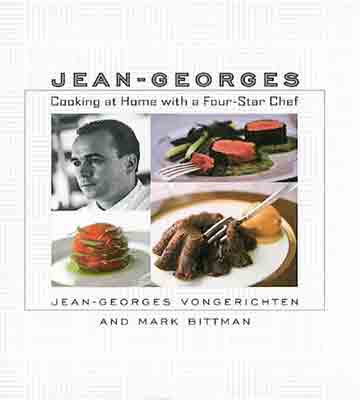 The Fatty Daddy Challenge Variation
This is David here, and I want to share with you my tweaks to this Thai chicken soup recipe in case, like me, you're looking to save calories wherever you can. I call it The Fatty Daddy Challenge version of this recipe, and in it I use non-fat chicken stock in place of the rich chicken stock and shrimp in place of chicken. You'll be coming in at just 9 Weight Watchers PointsPlus. Which is awesome in my book. (I made a few other adjustments to the recipe, which I explain in the David Says below, and I gotta say, it was phenomenal.)
David Says
I was looking for an easy-to-make recipe that would be enticing to both me and The One, low in calories for me, as well as healthful for The One (he's come down with a bad cold, and I figured the ginger and lemongrass in this recipe would be a nice antidote). But I couldn't leave well enough alone. Instead of chicken, I used 1 pound Gulf shrimp. I also substituted homemade shrimp stock for the rich chicken stock called for in the recipe. (I had a bunch of shells and shrimp heads in the freezer, so I just dumped them in a stock pot with water to cover and slowly reduced it to 4 cups. I then drained the stock through a fine sieve lined with paper towel.) I added a few squirts of Sriracha sauce for heat and served it pronto. It was mind-blowingly fantastic. So flavorful. Luckily I made a double batch, so I have more to eat tomorrow. Oh, yeah, and if there's any left, I can continue to nurse you-know-who back to health.
Recipe Testers' Reviews
This Thai coconut chicken soup is an absolutely delicious recipe that boasts intense flavor that belies the short cooking time. I found it needed a quick shake of salt to make the flavors pop, and I would recommend using salt and not more fish sauce as the soup's taste was very well balanced.
Also, my soup wasn't the prettiest color but the taste kept you from caring what it looked like!
This Thai coconut chicken soup was delightful. It packed a punch but was delicate at the same time. All of the ingredients from the mushrooms to the ginger to the lemongrass and cilantro created a flavorful broth that was light but filling.
I'd be careful with the fish sauce—I wouldn't add any more than the recipe calls for as everything has a perfect balance. This would be the best soup to make when you or a family member has a cold!
Thai-Inspired Chicken Coconut Soup with Lemongrass Recipe © 1998 Jean-Georges Vongerichten and Mark Bittman. Photo © 1998
Quentin Bacon
. All rights reserved. All materials used with permission.