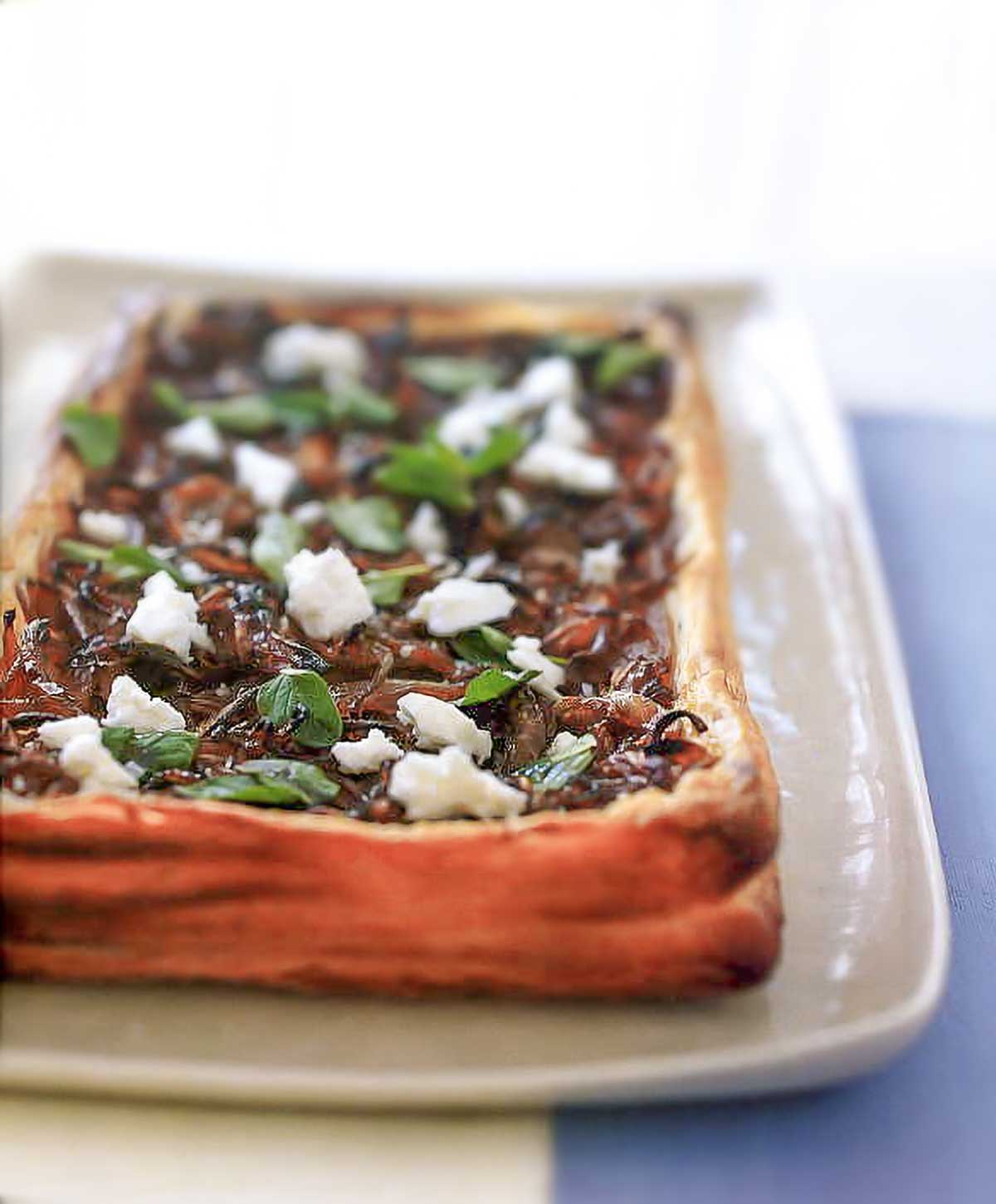 Brown or yellow onions are best for cooking this tart as they have a stronger flavor than the sweeter red or white onions, which are better in salads. I suggest putting the onions on in little dollops and gently smoothing them out because spreading it roughly, you'll push all the cheese over to one side.–Bill Granger
Onion and Feta Cheese Tart
This recipe isn't fiddly–it's simple, impressive, and delicious. The combination of caramelized onions and feta is classic, especially combined with puff pastry. It makes a perfect accompaniment to a crisp green salad.
Ingredients
2

tablespoons

olive oil

2

pounds 4 ounces

onions

,

finely sliced

1

tablespoon

soft brown sugar

2

tablespoons

balsamic vinegar

1

teaspoon

sea salt

Freshly ground black pepper

1

(13-ounce)packet

puff pastry

1/2

cup

finely grated Parmesan cheese

5 1/2

ounces

feta cheese

,

crumbled

2

tablespoons

oregano leaves
Instructions
Place the olive oil and onions in a saucepan over medium heat and cook for 20 minutes, stirring occasionally. Add the sugar, balsamic vinegar, salt, and pepper.

Cook the mixture for another 5 minutes, or until the onions are soft and caramelized. Remove from the heat and set aside to cool.

Preheat the oven to 425°F (220°C).

Roll out the pastry to an 8-x-16-inch rectangle on a lightly floured surface. Trim the edges with a sharp knife and place on a baking tray lined with parchment paper. Score a 1/4 inch border around the edge of the pastry, taking care not to cut all the way through to the bottom. Prick the pastry with a fork and sprinkle the Parmesan cheese within the scored edges.

Place the onion on top of the pastry base, again within the scored edges. Bake in the oven for 20 to 25 minutes, or until the pastry is puffed and golden brown. Remove from the oven and sprinkle with the feta cheese and oregano leaves.

Serve warm with a crispy salad.
Notes
How do I make caramelized onions without burning them?
First of all, take your time. Onions have to be cooked low and slow for at least 30 minutes to be properly caramelized. Don't be tempted to turn up the heat to get it going faster–you'll regret it. You need to

cook them for a long time so the moisture evaporates and the sugars from the onions start to caramelize, this happens slowly so just keep at it.
How to make smaller or individual tarts
This tart makes a lovely lunch but it also makes a nice appetizer. If you prefer the look of small tarts to slices of a big one, you can adjust this to make individual tarts by cutting the pastry into squares. Proceed in the same way by scoring and filling, but cut back the baking time by 10 minutes.
Do these tarts travel well?
Extremely! But if you're going to be traveling with your tart, you can wait to garnish with the cheese and oregano until serving, if you please.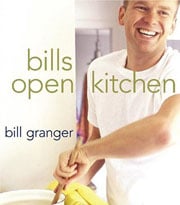 Nutrition
Serving:
1
portion
Calories:
681
kcal
Carbohydrates:
58
g
Protein:
15
g
Fat:
44
g
Saturated Fat:
14
g
Polyunsaturated Fat:
5
g
Monounsaturated Fat:
23
g
Cholesterol:
30
mg
Sodium:
1017
mg
Potassium:
354
mg
Fiber:
5
g
Sugar:
12
g
Vitamin A:
214
IU
Vitamin C:
13
mg
Calcium:
298
mg
Iron:
3
mg
Nutrition information is automatically calculated, so should only be used as an approximation.
Recipe © 2005 Bill Granger. Photo © 2005 Petrina Tinslay. All rights reserved.
---
Recipe Testers' Reviews
I love savory tarts, and this recipe confirms why. Puff pastry, crisp and light, topped with caramelized onions and cheese is simply a match made in heaven. To save time, I used my food processor to slice the onions thinly and 20 minutes later, with the help of a little olive oil and a giant cast iron skillet, they were caramelized perfectly. The balsamic and brown sugar take them over the top.
Working with puff pastry feels like I'm cheating. It takes minutes to roll it out and you score it and poke it with a fork, and you have a canvas for your onions and cheese. This is super simple and so delicious. You can also sub in goat cheese for the feta. You'll be glad you did.
I served this with a salad using Leite's creamy shallot vinaigrette. I used feta on one half, goat cheese on the other. Hands down, goat cheese wins!
Absolutely a winning tart! And it's OK if you want to call this lovely pizza-adjacent gem a pissaladière or a super easy version of flammkuchen or just a brilliant idea from Bill Granger. I'm perfectly happy to use a package of DuFour puff pastry which actually unfolds nearly exactly the size you need (it is a 14 oz package, so with rolling to flatten it, you can have a slightly more generous tart and I divided mine in two as I did not have quite enough feta for the full recipe). I made one 9×9 inch tart with the caramelized onions and feta, and a second one with spiced chorizo and cheese with zucchini version and baked them side by side.
This is perfect picnic fare or impromptu entertaining. I defrosted the puff pastry in the refrigerator in the afternoon, no more ahead planning was needed. To cook the onions, using half the recipe in a wide sauté pan (9.5 inch) over medium heat was perfect—I did adjust the temp once or twice, so as to not scorch, and in a pinch, you can mist the pan which also helps pick up the fond. The onions were colouring nicely by the time I added the sugar, balsamic, salt, and pepper. You do NOT want to wander away tho, as at a medium heat this is a bit more aggressive than I usually might caramelize onions, and you want to stir often.
While the onions are cooling (remove them to a pie plate to help that along), the oven has plenty of time to come to temp and you can prep the cheese and oregano and only at the last moment with everything else in place, bring the puff pastry out to work with. A generous dusting of flour on a sheet of parchment helps, and I unfolded and divided both the pieces and having also lightly dusted the rolling pin and top, could invert them and it released neatly onto two quarter sheet pans.
I appreciated the chance to use a rather abundant and enthusiastic home patch of oregano, and the fresh oregano really works with this combination. 25 minutes gave me puffy edges, nice browning, and the bottom of the puff pastry had enough firmness to pick up by hand. Since this was enough to serve 4-6, it also was enough for leftovers for breakfast/lunch the next day (move over pizza-for-brekkie, there's a new bite in town).
Tricks I learned? The Parmesan base (used a fine grating, so it was a nice fluffy and fine layer) prevents the onion layer from making the bottom soggy in any way, even for the leftover portions. I borrowed that trick for the second one and used grated queso first before adding the meat and zucchini.
I love, love, LOVE recipes that only call for things I have on hand, so a surplus of red onions, a package of pastry in the freezer, all the right cheeses in the fridge, and herbs in the garden meant no one hit the grocery store today. This is rich, but there won't be any leftovers. I found it difficult not to add a package of pancetta cubes to the top of this before baking because I was worried the onions would be too sweet, but I shouldn't have; the salty parmesan and feta balance out even the unrecommended (by the author) red onions, the sugar, and the heavy aged balsamic. In fact, I felt that it could have been a touch sweeter, which is pretty unusual for me.
I encourage the reader to leave enough time in the assembly to allow the onion mixture to cool. It says that in the recipe, right there in step 2, but maybe that line deserves its own number so I see it the next time. Being made to evenly scatter hot wet sticky onions with my hands was punishment for not reading the recipe through properly the first time.