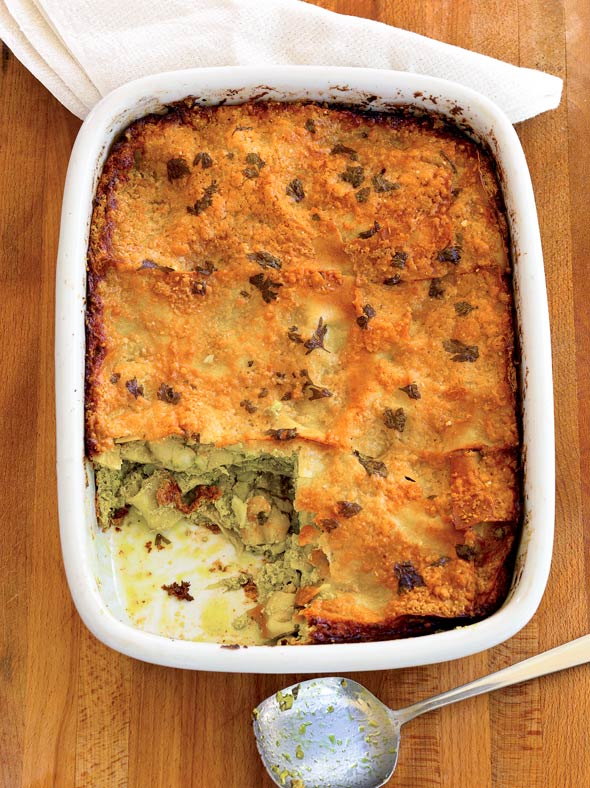 In this summer seafood lasagna recipe, the pesto plays an important role. It's best if you make your own homemade pesto. However, good, chilled store-bought pesto—the kind sold in plastic containers in the refrigerated section of the market—can be doctored with the addition of a little freshly grated Parmigiano- Reggiano, a clove of freshly pressed garlic, and a little extra pepper.–Jennifer Oz LeRoy and Kay LeRoy
LC Make-Ahead Note
You can easily make the individual components of this recipe ahead of time—heck, you can assemble the entire lasagna ahead of time—and toss them in the fridge until the day you're serving it. All you gotta do before dinner is slide the seafood lasagna in the oven. It's really as easy as that.
Summer Seafood and Pesto Lasagna
Quick Glance
40 M
1 H, 25 M

Serves 8 to 10
Ingredients
Email Grocery List
For the ricotta mixture

One 15-ounce container whole-milk ricotta cheese

2 large egg yolks

1/4 cup grated Parmigiano-Reggiano or Grana Padano

1/2 cup grated whole-milk, low-moisture mozzarella

1 large shallot, finely chopped

2 tablespoons finely chopped flat-leaf parsley

2 tablespoons finely chopped basil leaves

1/2 teaspoon salt

1/2 teaspoon freshly ground black pepper

For the basil pesto

2 ounces (2 1/2 cups, loosely packed) basil leaves

5 garlic cloves, coarsely chopped

2 tablespoons pine nuts, toasted (see Note below)

Salt

3/4 cup extra-virgin olive oil

2 tablespoons grated Parmigiano-Reggiano, or other grana padana cheese
For the seafood lasagna

2 medium zucchini, coarsely grated

1 tablespoon extra-virgin olive oil

2 1/2 cups ricotta mixture

3/4 cup homemade pesto or best-quality store-bought pesto

Kosher salt

1 pound dried lasagna noodles, preferably imported

2 tablespoons (1 ounce) butter, plus additional, softened, for the pan

3/4 pound cooked sole or other cooked white fish, flaked into large chunks

3/4 pound small cooked shrimp

1/2 cup grated Parmigiano-Reggiano, or other grana padana cheese

2 tablespoons finely chopped flat-leaf parsley
Directions
Make the ricotta mixture

1. Combine all the ingredients in a large bowl and mix well until completely incorporated. (You can cover and refrigerate the ricotta mixture for up to 1 day.)

Make the basil pesto

2. In a bowl, combine the ice and water and place it near the stove. In a small saucepan of lightly salted boiling water, blanch the basil leaves for 10 seconds. Using a slotted spoon, transfer the basil to the ice bath for 1 minute, then lift out the basil and squeeze the leaves dry with your hands, getting rid of as much excess moisture as possible.

3. In a mini-prep or standard food processor, combine the basil, garlic, pine nuts, 1/8 teaspoon salt, and the olive oil and process for about 30 seconds. Add the Parmigiano and blend for 5 seconds more. Taste for seasoning.

Assemble the seafood lasagna

4. Bring a very large pot of water to a boil for the lasagna noodles.

5. Place a large nonstick skillet over medium heat and add the oil. Add the grated zucchini and saute for about 3 minutes, until softened but still bright green. Remove from the heat and transfer to a large bowl so the zucchini stops cooking and retains its color.

6. Add the ricotta mixture and the pesto to the zucchini and gently fold together until evenly blended.

7. Add 2 tablespoons kosher salt to the boiling water and add the lasagna noodles. Cook according to package directions and drain carefully, placing the noodles on a clean kitchen towel.

8. Preheat the oven to 350°F (175°C).

9. Use the softened butter to butter a 9-by-13-inch baking dish (or similar-size earthenware, ceramic, or glass baking dish). Spread a little ricotta-pesto mixture in the baking dish, then top with a layer of lasagna noodles. Make about 1/2 inch layer of ricotta-pesto on top, then cover with all the cooked fish and shrimp, spreading them evenly.

10. Make another layer of lasagna noodles and keep layering until you've used all the noodles and ricotta-pesto, spreading only about 1/2 inch ricotta-pesto mixture on each noodle layer. Make a last layer of noodles and top with the Parmigiano and parsley.

11. Dot the top with the 2 tablespoons butter, cover tightly with aluminum foil, and bake for 20 minutes. Remove the foil and continue baking for about 10 minutes more, until the sauce is bubbling and the top of the lasagna is brown. Let stand for 15 minutes before slicing and serving.
HOW TO TOAST PINE NUTS
To toast pine nuts, place them in a small dry skillet over medium heat. Shake the pan occasionally for 2 to 3 minutes. As soon as the nuts begin to brown, give them a few more shakes and remove from the heat. Be careful—they can burn in an instant! Immediately transfer the pine nuts to a plate to cool.
Recipe Testers Reviews
When a change from the norm is in order, try this seafood and pesto lasagna in place of traditional meat-based lasagna—it's the perfect late-summer entree for when you're craving something hearty. This recipe creatively unites some of summer's offerings—basil and zucchini—and transforms an otherwise standard ricotta filling into a smash hit. The flavors from the basil pesto mingle brilliantly with the zucchini, fresh fish, and various cheeses. I absolutely loved it, and I think you will, too. Make the pesto and ricotta filling a day ahead of time, and remember to drain any excess liquid from the cooked zucchini, or the filling will be too wet. Once the individual components are made, the lasagna can be assembled and finished rather easily.
Summer Seafood and Pesto Lasagna Recipe © 2009 Jennifer Oz LeRoy and Kay LeRoy. Photo © 2009 Ben Fink. All rights reserved. All materials used with permission.
If you make this recipe, snap a photo and hashtag it #LeitesCulinaria. We'd love to see your creations on Instagram, Facebook, and Twitter.