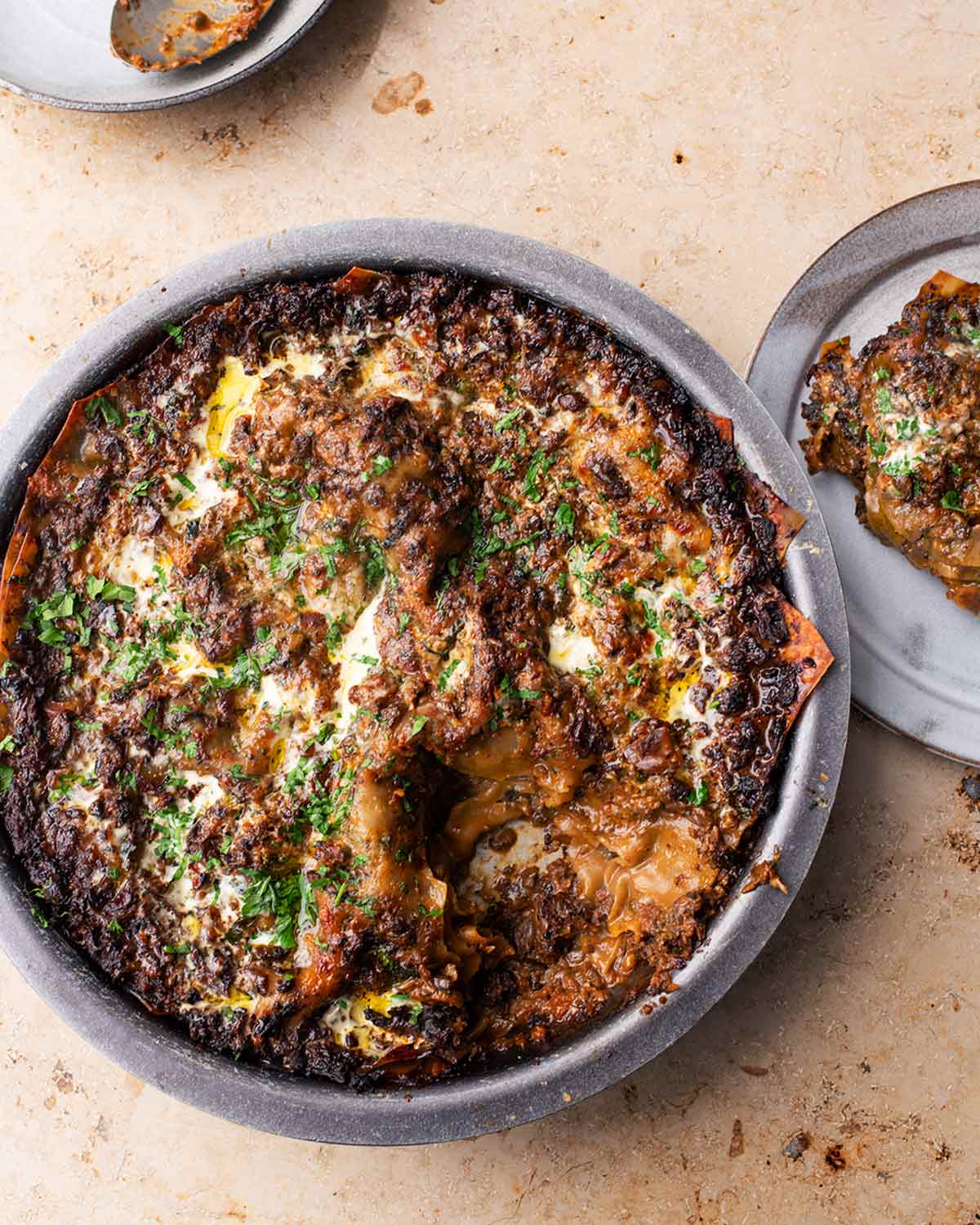 Well, Ottolenghi does it again. (If you don't know who Ottolenghi is, you need to learn more about him and his recipes. And yes, he has a first name, although we like to refer to him in one-name fashion. Just like Prince. Madonna. Questlove. Liberace.) Here's yet another inspired melding of ingredients and techniques, from him and his co-creator Ixta Belfrage, that upends our notion of what any recipe should be and transmutes it into what it could be.–Renee Schettler Rossi
Spicy Mushroom Lasagna
This spicy mushroom lasagna combines layers of mushrooms, creamy sauce, and tender pasta in spectacular fashion.
Ingredients
For the fresh mushrooms
1

pound 10 ounces

cremini or baby bella mushrooms

,

halved

1

pound 2 ounces

oyster mushrooms or other wild mushrooms

3

tablespoons

olive oil

1

teaspoon

table salt
For the filling
1

(6 oz)

onion

,

peeled and quartered

5

garlic cloves

,

peeled and roughly chopped

1

(3 1/4 ounce)

carrot

,

peeled and quartered

6

tablespoons

olive oil

2 to 3

medium (7 ounces)

plum tomatoes

,

quartered

1/3

cup

store-bought or homemade tomato paste

1 1/2

teaspoons

table salt

1 3/4

teaspoons

freshly ground black pepper

,

plus more as desired

3 1/3

cups

water

9

tablespoons

heavy cream (just a touch more than 1/2 cup)

2 1/4

ounces (2/3 cup)

pecorino

,

finely grated

2 1/2

ounces (2/3 cup)

Parmesan

,

finely grated

1/4

cup

fresh basil leaves

,

finely chopped

1/2

cup

parsley leaves

,

finely chopped, plus 1 teaspoon

9 to 12

ounces

oven-ready dried lasagna sheets (about 14 sheets)
Instructions
Roast the fresh mushrooms
Preheat the oven to 450°F (220°C). Line a large rimmed baking sheet with parchment paper.

In a food processor, working in 3 or 4 batches, add the button mushrooms and oyster mushrooms and pulse each batch until finely chopped (or finely chop everything by hand).

In a large bowl, toss the chopped mushrooms with the oil and salt. Spread out on the prepared baking sheet.

Roast near the top of the oven, stirring 3 or so times throughout, until the mushrooms are golden brown and have reduced in volume significantly, 30 to 45 minutes. Let cool.

Decrease the oven temperature to 425°F (200°C).
Rehydrate the dried mushrooms
Meanwhile, in a large bowl, combine all the dried mushrooms, the chiles, and hot stock, and let soak for 30 minutes. Strain the liquid into another bowl, squeezing as much liquid from the mushrooms as possible to get just under 1 1/2 cups—if you have any less, top up with water.

Very roughly chop the rehydrated mushrooms (you want some chunks) and finely chop the chile peppers. Set the stock and mushrooms aside separately.
Make the filling
In the food processor, combine the onion, garlic, and carrot, and pulse until finely chopped or finely chop everything by hand.

In a large sauté pan or pot over medium-high heat, warm 4 tablespoons oil. Once hot, add the onion mixture and cook, stirring occasionally, until softened and golden, about 8 minutes.

In the food processor, pulse the tomatoes until finely chopped or finely chop by hand and then add them to the pan along with the tomato paste, salt, and pepper. Cook, stirring occasionally, for 7 minutes.

Add the rehydrated mushrooms and chiles and the roasted mushrooms and cook for 9 minutes, stirring only once during the cooking. Resist the urge to stir more frequently; you want the mushrooms to be slightly crisp and browned on the bottom.

Stir in the water and reserved stock and bring to a simmer. Reduce the heat to medium and cook, stirring occasionally, until you get the consistency of a ragù, about 25 minutes.

Stir in 7 tablespoons of the cream and simmer for 2 minutes more, then remove from the heat.

In a small bowl, combine both cheeses, the basil, and 1/2 cup parsley.

Spread 1/5 of the sauce in the bottom of a round 12-inch (30cm) baking dish or a 9-by-13-inch (23-by-33-cm) rectangular dish, then top with 1/5 of the cheese mixture, followed by a layer of lasagna sheets, broken to fit where necessary. Repeat these layers 3 more times in that order. Finish with a final layer of sauce and cheese; that's 5 layers of sauce, 5 layers of cheese, and 4 layers of pasta.

Drizzle with 1 tablespoon cream and 1 tablespoon olive oil, then cover with aluminum foil and bake for 15 minutes. Remove the foil, increase the temperature to 450°F (220°C), and bake for 12 minutes more, rotating the dish halfway through.

Turn the oven to the broil setting and broil until the edges are brown and crisp, about 2 minutes.

Set aside to cool for 5 minutes or so, then drizzle with the remaining 1 tablespoon cream and 1 tablespoon oil. Sprinkle with the 1 teaspoon parsley and finish with a good grind of pepper. Serve immediately.
Nutrition
Serving:
1
portion
Calories:
657
kcal
Carbohydrates:
68
g
Protein:
23
g
Fat:
37
g
Saturated Fat:
12
g
Polyunsaturated Fat:
3
g
Monounsaturated Fat:
20
g
Cholesterol:
69
mg
Sodium:
1790
mg
Potassium:
1704
mg
Fiber:
9
g
Sugar:
11
g
Vitamin A:
4761
IU
Vitamin C:
41
mg
Calcium:
337
mg
Iron:
3
mg
Nutrition information is automatically calculated, so should only be used as an approximation.
Recipe © 2020 Yotam Ottolenghi | Ixta Belfrage. Photo © 2020 Jonathan Lovekin. All rights reserved.
---
Recipe Testers' Reviews
If you love mushrooms, make this recipe. This is not a vegetarian recipe meant to make mushrooms masquerade as meat. It's also not the heavy cheesy pasta dish that frequently comes to mind when you think about lasagna. And it's not something you casually toss together on a weeknight. That said, it is spectacular.
It requires a bit of time and effort, but it's not difficult. And the result is well worth the effort.
The mushrooms are the star here, and the layers of flavor and umami build on each other with each bite. Their flavor truly shines, so choose mushrooms that you like for making this. I used a combination of cremini, white button, and king oyster mushrooms as the fresh mushroom component and a combination of porcini and chanterelles for the dried. My chile peppers were Kashmiri and I seeded them, as previous experience has shown me they are quite hot. The result was a pleasantly spicy dish.
I made this for my anniversary dinner and about halfway through preparing it, I thought, "Maybe I should have gone with something tried and true…what if this doesn't come out?" But by then the house was already filling up with wonderful aromas of roasting mushrooms and sautéing onions and garlic and I figured it had to be good. My fears were misplaced because this dish was simply the bomb. Rich and earthy, spicy and savory. Just luscious. The umami factor here was really off the charts. To me it was one of those rare recipes in which all the ingredients sound good by themselves and smell wonderful when cooking, but when brought together, the finished product is head and shoulders above the individual parts. I often look to be wowed by a recipe…this one did it.
Now, it did take a long time. Start to finish, it clocked in for me at 2 hours, 45 minutes. I'm not the quickest in the kitchen, but still. The recipe itself was not complicated—every step was straightforward. It just took time to put together, build the flavors, etc. I mean, cleaning 42 mushrooms! (I read Pierre Franey say you should never wash mushrooms because you'll wash off their earthiness and from then on, I have only brushed them.)