This ultimate chocolate mousse cake may be my favorite dessert. It keeps so well you can freeze it for up to a month, then when someone drops by, you can instantly pull it out of the freezer and offer a slice. Also, it's so easy to make but looks difficult and "restauranty." It's wonderful with softly whipped cream, but you can doll it up with a drizzle of chocolate syrup or a spoonful of cherry, blackberry, strawberry, or raspberry sauce. It can be refrigerated rather than frozen, but it's more difficult to slice and doesn't last as long.–Lori Longbotham
WHAT IS A CHOCOLATE MARQUISE?
What, you may ask, is a chocolate marquise? It's a dessert worthy of royalty, one that defies precise description yet holds a distinct air of aristocracy. It combines the richness of ganache with the velvety smoothness of mousse and, as if that wasn't enough decadence, it adds the melty coldness of ice cream. After all those sensuous adjectives, it may be worth noting that the oldest written mention of biting into a chocolate bar was found in a letter written by the Marquis de Sade. Yes, that Marquis de Sade. Coincidence? Hmm…probably.
Raw Egg Caution
As with any recipe that uses raw eggs, it should be avoided by the very young, pregnant women, the elderly, the ill, and those with immune-system disorders. Here's more useful egg information.
Ultimate Chocolate Marquise
This ultimate chocolate marquise may be my favorite dessert. It keeps so well you can freeze it for up to a month, then when someone drops by, you can instantly pull it out of the freezer and offer a slice. Also, it's so easy to make but looks difficult and "restauranty."
Ingredients
1

pound (16 ounces)

bittersweet or semisweet chocolate

,

chopped

2

sticks (8 ounces)

unsalted butter

,

at room temperature, plus more for the pan

1/4

cup

granulated sugar

1

tablespoon

Cognac or other brandy or liqueur

,

(optional)

6

large

eggs

,

separated

2

large

egg yolks

Pinch

salt
Instructions
Butter an 8-by-4-inch loaf pan and line it with 2 sheets plastic wrap, one going the long way and one going the short way, leaving an overhang of several inches on all sides.

Melt the chocolate and butter in a large heatproof bowl set over a saucepan containing about 1 1/2 inches nearly simmering water, whisking until smooth. Whisk in the sugar and Cognac, if using, until well blended.

Remove the bowl from the heat and, using an electric mixer on low speed, add the egg yolks, 1 at a time, beating well after each addition and occasionally scraping down the sides of the bowl.

Beat the egg whites and salt with clean beaters on medium-high speed in a large deep bowl just until the whites form stiff peaks when the beaters are lifted. With a whisk or a rubber spatula, fold 1/3 of the egg whites into the chocolate mixture. Gently fold in the remaining egg whites in 2 batches, mixing just until well blended.

Pour the mixture into the prepared pan, using a rubber spatula to smoosh it into the corners and smooth the top. Cover with the overhanging plastic wrap and then wrap the entire pan tightly with aluminum foil. Freeze for at least 6 hours.

To serve, unwrap the pan, fold back the plastic wrap, and run a table knife around the edges of the pan to loosen the chocolate mousse cake. Place a serving platter over the pan, invert the pan onto it, and tug on the edges of the plastic wrap to release the cake from the pan.

Remove the plastic wrap and smooth the edges of the chocolate mousse cake with a small, warm metal spatula if necessary. Cut into 1/2-inch-thick slices with a sharp knife dipped in very warm water and wiped dry between each slice, and place on chilled dessert plates. (You can tightly rewrap and freeze any leftover cake.)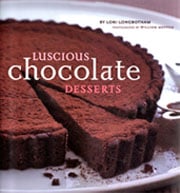 Nutrition
Serving:
1
serving
Calories:
349
kcal
Carbohydrates:
26
g
Protein:
8
g
Fat:
23
g
Saturated Fat:
12
g
Polyunsaturated Fat:
1
g
Monounsaturated Fat:
7
g
Trans Fat:
1
g
Cholesterol:
150
mg
Sodium:
57
mg
Potassium:
370
mg
Fiber:
5
g
Sugar:
16
g
Vitamin A:
234
IU
Calcium:
54
mg
Iron:
6
mg
Nutrition information is automatically calculated, so should only be used as an approximation.
Recipe © 2004 Lori Longbotham. Photo © 2004 William Meppem. All rights reserved.
---
Recipe Testers' Reviews
I used this recipe in a couple different ways. For both ways, I followed the recipe to a T, apart from switching the cognac for the same amount peppermint flavoring. Half the batch I went to place in a pan and freeze as per the recipe—what a delicacy it was to eat it last night as a midnight snack. Creamy, rich, met-in-your-mouth joy! I must say, I loved the peppermint as it gave the chocolate mousse cake a nice, refreshing taste, almost like a Thin Mint.
Now for the other half, I actually used it as a "frosting" for a birthday cake my husband asked me to create: Milano mint cookie cake. For the cake I used the LC basic white cake as a bottom layer, then covered it with LC's ultimate chocolate marquise, then a layer of the actual cookies, another layer of the ultimate chocolate marquise, then a layer of the basic white cake, all covered with ultimate chocolate marquise. I decorated it with a few cookies and mint leaves.
This recipe is absolutely lovely, is definitely restaurant quality, and is one of those things that will lead people to say "you made this?" It's also deceptively easy. As noted in the header, the eggs are not cooked, so if you're serving the very young or old, or someone with a compromised immune system, you may wish to look for a different recipe. When I make a recipe with any type of raw eggs I, first, buy the best eggs I can find, then right before using them I wash the shells.
I followed the recipe exactly, whisking the butter/chocolate mixture constantly and continuing to whisk until the sugar was completely dissolved, & using Chambord rather than cognac–it's what I had on hand. If the whites are beaten JUST to the stiff stage or slightly less, it's easy to incorporate them into the chocolate mixture. Any more and you risk deflating them and there goes the wonderful texture. The instructions to prep the pan were spot on, no difficulty whatsoever removing. I also made a raspberry coulis to serve with the chocolate marquise, it was an exercise in lily gilding. I know the recipe says you can freeze it for a month, but trust me there won't be any left once you taste it.
This chocolate marquise is intensely rich and chocolatey, even a few bites makes for a satisfying treat. A slice served with some fruit on top, and some whipped cream or ice cream, would be a decadent dessert. I'm glad it keeps easily in the freezer for a long time, as I think I'll just be slicing off pieces to snack when I have a craving for something sweet and chocolatey.
I didn't have liqueur so I left it out, but I imagine there are almost endless ways to customize–if there's a flavor you like with chocolate, use some of that in place of the liqueur. I'd try some peppermint extract, some espresso powder, or a bit of orange zest.
One tip, If you have superfine sugar I suggest using that (you can also run regular granulated sugar through a food processor for a few seconds), and be sure that the sugar incorporates completely into the chocolate and butter so your cake doesn't have pockets of sugar granules.