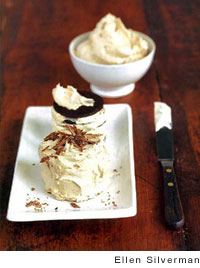 We have many fond memories of our old-fashioned icebox cakes covered with whipped cream. The original recipe has appeared for years on the package of Nabisco Famous Chocolate Wafers. Our new, improved version uses coffee whipped cream, and these individual cakes produce big smiles every time we serve them.–Bob and Melinda Blanchard
Note
Because the refrigerator can cause the whipped cream to dry out a bit, loosely wrap the cakes in plastic wrap to keep them moist and fresh.
Chocolate Icebox Cakes with Coffee Cream Recipe
Quick Glance
20 M
4 H, 20 M

Serves 4
Ingredients
1 1/4

cups

heavy cream

3

tablespoons

sugar

1

teaspoon

pure vanilla extract

2

teaspoons

instant espresso powder

24

Nabisco Famous Chocolate Wafers

1

ounce

semisweet chocolate

, for garnish
Directions
1. Using an electric mixer, beat the cream, sugar, vanilla, and coffee together until the cream holds its shape. (You can test this by lifting the beaters. If the cream doesn't fall off, it's the right consistency.)

2. Spread about 1 tablespoon of the cream onto each wafer. Stack 6 wafers together for each serving, alternating the wafers with the cream and pressing slightly so they hold together.

3. Spread the remaining cream over the outside of the stacks to cover the wafers completely.

4. Chill for 4 to 6 hours. Grate a sprinkling of chocolate over the cakes and serve.
Hungry for more?
Chow down on these:
Chocolate Icebox Cakes with Coffee Cream Recipe © 2005 Bob and Melinda Blanchard. Photo © 2005 Ellen Silverman. All rights reserved.
Hey, there. Just a reminder that all our content is copyright protected. Like a photo? Please don't use it without our written permission. Like a recipe? Kindly contact the publisher listed above for permission before you post it (that's what we did) and rewrite it in your own words. That's the law, kids. And don't forget to link back to this page, where you found it. Thanks!