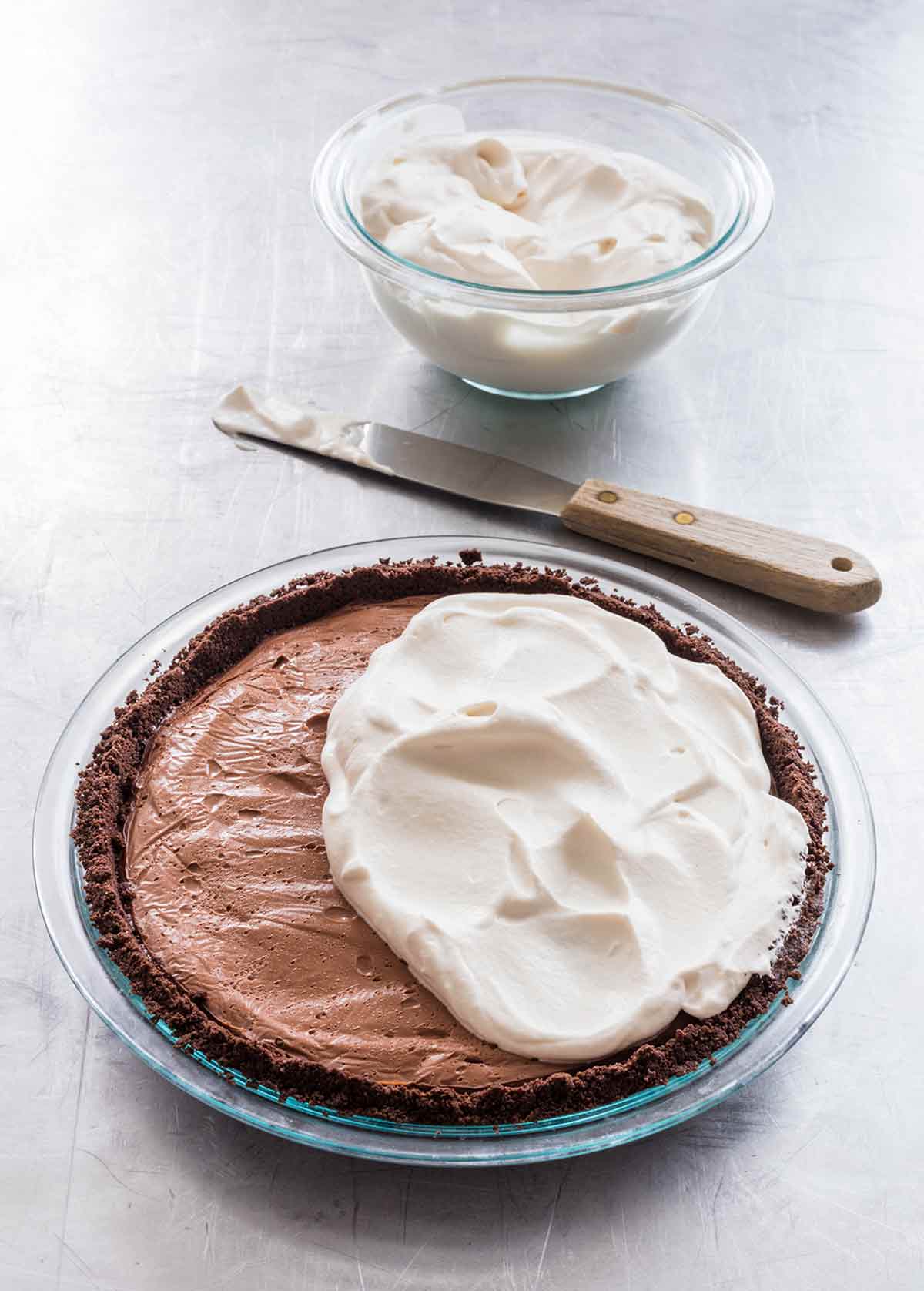 Dark chocolate cream pie. It's an adult riff on the classic chocolate cream pie of our childhoods.
It still boasts a silken filling but with a more intense and complex chocolate presence. It still contains a buttery crumb crust although in place of the cloyingly sweet Oreo crust there's one made from crumbled chocolate graham crackers. And it still contains an intensely chocolate presence, although in place of milk chocolate or semisweet chocolate there's bittersweet and unsweetened chocolate for particularly grown-up goodness.

If creamy custard pies are your favorite, be sure to try out this maple cream pie and this coconut cream pie.–David Leite
Dark Chocolate Cream Pie FAQs
What kind of chocolate should I use in a dark chocolate pie?
This simple chocolate pie recipe was brought to us by the knowledgeable folks at America's Test Kitchen. And we're not going to doubt their commitment to good food. They were kind enough to divulge their favorite chocolate to use in this particular recipe. Because dark chocolate is the star of the show here, you're going to want to take their recommendations seriously, folks.

The best bittersweet chocolate, they say, is Ghirardelli 60% Cacao Bittersweet Chocolate Premium Baking Bar. Be aware that if you use a different brand, it may contain different amounts of sugar and then affect the overall taste of this gorgeous pie. Their preferred brand of unsweetened chocolate is Hershey's Unsweetened Baking Bar.
Can I use a pre-made pie crust instead of graham crackers?
Absolutely. Use what you love, or what's on hand. A store-bought and pre-baked traditional pie crust would be just as delicious as a graham cracker crust, or you could opt for the chocolate cookie crust as shown in the photo. If you're in a pinch or just don't want to bother with making your own crumb crust, the storebought varieties of those will be just fine as well.
Dark Chocolate Cream Pie
This dark chocolate cream pie is made with bittersweet and unsweetened chocolate. Think of it as a grown-up riff on classic chocolate cream pie.
Ingredients
For the graham cracker crust
9

whole

graham crackers, preferably chocolate

,

broken into 1-inch (2.5 cm) pieces

5

tablespoons (2 1/2 oz)

unsalted butter, cut into 5 pieces and softened
For the dark chocolate cream pie filling
6

large

egg yolks

2

tablespoons

granulated sugar or 3 tablespoons (37 grams) coconut sugar

2

tablespoons

cornstarch

2 1/2

cups

half-and-half

1/4

teaspoon

salt

6

tablespoons (3 oz)

unsalted butter, cut into 1/2-inch (12 mm) pieces and chilled

6

ounces

bittersweet chocolate (preferably 60%), chopped fine, plus more for garnish if desired

1

ounce

unsweetened chocolate, chopped fine

1

teaspoon

vanilla extract
For the whipped cream topping
1

tablespoon

coconut sugar or granulated sugar

1 1/2

cups

heavy cream

Pinch salt

1

tsp

vanilla extract
Instructions
Make the graham cracker crust
Adjust the oven rack to middle position and heat oven to 325°F (163°C).

Process the graham crackers in a food processor to fine, even crumbs, 30 to 60 seconds. Scatter butter over top and pulse until the mixture resembles coarse sand, 15 to 20 pulses.

Sprinkle the mixture into a 9-inch (23 cm) pie plate. Using the bottom of a measuring cup, press the crumbs firmly into an even layer on the bottom and sides of a pie plate. Bake until the crust is fragrant and set, 15 to 20 minutes, rotating the pie plate once halfway through baking. Let the crust cool to room temperature, which should take about 30 minutes.
Make the dark chocolate cream pie filling
Whisk the egg yolks, sugar, and cornstarch in a medium bowl until well combined. Bring the half-and-half and salt to a gentle simmer in a medium saucepan over medium heat. Slowly whisk the warm 1/2 cup half-and-half mixture into the yolk mixture to temper it (this simply means you're gradually adding the warm liquid to the eggs rather than dumping it in all at once, which ensures the eggs don't curdle from the heat), and then slowly whisk the tempered yolk mixture into half-and-half mixture remaining in the pan. Return the pot to medium heat and cook, whisking constantly, until the mixture is thick and glossy, 2 to 3 minutes. Remove from the heat.

Whisk in the chilled butter, several pieces at a time, until completely incorporated. Then whisk in the bittersweet chocolate, unsweetened chocolate, and vanilla and keep whisking until the chocolate is melted, making sure to scrape the bottom and corners of the pan with a rubber spatula.

Strain the pudding through a fine-mesh strainer into cooled pie crust. Place a sheet of plastic wrap directly on the surface of the pudding and refrigerate until firm, about 2 hours.
Make the whipped topping
If using coconut sugar, grind it in a spice grinder until fine and powdery, about 1 minute. If using granulated sugar, do not grind it. Using a stand mixer fitted with a whisk attachment, whip cream, sugar, vanilla, and salt on medium-low speed until foamy, about 1 minute. Increase the speed to high and whip until soft peaks form, 1 to 3 minutes.
Assemble the pie
Spread whipped cream over the pie. If desired, sprinkle with some bittersweet chocolate shavings made by pulling a vegetable peeler along a bar of chocolate you've stashed in the fridge. Slice and serve.
Nutrition
Serving:
1
slice
Calories:
673
kcal
Carbohydrates:
36
g
Protein:
8
g
Fat:
57
g
Saturated Fat:
33
g
Trans Fat:
1
g
Cholesterol:
272
mg
Sodium:
236
mg
Potassium:
329
mg
Fiber:
3
g
Sugar:
16
g
Vitamin A:
1626
IU
Vitamin C:
1
mg
Calcium:
159
mg
Iron:
3
mg
Nutrition information is automatically calculated, so should only be used as an approximation.
Recipe © 2016 America's Test Kitchen. Photo © 2016 America's Test Kitchen. All rights reserved.
---
Recipe Testers' Reviews
Just like the Olympics, Leite's Culinaria produces nothing but gold! I'm always skeptical of recipes that are not similar to anything I've ever done before, and this dark chocolate cream pie was the same story. From the beginning, this recipe shattered all my expectations.
The crust came together quicker than I expected and must be the easiest crust I've ever made. When I started on the filling, for some reason I thought it would be more complicated than I made it out to be. Don't walk away from the stove or stop stirring the egg and milk mixture once it's on the heat, because it comes together quite quickly.
The finished dark chocolate pie tastes like a paradox—sumptuous and light. Although my crust crumbled when cut, it doesn't take away from the taste one bit. This was easily one of the most delicious recipes I've made all year, and I can't wait to make it again for either a holiday or office event. I used Ghirardelli bittersweet chocolate and Dagoba unsweetened chocolate (100% cacao).
This chocolate cream pie is a lovely, decadent dessert. It has a rich chocolate flavor, is deliciously silky, and not overly sweet. I usually top cream pies with meringue, but the whipped cream topping is perfect here. I did whip it to stiffer peaks so that it was a little more "stable" for serving.
I used honey graham crackers for the crust because that's what I had on hand. The crust held together nicely and easily came out of the pan.
This would make a lovely dessert for guests. You do have to allow time for cooling, but the hands-on time is fairly minimal. The return for the time and effort is outstanding.
This dark chocolate cream pie recipe delivers everything that's promised in the description. It's a perfect, highly satisfying dessert for those who want or need to reduce their sugar intake.
The richness of the chocolate, the creaminess of the pudding, and the use of chocolate graham crackers all serve to bring a level of decadence to the pie without the extra calories and carbs from sugar. The crust holds together perfectly when served. To make it even more visually appealing, a tablespoon or two of chocolate graham cracker crumbs or chocolate shavings sprinkled on the whipped cream topping will do the job.