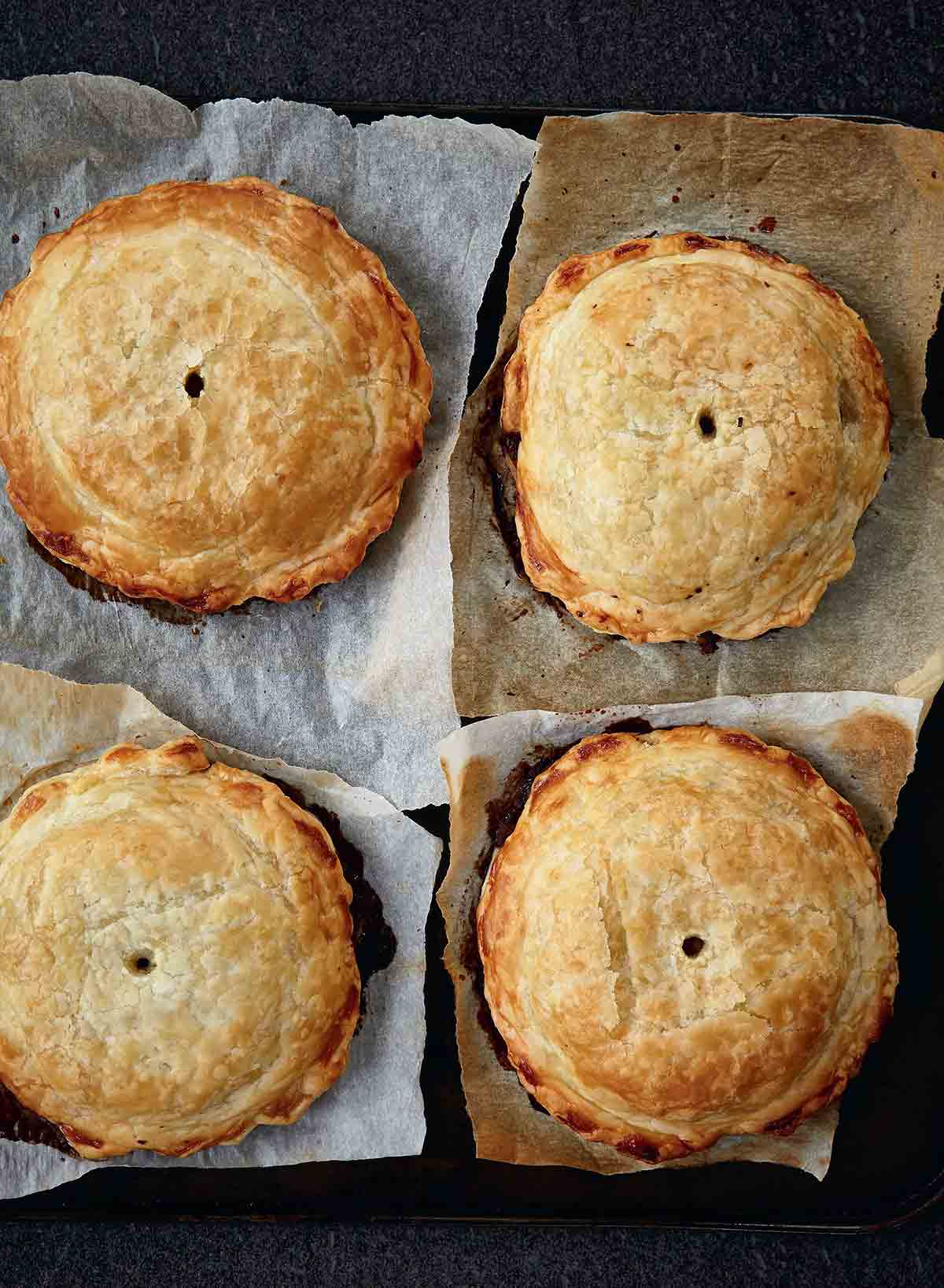 This is up there with my favorite recipes. It's always such a hit with anyone we make it for. Filling and hearty, it's almost meaty, thanks to the lovely mixture of mushrooms, which give it such great texture. It's perfect for a dinner party, Thanksgiving, Christmas, or any time you fancy something roasted. I serve these with lots of roast veggies and our horseradish sauce, which is smooth and has a nice bite. This dish can be a little fiery, especially if you up the horseradish.–Ella Woodward
Mushroom Wellingtons with Spinach
This mushroom wellington with spinach is essentially a meaty portobello mushroom and spinach-walnut filling in flaky puff pastry. A spectacular vegan and vegetarian option, whether for Thanksgiving or any time of year. And you can easily assemble it ahead of time and bake it at the last moment.
Ingredients
For the wellingtons
4

Portobello mushrooms

Olive oil

1

large

red onion

,

finely chopped

2

garlic cloves

,

finely chopped

9

ounces

cremini or button mushrooms (about 12 mushrooms)

1

teaspoon

dried rosemary

1

teaspoon

dried thyme

3/4

cup

chopped walnuts

2

tablespoons

white miso paste

3 1/2

ounces

spinach

,

coarsely chopped

Two sheets of store-bought or homemade puff pastry,

thawed if frozen (if making this vegan, be certain to use pastry that doesn't contain butter)

Splash of almond or oat milk

Freshly ground black pepper
For the vegan horseradish sauce
1

cup

cashew nuts

2

garlic cloves

, roasted

1

teaspoon

Dijon mustard

1

tablespoon

apple cider vinegar

3/4

cup

almond milk

3

tablespoons

fresh horseradish

,

grated, or more to taste

Salt and freshly ground black pepper
Instructions
Make the mushroom wellingtons
Preheat the oven to 350°F (177°C).

Remove the stalks from the mushrooms and reserve. Place the whole caps, cup-side down, on a rimmed baking sheet. Drizzle the mushrooms with olive oil, add a pinch of salt and pepper, and roast for 10 minutes.

In a large saucepan over medium heat, warm 1 to 2 tablespoons oil. Add the onion, garlic, and a pinch of salt. Stir together and cook until softened, 5 to 10 minutes.

Finely chop the cremini mushrooms and the Portobello stalks into pieces no larger than 1/2 inch (12 mm).

Add the mushrooms to the pan with the onion and cook until softened and all the water has evaporated, 5 to 10 minutes more.

Stir in the rosemary, thyme, walnuts, and miso and cook for 5 minutes. Add the spinach and cook, stirring, until wilted. Spoon into a bowl and let cool completely. (You can prepare, cover, and refrigerate this for up to 1 day before using.)

Roll out 1 of the sheets of puff pastry, including the paper, onto a rimmed baking sheet, using the paper to line the pan, and cut it into 4 squares, approximately 6 by 6 inches (15 by 15 cm). Separate the pieces.

Spoon equal amounts of the mushroom mixture onto each piece of pastry before topping each one with a whole Portobello mushroom (leave about 1/2 inch [12 mm] along the sides of each to reveal the pastry). Brush the edges of the pastry with a little almond milk.

☞ TESTER TIP: If you prefer, you can place the Portobello cup side up and divvy the mushroom filling between the cups.

Roll out the other sheet of puff pastry on a board and cut into 4 squares to the same size as the first pieces. Place one over the top of each wellington, gently squashing down the filling if needed. Press around the edges of the pastry, using one finger and thumb to create a crimped effect and to seal the wellingtons. You can then trim the corners of the squares to form neat circles around the mushrooms.

Cut thin slits in the top of each wellington and brush with almond milk to create a light glaze. Bake until golden brown, 30 to 40 minutes.
Make the vegan horseradish sauce
Place the cashews in a large bowl and cover with boiling water. Let soak for at least 15 minutes, or longer if you have time.

Drain the cashews and place in a high-speed blender, along with the rest of the ingredients, and a pinch of salt. You can add more or less horseradish depending on how fiery you like it.

Serve the mushroom wellingtons with the horseradish sauce and any other veggies you like.
Adapted From
Deliciously Ella Making Plant-Based Quick and Easy
Buy On Amazon
Nutrition
Serving:
1
portion
Calories:
1076
kcal
Carbohydrates:
80
g
Protein:
24
g
Fat:
77
g
Saturated Fat:
16
g
Polyunsaturated Fat:
20
g
Monounsaturated Fat:
37
g
Trans Fat:
1
g
Sodium:
734
mg
Potassium:
1108
mg
Fiber:
8
g
Sugar:
9
g
Vitamin A:
2351
IU
Vitamin C:
12
mg
Calcium:
154
mg
Iron:
8
mg
Nutrition information is automatically calculated, so should only be used as an approximation.
Recipe © 2020 Ella Woodward. Photo © 2020 Nassima Rothacker. All rights reserved.
---
Recipe Testers' Reviews
Vegetarian main dishes can be hard to find, and though I love filling my plate with lots of sides, having a centerpiece makes a veggie menu really special. Wrapping pastry around a stuffed portobello is dramatic yet simple. Though the final product looks like a multi-step, kitchen-wrecking, special-occasion dinner, I halved this recipe to serve two and pulled it off in just an hour. (Assembling the full recipe would add only a few more minutes of fuss.)
The steps overlap nicely so idle time can be spent going to the next step without feeling pulled in too many directions. Frozen puff pastry thaws in the time spent preparing the filling and is easy to work with.
Departing from the instructions slightly, I mounded the filling on the underside of the roasted portobellos, then kept them filling-side-up on the pastry, wanting to keep any juices from spilling out, which made my packets less domed than the picture, but indeed were leakproof and the finished texture perfect.
After being baked for 40 minutes, these held nicely in a turned-off oven until I was ready to serve them, about 15 minutes later, without overbrowning or drying out inside.
The cashew-horseradish sauce was delicious, even though I forgot to incorporate the roasted garlic. It was fun to work with fresh horseradish root, something I haven't done before, which I microplaned into the mixture until it was sufficiently nose-clearing, using about 50% more than the recipe started with. We dolloped it onto each bite and still had some leftover, though I think a smaller volume of sauce than my half-recipe would be difficult to blend to its almost whipped texture.
Alongside, a bright and snappy salad kept the meal from feeling overly rich. Though this reminded me of a holiday entree, this knife-and-fork vegetarian knockout would be welcome anytime of year.
I used white miso and generously measured it to counter its milder taste. My puff pastry was Pepperidge, which comes 2 sheets packaged in a 1.1 lb box. I used 1 sheet to encase two stuffed 'shrooms. There was no leakage and the bake time was true, even holding nicely for awhile. I'd bet these would be forgiving if there were sides wanting different temps and times.
We'll make these mushroom wellingtons with spinach again, maybe with variations in the filling. This one felt kind of Thanksgiving-like or Sunday roast-ish. I'd bet a Middle Eastern-style spinach pie filling would work, so would one with roasted pepper and balsamic, even caponata, all atop a mushroom, of course.
The temperature and humidity have started to drop. After a day of apple picking, I was craving a warming and comforting dish. A flaky pastry filled with a savory filling that holds up to a chilly day when the family needs a tasty fall meal.
The filling is reminiscent of a Thanksgiving stuffing. The creamy yet fiery horseradish sauce complements the dish that. And the toothy bite of walnut adds to the texture of the filling. I would say to be vegetarian and get a meal that is tasty and fulfilling and still be on the healthy side is a win-win for all!
This served 4 with a horseradish sauce and roasted root veggies (sweet potatoes, parsnips, and carrots) and Brussels sprouts. It would also go well with a balsamic glaze or red wine reduction.
This mushroom wellingtons with spinach recipe is perfect. I loved it! The wellingtons were relatively easy to make and the flavor was amazing, unlike anything I've tried before. The contrast between the puff pastry and the portobello texture and flavor was very satisfying. It also received great feedback from both vegan and non-vegans, which was a confirmation that this is a winner recipe.
I prepared the filling the same day and let it cooled completely (about 2 hours) before using.
There wasn't any leakage while in the oven
*I soaked the cashwes overnight (about 8 hours) in cold plain water.