While I may be the family aficionado of marvelously carb-y Thanksgiving side dishes, The One takes the cake when it comes to the dessert table.
Literally.
His favorite dessert is my pumpkin cake with maple-cream cheese frosting. I've been making it for 29 years, ever since I developed it for the Los Angeles Times. And whenever we host Turkey Day, he orders me to soft pedal offering guests Thanksgiving dessert doggie bags.
He wants it all for himself!
He adores pumpkin so much that I've made glazed pumpkin pound cake, pumpkin pie babka, and pumpkin-swirl cheesecake bars throughout autumn and winter for him.
The one dessert he forbids me to bake? Classic pumpkin pie. None, he says, compares to those sold at (bangs head on keyboard)…Costco.
But The One cannot live by pumpkin alone, which is why we've included cranberry crostata, pecan pies, cheesecake, and, yes, a pumpkin ice cream below. But this is a cold play on our pumpkin meringue pie–pumpkin ice cream, marshmallow swirls, and shards of pie crust. (The One made me do it.)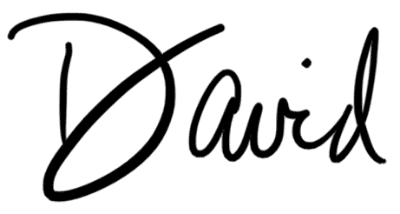 Pumpkin Pecan Pie
This pumpkin pecan pie means no longer must you confront the eternal Thanksgiving dilemma of pumpkin pie or pecan pie. Thanks to its pecan topping, it's two, two, two pies in one!
Recipe
Maple Cream Pie
Celebrate maple syrup season with this maple cream pie, made with sweet, creamy maple custard nestled in a flaky butter crust and topped with whipped cream.
Recipe
Southern Pecan Pie
This Southern pecan pie recipe from James Villas is not as sweet as most. Which is a good thing. And, of course, it does contain the requisite pecans, rich filling, and flaky crust. Try it for Thanksgiving.
Recipe
This pecan pie is extraordinarily simple and quick to prepare, and it has a perfect balance of flavors. It isn't overly sweet, and the subtle vanilla custard goes beautifully with the pecan topping. It's ideal for the holiday season. I'll be adding it as a new Thanksgiving favorite.

naomi
Cranberry Apple Crostata
Cranberry apple crostata is so easy to make and so unexpectedly lovely to experience it may end up displacing the more familiar dessert offerings at your Thanksgiving table.
Recipe
Drunken Pumpkin Bourbon Tart
Drunken pumpkin bourbon tart. Exactly the sort of Thanksgiving dessert that will make the relatives a heck of a lot more tolerable.
Recipe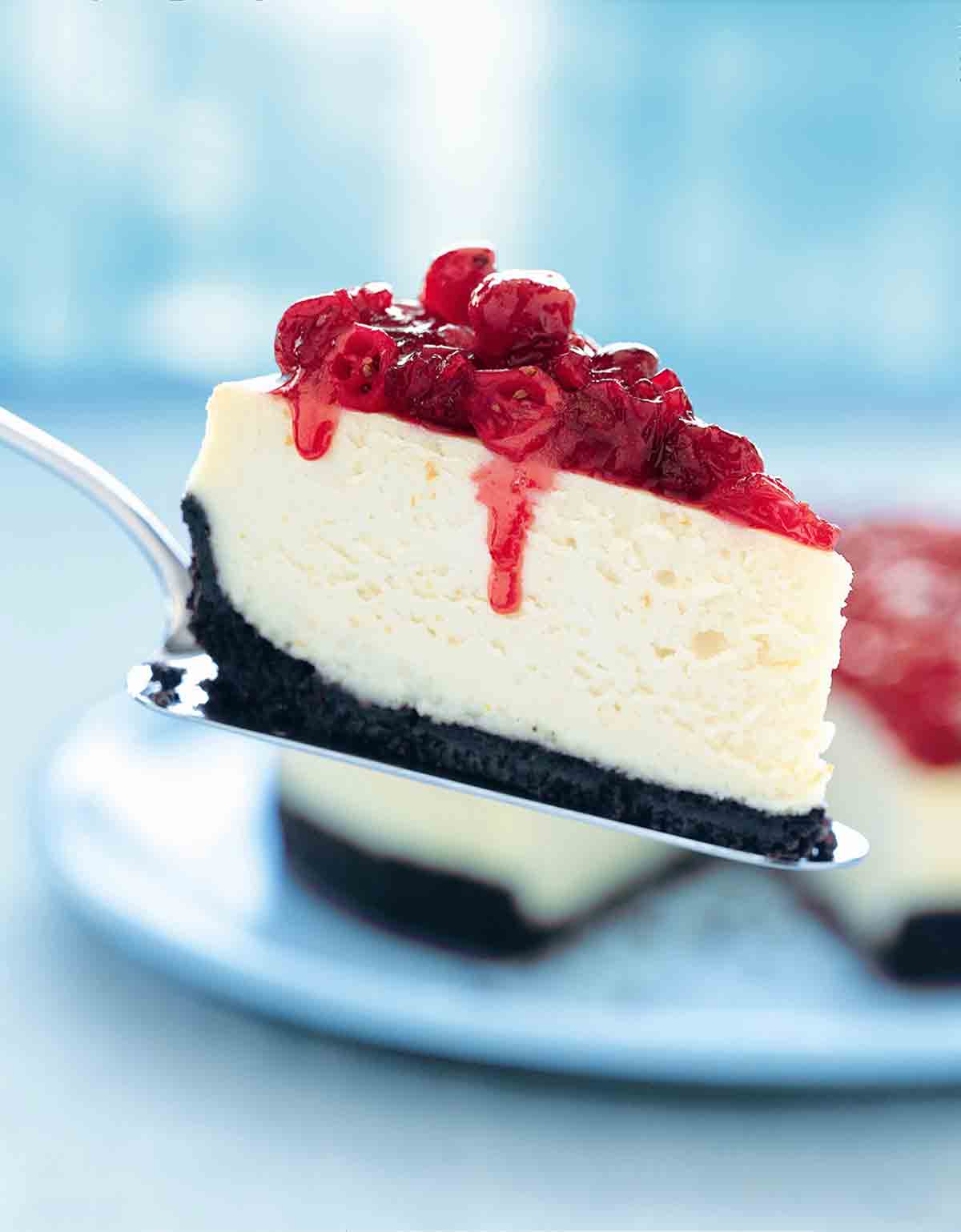 Cranberry-Orange Cheesecake
This cranberry-orange cheesecake from Bon Appetit is scented with vanilla and orange and topped with sweetened fresh cranberries. A perfect holiday dessert.
Recipe
I have made this cranberry cheesecake recipe for several years, and it is excellent. Foolproof and so festive for the holidays. Orange in the filling is just perfect. Cheesecakes are the perfect dessert for a party as they can be made ahead and really are very easy.

linda
Pumpkin Meringue Pie Ice Cream
Pumpkin meringue pie ice cream is the ultimate mashup of pumpkin ice cream−spiced with cinnamon, nutmeg, ginger, and mace−creamy-dreamy meringue, and crunchy bits of Oreo-cookie crust. Think frozen pumpkin-spice latte.
Recipe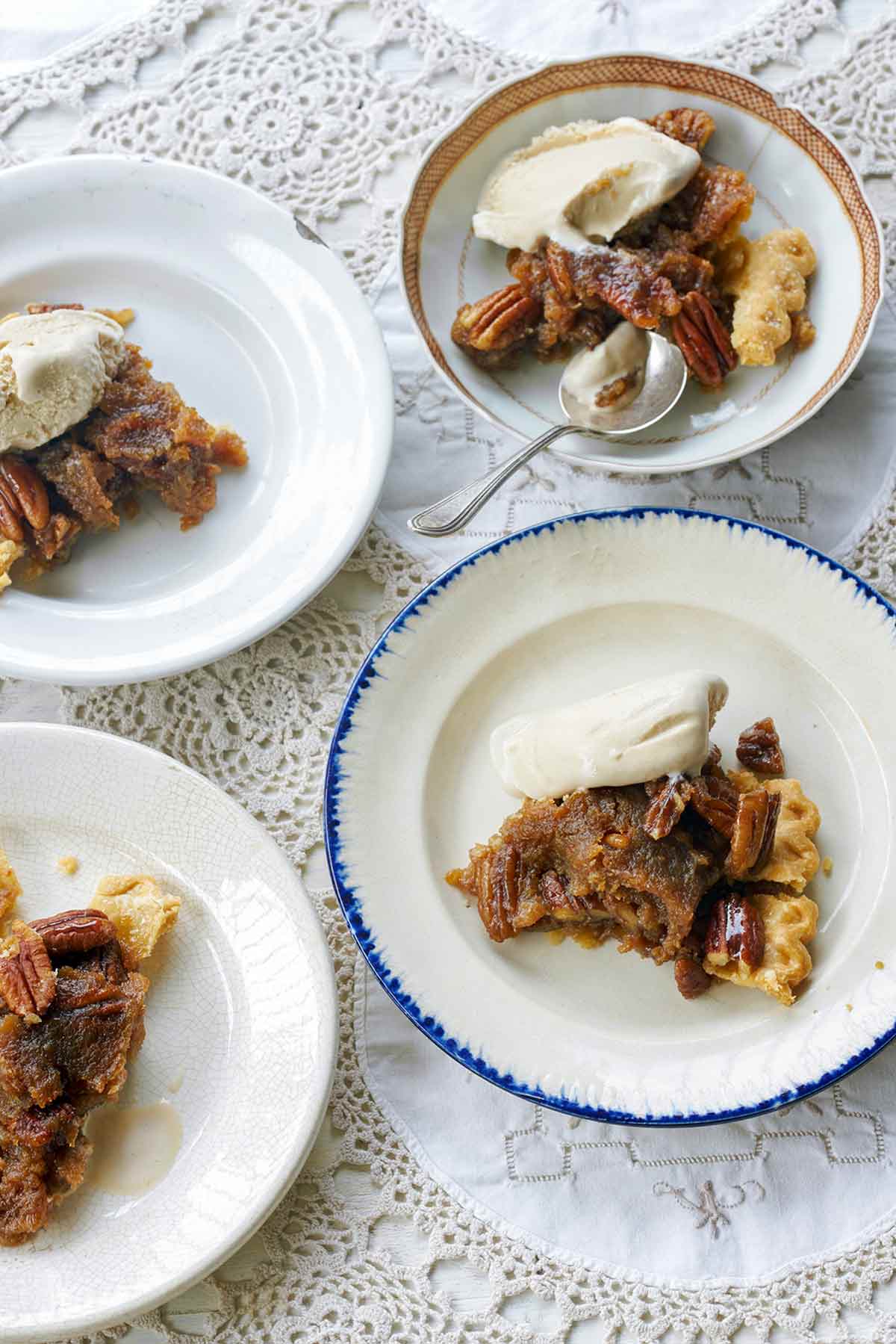 Rum Pecan Pie
This rum pecan pie is all grown up thanks to a little splash of rum in the sweet and crunchy pecan filling. Just like traditional pecan pie. Only better.
Recipe
Red Wine Poached Pears
Red wine poached pears are a stunning—and stunningly simple—dessert made from booze and fruit and sugar and not a lot else.
Recipe
Thanksgiving Dessert FAQs
How many desserts should I serve at Thanksgiving dinner?
It depends on the number of people at your table, but we suggest at least two, even for a small gathering. To be safe, plan on two slices of dessert per person. A pie usually has eight slices in it, so plan to have one dessert for every four people.
What can I make for my gluten-free, dairy-free, or vegan guests?
Ideally, you want to have a dessert that everyone can enjoy, without making anyone feel singled out. We love poached pears because they can be served to almost anyone, and can even be topped with a dollop of coconut whipped cream.

Our indulgent pumpkin pots de crème are gluten-free if served without the cookie crumbles. Making a pear-cranberry crumble with vegan butter is also a great choice if you've got dairy-free or vegan guests.
How should desserts be stored?
If they contain eggs, milk, or cream, store them in the fridge before and after serving. Other desserts can usually be stored at room temperature.
Desserts are arguably the most important (or at least most anticipated) part of the Thanksgiving meal. They often can be made a couple of days in advance, making them also one of the least stressful parts of hosting Thanksgiving dinner. So, pick a couple of the above Thanksgiving dessert recipes, get baking, indulge, and let the accolades roll in. You deserve it.